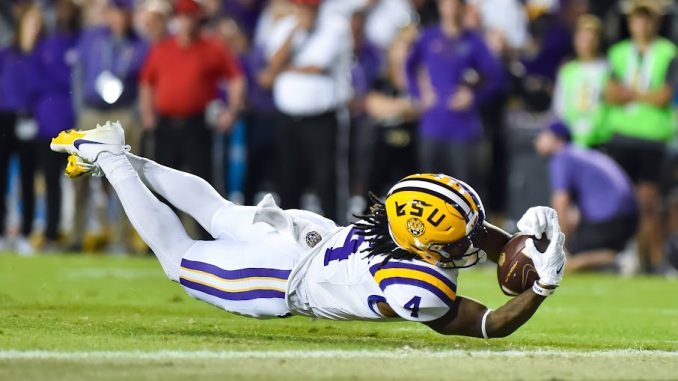 With LSU's 42-28 loss at Alabama last week the Tigers officially watched their foremost goals drop off the 2023 table.
Barring unforeseen circumstances the Tigers won't repeat as Southeastern Conference Western Division champions, play in the SEC's Championship Game or qualify for the four-team College Football Playoff.
A long offseason of weightlifting, endless running and myriad of sacrifices will not match the level of the team's commitment with this year's achievement. Yet, second-year coach Brian Kelly finds himself searching for another set of standards could help define his LSU program by the time they reach this year's finish line.
"If we want to be elite, we have to be consistent," Kelly said. "We won 10 games last year. You need to win 10 again and that's in front of you. You have an opportunity to win 10 games again in a season, and if you want to start closing the gap towards being elite, then back-to-back 10-win seasons is a start to do that.
"It's a challenge to our football team," Kelly continued. "How do you want this program to continue to grow? It's on your shoulders and you have an opportunity to get better. Coaches need to get better, and players clearly need to get better. This is a great opportunity, playing a really good opponent at home and you've got a chance to move from being a good team to a great team."
No. 18 LSU will try to remain on the path toward Kelly's objective with the start of three straight games in Tiger Stadium to close the regular season. The Tigers (6-3, 4-2 in SEC) host Florida (5-4, 3-3) at 6:30 p.m. on The SEC Network and the game will also be carried locally by 98.1-FM.
"Death Valley's obviously one of the better venues in all of college sports having played there a couple of times," Florida coach Billy Napier, a former assistant at Alabama and head coach at UL-Lafayette. "It's a challenge that you look forward to, a memory and an experience that you sign up for."
LSU enters the game with a high-flying offense that got uplifting news that quarterback Jayden Daniels went through Thursday's full-contract practice and his status was elevated to probable, Kelly said.
"He will most likely pass the (concussion) protocol and is probable for Saturday," Kelly said after Thursday's practice.
Daniels is No. 1 nationally in total offense (386.8) and pass efficiency (199.8), No. 2 in rushing yards by a quarterback (684), passing TDs (27) and TDs accounted for (33). He's also No. 3 in passing yards per game (310.2).
Daniels has completed 72.1% of his passes (178 of 247) for 2,792 yards with 27 TDs and four interceptions. Wide receiver Malik Nabers, who has a catch in 27 straight games, leads the nation in receiving yards (1,152 on 66 receptions, 10 TDs) and Brian Thomas Jr. (45-768) is the nation's leader in receiving TDs (11).
Daniels is also the team's leading rusher (102-684, 6 TDs) but LSU will be without running back Logan Diggs (113-635, 6 TDs) because of an "upper-body injury", Kelly said.
LSU has the nation's top-rated offense in total offense (544.6), third-down conversions (56.6%) and pass efficiency (186.2) and No. 3 in scoring (45.2) and passing yards per game (332.3).
"LSU's got a terrific football team loaded with offensive skill," Napier said. "The quarterback's dynamic, not just as a passer, but as a runner. The defense continues to get better. Four or five weeks ago they made some changes and I think that's helped them."
Given the state of the program he took over in December of 2021, Kelly has injected life and stability into LSU's program that he took over after a collective two-year record of 11-12 under Ed Orgeron.
He struck it rich in the transfer portal with the signing of Daniels of Arizona State and the Tigers enjoyed a 10-4 record that included a trip to the SEC title game and Citrus Bowl victory.
To illustrate Kelly's view of the challenge in front of his team, consider back-to-back 10-win seasons have only been accomplished three other times at LSU: 2006-07, '10-'11 and '18-'19.
Kelly, who is in his 33rd season of coaching, has led his teams 14 times to consecutive 10-win seasons, including his last five at Notre Dame.
"We need to take this program from being a good program to being elite," Kelly said on Monday's Paul Finebaum Show. "Are you up for that challenge? Being elite is hard. You've got to make a lot of sacrifices. You've got to do a lot of things that are very difficult in terms of habits, how you practice, how you prepare.
"Are you willing to do all of those things? This month of November is about what are you interested in doing," Kelly continued. "How do you want to grow as a football team? We have a chance, if we do things the right way week in and week out, we could win 10 games again for the second consecutive season. To me that's consistency in building a program, so that's all in front of us."
If recent history's an indicator LSU playing the right team to kick-start its late season push.
The Tigers have defeated the Gators four consecutive times and five of the last six meetings, including last year's 45-35 win in Gainesville.
"We're still searching for that complete game and ultimately that's what the focus will be on and it's going to require that," Napier said.
Since a 5-2 start, a stretch that included a 29-16 home win over Tennessee, Florida has dropped its last two games to No. 1 Georgia (43-20) and Arkansas (36-30 in OT).
Quarterback Graham Mertz, a Wisconsin transfer, has not thrown an interception in his last 188 pass attempts – the second longest in school history. He's completed 73.9% (221 of 299) of his passes for 2,409 yards, 17 touchdowns and two interceptions with Ricky Pearsall (55-773, 4 TDs) and Eugene Wilson III (45-416, 4 TDs) serving as his top targets.
Louisiana natives Montrell Johnson Jr. of New Orleans (106-555, 4 TDs) and Trevor Etienne of Jennings (87-532, 4 TDs) are the team's top rushers.
Florida's ninth in the SEC in scoring (28.9) and sixth in total offense (409.8). Their defense ranks in the lower half of the league in points allowed (24.7, 8th) and total defense (350.4, 8th) and the Gators lost leading tackler, linebacker Shemar Jones, for the season with a dislocated kneecap. Freshman safety Jordan Castell is the team's leading tackler with 51 tackles and sophomore linebacker Scooby Williams has 44 tackles.
"There's a lot to play for," Kelly said. "It's another step towards building the foundation of this football program towards consistency and performance. I know there's not a national championship at the end of this, but there's consistency and performance for this football team. That is closing out this season and then finishing this off strong with a victory in postseason."