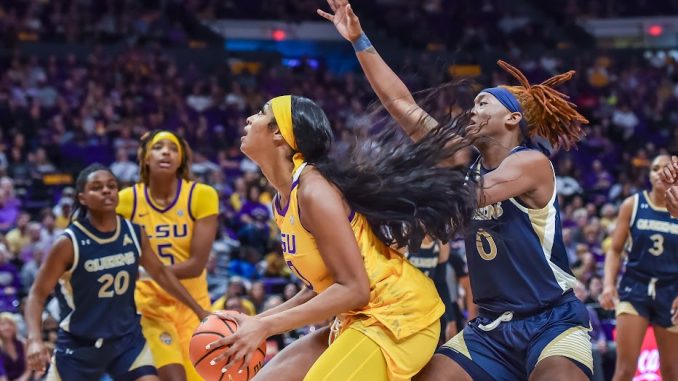 LSU concludes its firsts week of the action with a home game Sunday at 2 p.m. against Mississippi Valley State at the Pete Maravich Assembly Center.

The No. 1 Tigers (1-1) are coming off a decisive 112-55 victory over Queens University on Thursday on an evening the defending national champions received their championship rings and raised their national title banner to the rafters.
The game will be streamed on the SEC Network+ and carried locally by 107.3-FM.
"I think you saw more energy tonight from all of the returning players," LSU coach Kim Mulkey said after the game with Queens "We're just getting better defensively. Listen, we're not a polished product; we're a work in progress. I don't know when it will be really, really good, but we'll get there."
LSU split its first two games of the season. The Tigers opened with a 92-78 loss to No. 20 Colorado in the Naismith Hall of Fame Series in Las Vegas, Nevada.
Returning first team All-America forward Angel Reese, whose had a pair of doubles-doubles in her first two games, leads LSU with a 21.5 scoring average and 13.0 rebounds per game. Sa'Myah Smith, who is coming off a career-high 16 points against Queens, is averages 18.5 points followed by freshman Mikaylah Williams (13.0) and DePaul transfer Aneesah Morrow (11.0).
Mississippi Valley opened Monday with a 104-45 loss at No. 5 Utah.
Mulkey will present national title rings to all of the coaches she played for: Fairy Hannible (Hammond Jr. High), Gayle Montalvo (AAU), Charlie Domino (AAU), Mary Jo Castell (Hammond High), Iwana McGee (Hammond High), Sonja Hogg (LA Tech) and Leon Barmore (LA Tech).