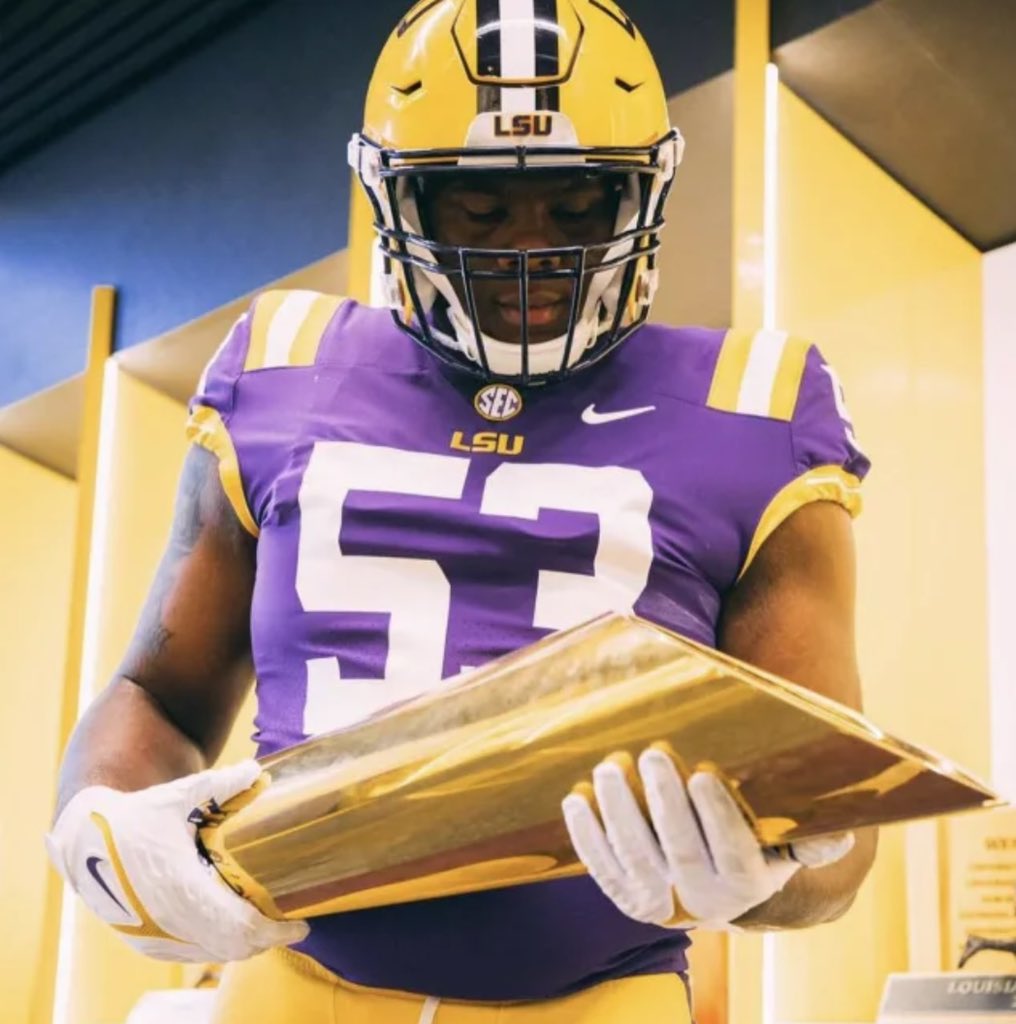 It's been just over three weeks since LSU was able to celebrate a victory on the recruiting trail. Three days before the start of the 2022 season, the Tigers did just that.
LSU added to its seventh-ranked class Thursday with a commitment from Neville four-star offensive tackle Zalance Heard during a ceremony at the school.
The 6-foot-5, 300-pound Heard selected LSU over Florida, Florida State, Nebraska and Houston. He's the 22nd commitment for the Tigers and has been recruited by offensive line coach Brad Davis and quarterbacks coach Joe Sloan, whose recruiting territory includes the entire state, for the Tigers.
"It feels great, it's been a long time coming," Heard said afterward.
Heard had a little fun at everyone's expense, discarding all five hats on the table in front of them, including LSU. He reached into a front pocket and pulled out a white LSU hat, pulled off a black pull-over sweater to reveal a purple LSU polo shirt.
Heard's the nation's No. 50 player and fifth-best offensive tackle by On3Sports. He's rated the No. 9 offensive tackle by both 247Sports and Rivals.com and state's No. 4 prospect by On3 and 247.
"It was great, I loved it," Heard told On3. "It was awesome meeting the new staff. They made me feel welcome, I know that much. All of them made me feel at home and already one of the players, not just a recruit. They're real and upfront with me. I love that."
"I like him. He's just a cool dude, laid back," Zalance Heard added on Kelly.
LSU's last commitment came Aug. 16 from four-star 'athlete' Khai Prean of St. James.
The Tigers now have three commitments from offensive linemen that also include July pledges from four-star Tyree Adams (6-5, 285) of St. Augustine in New Orleans, the nation's No. 18 offensive tackle, and three-star Paul Mubenga (6-4, 280), the No. 55 rated offensive tackle, from Buford, Georgia.
Heard, a dominant run blocker, picked up a scholarship from LSU on March 30, worked out at its Elite Camp and stayed after and took an unofficial visit. He excelled in his first season at Neville in 2021, playing opposite current LSU offensive tackle Will Campbell, went on to help the Tigers to a 10-2 record and spot in the Class 4A state semifinals against Warren Easton.
"I think Will had a lot to do with shaping him and helping mold him," Neville football coach Jeff Tannehill said on Tuesday's Tiger Rag Radio. "They hung out a lot together. We knew he was going to be special, and he got better and better as the year went along.
"Some of it was he worked with Will quite a bit. They stayed after and worked. They showed up early and worked. They really became good friends. He's got a lot better work ethic than what he had before he came to Neville. He's a great kid with a great personality. He and Will are a lot alike. It's been fun watching him grow. "
Heard joined Campbell on the Class 4A All-State first team offensive line. He transferred the year before from Bastrop where he a defensive lineman that earned first team all-district honors.