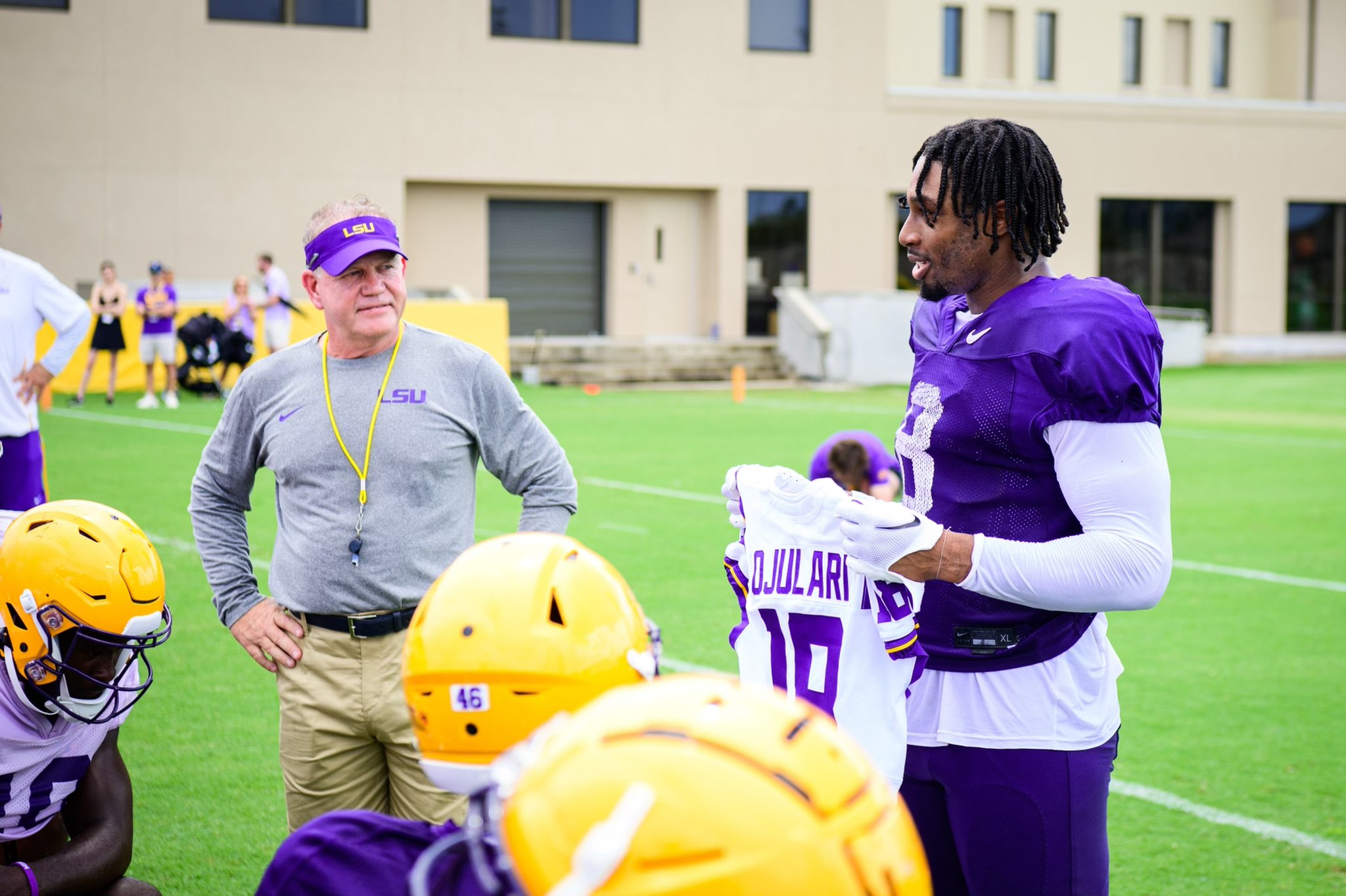 Four days after saying that he decided on a starting quarterback but chose to play keep-away from Florida State and not announce it publicly, LSU first-year football coach Brian Kelly spilled the beans.
To either Jayden Daniels or Garrett Nussmeier. And then to the entire team, but with conditions.
"We announced it to the team," Kelly said after Thursday's practice. "I wanted the team to know so we don't go out on the practice field and the defense is over there going, 'Why wouldn't coach let us know'. But we told them we didn't want it out on social media, so they did a really good job of keeping it from you guys (media)."
LSU already has plenty of intrigue going into Sunday's season opener against Florida State (1-0) with a first-year coach in Kelly and first year offensive coordinator Mike Denbrock. The Tigers are a three-point favorite in the 6:30 p.m. game at the Superdome.
Because the Seminoles opened last Saturday with a 47-7 win over Duquesne, Kelly believed his opponent already had a built-in advantage over LSU and didn't want to give them another bonus with the declaration that either junior transfer Daniels, a three-year starter at Arizona State, or redshirt freshman Nussmeier would be the Tigers' starter at quarterback.
Here's what else Kelly had to say:
Is part of the philosophy your share with (offensive coordinator) Coach (Mike) Denbrock for having one tight end on the field to help block on the line?
"No, I mean, the tight end obviously becomes part of the blocking scheme. It offers just more versatility in the run game, play action pass. When you get into (a) four-wide set, you lose that surface area that gives you the ability to chip the edge and hold off a defensive end. Just the versatility of your offense. So, I think versatility on the offensive side of the ball. The ability to create some double teams on the edge, to really strike on a much broader front relative to where you want the ball to hit. I just think flexibility and tactically it just gives you more advantages."

Is there anything nagging at you, any questions you think you need to see answered in a hurry this game?
"No, this this is really going to be about how we manage our emotions. How we handle either being down or ahead. Adversity, things like that. This is really about putting a team in a competitive situation and really finding out how they handle real competition. They haven't won a lot of games and haven't done it consistently over a couple of years. They're going to be put in that kind of situation where they're going to have to choose confidence. They're going to have to stay in a real good zone and not have highs and lows. That will be the real question that you don't answer until you play the game."

Any memories from your first game as a head coach? Something you may find amusing or unbelievable today. Still the same amount of excitement or anticipation today?
"Oh, yeah. I told the team what I love about this is the preparation, Monday through Friday. I'm nervous every day, wanting to make sure that I've prepared my football team in every aspect so they can be the best versions of themselves and a team. So that's my why. That's what drives me so when it comes to Saturday, there's no doubt what's going to happen, so that hasn't changed. And once it gets to the point where practice is not exciting for me, and the preparation is not exciting, I'll walk away. But that to me, is what drives me.
My very first game as a head coach, I was 29 years old, and I can tell you that there were maybe 800 people in the stands. And we got behind early, and I could hear the people in the press box, not the stands. I could hear to the people in the press box who hired me. So that was a real situation. So, hopefully I won't hear that people in the press box here at Tiger Stadium. That that would be a nice thing."
What's the cornerback rotation?
"Jarrick (Bernard-Converse) is going to be to the field. He plays really smart and savvy to the field. He can handle multiple receivers. He just has a really good sense of field awareness. He'll be to the field, Colby (Richardson) is going to be boundary. Mehki (Garner) can play both sides, he's going to be our swing guy. The nice part about Sevyn (Banks) is he can play a little bit of both as well. I think it's really going to be about keeping them fresh and seeing who's playing really well. I think the most experienced and veteran player that we have in our (top) five is Jarrick and then those other guys, we're going to keep in a really good rotation."

What sort of challenges does Florida State's defensive front pose?
"Florida State's extremely athletic. They have two really big inside defensive tackles that are going to be a challenge to move out of there. They're athletic on the edge, but we knew this. This is something we knew self-scouting way back in May. This isn't anything new to us. We've prepared for it. Some of the things that we're going to have to do really well are about ourselves more so than Florida State. Our execution, in terms of the offensive line, is going to be based upon our ability to run the ball. You're not going to sideline to sideline against this defense. We've got to find opportunities to crease them and be in a good position."

What characteristics do the three elected team captains have?
"I think what you look for in captains is the ability to communicate really well. They're really good communicators of our process and what we do every day. They've been very consistent in that. There's been that consistency. And they're really committed. That showed amongst their teammates. We had our teammates vote and they were the highest vote getters. Sometimes I don't have our team vote. I decide. I felt like this team needed to weigh in because they knew the leaders a little bit better. They had been around them longer, so I let this group weigh in and I went with what they felt was the best captains that would obviously be their voices."

How do you feel about your tight ends in the passing game and as blockers?
"Improved. I will tell you that I was I was not impressed when I got here. I feel really good about where we are right now. And you know Mason Taylor's obviously done a pretty good job of making me feel that way. Kole's (Taylor) done a really good job there, too. I think those two guys in particular have made me feel better about that situation. The freshman (Mason Taylor) is really going to be a fine football player. And I think the combination of the four of them, Jack's (Mashburn) done a really good job, and then Nick (Storz), has helped out a lot. He's much more of a physical guy. There's four tight ends there where we didn't know if we had one. So that's making a lot of progress in a very short period of time."