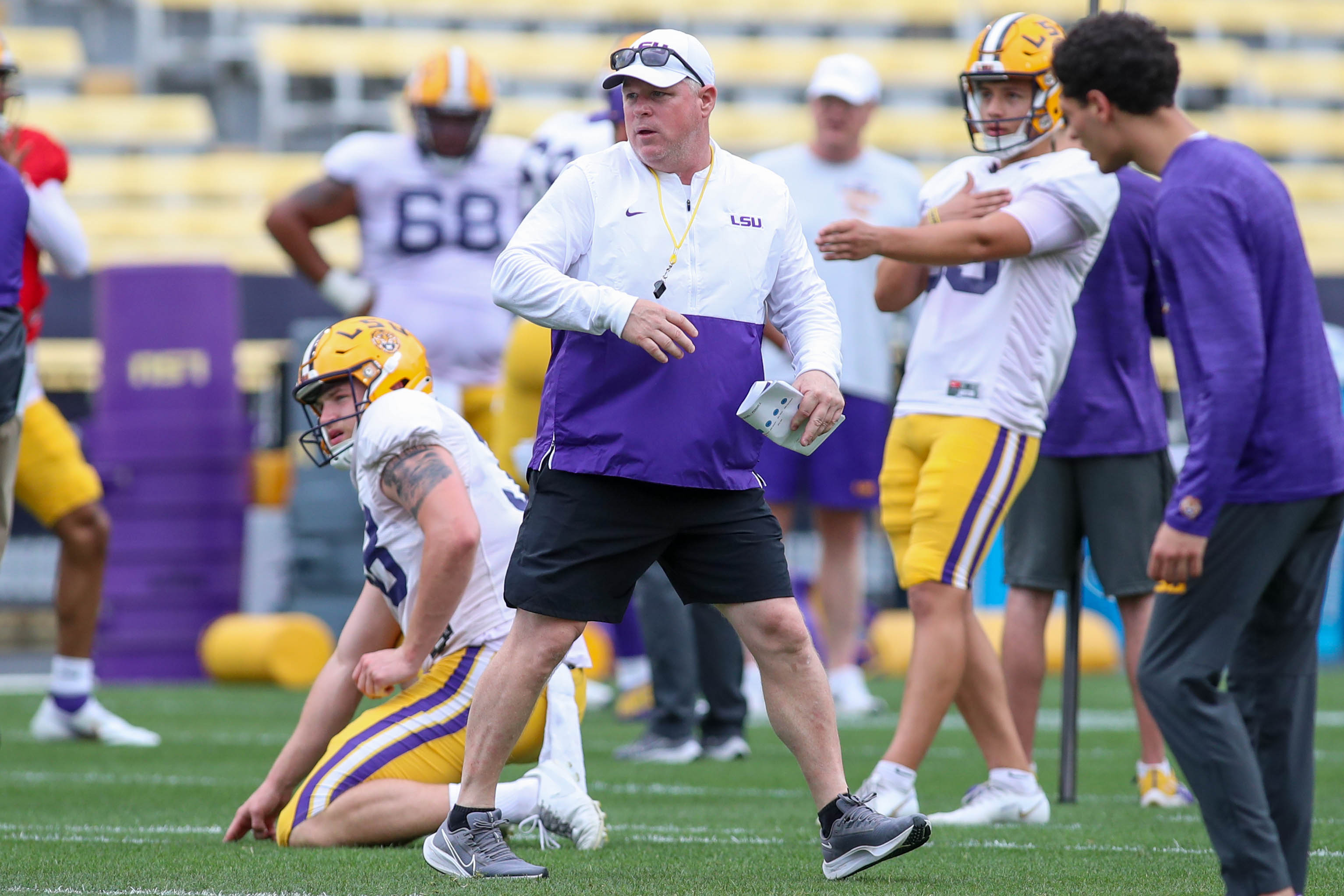 If you're looking to try and handicap LSU's special teams, you'll have to wait beyond the April 23rd spring game.
That's because first-year special team's coordinator Brian Polian believes some of the potential impact players on those teams still haven't set foot on campus yet.
"The competition's not whole until we get to the summer," said Polian, son of NFL Hall of Fame executive Bill Polian.
Polian brings a wealth of knowledge to both special teams at LSU where he will also serve in the role as recruiting coordinator. Not only did he serve as head coach at the University of Nevada, but he directed the specials teams units at Notre Dame that were ranked No. 3 last season by Pro Football Focus and has had similar job responsibilities at the University of Buffalo, two stops covering nine seasons at Notre Dame, Stanford and Texas A&M.
LSU lost arguably one its best place kicker/kickoff combinations in recent history with Cade York opting for the NFL Draft and Avery Atkins completing his eligibility and is hopeful of plying his trade in an NFL camp.
Those two holes, while gaping, have been addressed during spring training under first-year head coach Brian Kelly and Polian, who both worked together for the past five seasons at Notre Dame. The Fighting Irish always placed a significant amount of time and resources on special teams and that won't change with the Tigers, Polian said.
"Our approach is you will see our best players out there," Polian said. "You'll see on our coverage units. We believe you have to cover kicks to win games. You've got to be able to protect kickers, you've got to be able to cover kicks to win games. There are spots where we will use our best players and then there are roles for guys that will be four-unit, core unit special team's players that might be a backup on offense or defense but will carve out a way to play winning football for us. We view those players as starters."
Polian mentioned such players as Mike Jones Jr., a projected starter at middle linebacker, as a player you could see on kickoff and punt coverage teams because of his athleticism and quickness to make tackles. Fellow linebacker Greg Penn III was another player that could see duty on both coverage teams along with Arkansas transfers in Joe Foucha and Greg Brooks Jr., and NCAA transfer portal signees Kolbe Fields, Mehki Garner and West Weeks.
Offensive players such as reserve running back Josh Williams and starting wide receiver Jaray Jenkins have also been standouts during the first three weeks of spring practice, Polian mentioned.
"We're trying to evaluate," Polian said. "We're encouraged by a lot of what we're seeing on the field."
Without York, the team's leading scorer with 89 points from a year ago, LSU's relied on a pair of walk-ons in sophomore Ezekeal Mata of San Marcos, California and redshirt freshman Damian Ramos of Baltimore for all of its place kicks.
"We're in the installation phase but they're doing a good job," Polian said. "We started practice one day and we 6 of 6 on field goals. There's no starter. We've been splitting reps. It's just an evaluation and put them into as many competitive situations as possible."
Redshirt freshman Peyton Todd, who had surgery at West Monroe High before his arrival at LSU, has moved into the role as the top punter this spring. He was able to learn a season ago behind Atkins who punted 62 times for a 42.6 average (long of 56 yards) with 13 punts for 50+ yards and 19 inside the 20-yard line.
"Peyton Todd has a cannon," Polian said. "He wasn't quite whole as a true freshman. Avery did a good job of stepping in and filling that role. Peyton's immensely talented. (We) Need to keep work on the fundamentals."
LSU also finds a fill void at both punt and kickoff returner when Trey Palmer entered the NCAA transfer portal and signed with Nebraska. He led the Tigers in both categories with a 20.3 average on kickoff returns and 6.4 on punt returns.
The eventual starters, though, on who could potentially handle the specialist duties aren't expected on campus until the summer when placekicking signee Nathan Dibert of Hartland, Michigan arrives along with punters Jake Bramblett of Notre Dame and preferred walk-on Trey Finison of Northwestern, both of whom were signed out of the transfer portal.
The left-footed Dibert is the nation's No. 2-rated kicker by Kohl's Kicking where he won a national kickoff competition by the organization. He has the ability to handle both kickoff and field goal duties and can also punt.
During his senior season, Dibert handled 41 kickoffs for a 52.9 average and 31 touchbacks. He also punted 31 times for a 35.2 average, 10 of which landed inside the 20, to go along with 7-of-14 field goals with a long of 53 and 20-of-23 extra points for a total of 41 points.
"We honored Nathan's commitment," Polian said. "I've never worked him out in person. (Former LSU special teams coordinator) Coach (Greg) McMahon and I have a good relationship, we've been friends. He talked about how unflappable the kid was. He came into camp here and was really steady and really blew away the competition. Cade described him that way to me as well."
Bramblett was a three-year starter at Notre Dame with a career punting average of 41.6 yards on 164 punts. The native of Tuscaloosa, Ala., where he was passed for 2,431 yards as a senior at Hillcrest High School, enjoyed a solid 2021 season with a career-best 43.1-yard average and 11 of his 58 punts went for 50+ yards with 16 of those downed inside the 20.
"His whole demeanor now is energetic and excited," Polian said of a recent visit to LSU by Bramblett. "He was the starting quarterback at his high school. He was the best pitcher on the baseball team. He's got very high-level athletic skills. He's a wonderful holder. We've run a couple of fakes with him because he's a real athlete. I'm excited to welcome him into the family and create some more competition there this summer."