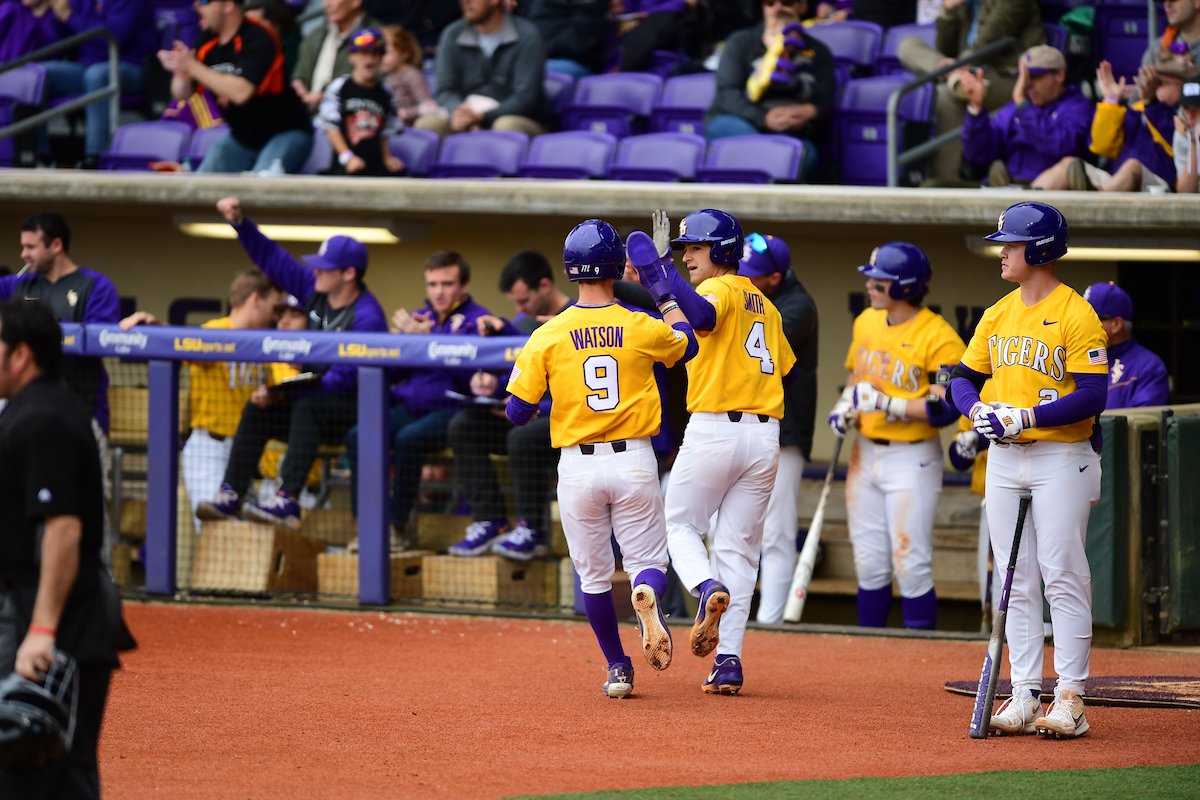 An uninspiring run through the pre-conference slate left LSU, and its pitching staff in particular, with more questions than answers headed into Southeastern Conference play.
Eric Walker and his bloated 6.92 ERA were among those uncertainties. Turns out heightened pressures of the 30-game league grind might be just what Walker and LSU as a whole needed to find their form.
The right-hander came through with his best start since Tommy John surgery, allowing one run on three hits while striking out five over 4.1 innings. LSU scored three times in the fifth and seventh innings of a 7-2 win to complete a series sweep at Alex Box Stadium on Sunday afternoon.
"It was definitely a good weekend as far as getting some confidence under our belts," Walker said. "Anytime you can win three games in the SEC, that's a confidence booster for sure."
LSU (15-5, 3-0 SEC) came into the weekend with the highest ERA in the SEC, but Sunday completed what was a dominant weekend for the staff. LSU pitchers allowed just seven runs over 30 innings against Kentucky (13-7, 0-3 SEC) to sweep three games in two days.
Walker, like Zack Hess and Cole Henry before him, got LSU off to a strong start, and the bullpen continued to be lights out in relief. Matt Beck retired seven of the eight batters he faced to earn the victory. Ma'Khail Hilliard got out of a jam in the seventh. Todd Peterson got the final four outs.
"It's tremendous for our confidence," Chris Reid said. "We haven't been playing up to par or how we should be, and just to see our pitching staff come up huge in big situations. They pitched their butt off all weekend."
Walker was dealing from the time he stepped on the mound. He struck out the first two batters he faced, one on a low changeup and the other on a high heater.
The radar gun didn't show any big jump in terms of velocity, but Walker felt his stuff was much more crisp. That included a changeup that had good tailing action to generate swings and misses.
"It felt a lot better honestly," Walker said of his changeup. "A lot more swings and misses because it was diving down  instead of just floating in there. It's just small things like that. The velo might be the same, but the action on the pitch is a lot different."
Kentucky lefty Dillon Marsh appeared dominant in the early going, but LSU broke through in the fourth inning. Chris Reid led off with a single, LSU's first hit of the afternoon, and moved to third base on an error. Saul Garza dunked an RBI single into center field to plate the first run of the game.
That lead didn't last long. Kentucky tied the game after Walker allowed back-to-back singles in the fifth. Beck took over with runners on second and third with one out, and Kentucky brought home a run with a successful safety squeeze.
LSU went right back to work with back-to-back singles from Brandt Broussard and Josh Smith. Zach Watson, who has been red hot all week, smoked a single through the left side to bring home the go-ahead run.
An interesting bit of strategy from Paul Mainieri helped grow the advantage. Mainieri had Antoine Duplantis, who has been slumping, lay down a sacrifice bunt. That set the stage for Chris Reid, who got the green light in a 3-0 count and lined a two-run single into left.
LSU broke the game open in the seventh inning. Smith and Watson both singled, and Duplantis brought them home with a screaming two-run triple that bounced off the top of the wall in right field. Daniel Cabrera brought him home with a high infield chopper.
"We're hitting right now," Reid said. "We're clicking."
LSU will be back in action on Wednesday night against Nicholls State. The Tigers will head to Athens for a difficult series at Georgia next weekend, but they'll do so off their most impressive performance of the season so far.