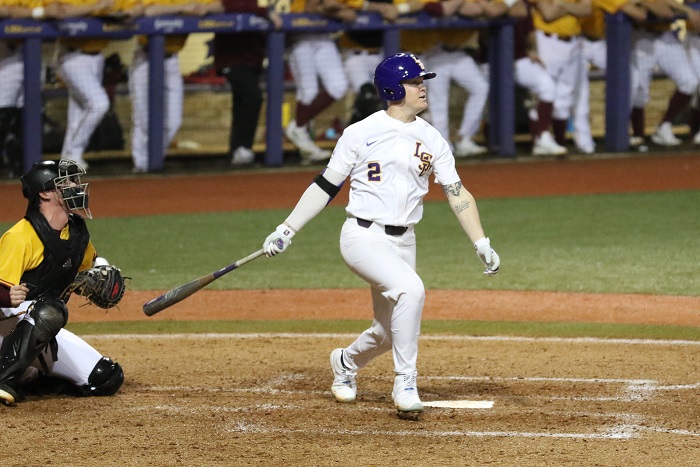 LSU will be without its cleanup hitter for the next couple of days, but Paul Mainieri hopes to have him back by the weekend.
Left fielder Daniel Cabrera sat out Saturday's rubber match at Mississippi State due to a right wrist injury, Mainieri said, and LSU plans to sit him out for two midweek games in hopes he could return to the lineup against Texas A&M.
"Hopefully he'll be back Friday," Mainieri said. "We'll see how it goes."

This injury dates back to the winter, apparently, but Cabrera had been receiving constant treatment in order to play through it.
That changed as the pain worsened in recent weeks and became unbearable after an awkward swing over the weekend. Mainieri saw him shaking his hand after the swing and pulled him from the game.
"I had some tendinitis in my wrist and it's just been bothering me more and more every day," Cabrera said. "Coach just wants me to get a lot of rehab this week and try to rest it for this weekend."
Cabrera, a sophomore, is hitting .307 this season with six home runs and 28 RBI in 27 games. Luckily for LSU, there's a capable replacement ready to step in and hold down the fort.
Freshman Giovanni DiGiacomo was recruited to start in the outfield from day one, but that plan had to be altered when Antoine Duplantis and Zach Watson both returned to school instead of signing professionally.
"That's why you have to have that quality fourth outfielder," Mainieri said. "You worry about a youngster thinking he had a chance to start at a freshman and then all these guys came back. I kept reminding him that things happen and you can't just look in a crystal ball and know when opportunities are going to come."
DiGiacomo doesn't have Cabrera's power, but he's hit his way into at-bats as a designated hitter and brings an element of speed to the lineup. The speedy rookie is hitting .305 with nine RBI and 18 runs scored in 25 games (13 starts) this season.
LSU will play Grambling on Tuesday night and South Alabama on Wednesday night. First pitches for those games are set for 6:30 and 6 p.m., respectively.
AILING ARM UPDATES
It is not an ideal time for LSU to be playing five games in a week. The Tigers welcome first-place Texas A&M this weekend, but first they have to find a way to pitch 18 innings of midweek baseball.
Freshmen arms Jaden Hill, Landon Marceaux and Chase Costello remain out due to arm soreness. Each is progressing, according to Mainieri, but none will be back this week.
"No update," Mainieri said. "They're getting better. That's the best update I've got. I can't tell you when they're going to return to active duty so to speak."
LSU will hand the ball to Clay Moffitt against Grambling on Tuesday night and hope the senior can eat up as many innings as possible.
"I can go as much as they need me to go," Moffitt said. "I was a starter pretty much my whole career before I got here and transitioned to the bullpen. I feel pretty fresh and I'm down to go as far as they need me to go."
It'll be a cavalcade of arms once Moffitt leaves the game. Ma'Khail Hilliard will start on Wednesday against South Alabama, but he'll only pitch two-or-three innings.
SEC HARDWARE
Chris Reid is always a professional hitter, but the senior was really on a roll in LSU's series victory over Mississippi State.
Reid shared Southeastern Conference Player of the Week honors with Vanderbilt outfielder JJ Bleday. He hit .750 (6-for-8) with one double, six RBI and four runs scored. He also walked three times and was hit by a pitch, recording a .769 on-base percentage in three games.
LSU's third baseman hasn't slowed down at all through the first three weeks of league play. He's hitting .370 (10-for-27) against SEC pitching with a team-high 11 RBI.
LSU IN THE POLLS
Despite dropping its midweek game, LSU moved up in three of the four major polls after winning a series at previously No. 2 Mississippi State.
Here's a look at where LSU stands in the polls as of today. As always, the previous week's rankings are in parenthesis:
D1Baseball 13 (17)
Baseball America 15 (17)
Perfect Game 16 (16)
College Baseball Newspaper 9 (12)