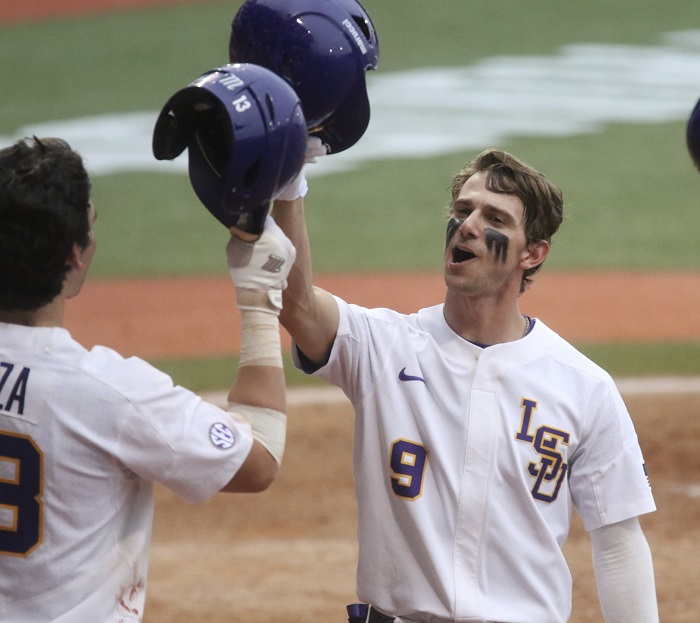 There might have been some frayed nerves among the paying customers when Stony Brook took an early 1-0 lead, but LSU offered an emphatic response to the notion of any lingering ghosts of 2012: not today.
Saul Garza cleared the bases with a double down the right-field line in a five-run first inning. Zach Watson bashed a two-run homer that left the spacious confines of the Alex Box Stadium all together. Even Brandt Broussard cranked a three-run bomb, the first of his LSU career.
Landon Marceaux, staked to a massive lead, threw strikes and cruised through five solid innings as LSU opened the NCAA Tournament with a dominant 17-3 rout of Stony Brook in the Baton Rouge Regional on Friday night.
"That was a pretty sound butt kicking," said Stony Brook coach Matt Senk.
It'd be hard to put it any more straightforwardly than that.
The 17 runs are the most scored by LSU in an NCAA Tournament since the current iteration of Alex Box Stadium opened in 2009. LSU beat Cal Irvine 2008 in the final game ever played at the old Box in 2008.
"I was really proud that our guys didn't let up," LSU coach Paul Mainieri said. "Every inning we went up there and had terrific at-bats and had some clutch hits. We didn't get a lot of hits … same amount as them, but they came in some clutch situations."
LSU advances into the winner's bracket to face a red-hot Southern Miss team that hammered Arizona State 15-3 in the early game. Winner of that one advances to the regional final while the loser will face the survivor of Arizona State and Stony Brook in an elimination game.
The Tigers improved to a perfect 11-0 in NCAA Regional openers under Mainieri with the victory. They'll likely turn the ball over to freshman Cole Henry on Saturday night in the "marble game" against Southern Miss with a spot in the finals on the line.
Mainieri made a point of not taking Stony Brook lightly by starting Marceaux, his hottest pitcher, against the No. 4 seed. Agree with the strategy or not, it produced the desired result: a lopsided score that kept LSU's bullpen fresh and ready to back up Henry.
"I hope he can give us five good innings tomorrow and pitch in a dominating fashion like he did earlier this year," Mainieri said. "And then I like our bullpen. We've got all our big guns ready to go."
And of what a rout it turned out to be. LSU scored multiple runs in each of the first innings and never looked back.
The Tigers grinded on Stony Brook right-hander Greg Marino from the start and turned free baserunners into a full-blown rally.
Chris Reid drew a bases-loaded walk to tie the game and Garza unloaded the bags with his bullet over the first base bag. Brandt Broussard singled him home and LSU rolled from there.
Marino recorded just four outs — he needed 53 pitches to do it — before an RBI single from Antoine Duplantis knocked him out of the game. Duplantis pounded out three hits to tie Eddy Furniss for the all-time LSU record (352).
The hits kept coming even after Marino departed. Daniel Cabrera followed with a single to right and Cade Beloso plated Duplantis with a sacrifice fly. That brought up Watson, who homered for the fifth time in four career regional-round games played in Baton Rouge.
Watson going yard in a regional game doesn't quite register on the shock scale. But Broussard? Now that was sent a jolt through the dugout.
"It was just a changeup the guy left up," Broussard said. "I was a little out in front of it and got it elevated. I guess there must have been a little breeze out to left and it snuck out of there."
The diminutive second baseman has been on a hot streak since switching to a smaller bat, but nobody — himself included — expected a longball.
Broussard had never homered at LSU, not even in batting practice. He hit two in summer ball and two in JUCO. That's it.
"No fly balls in BP," Broussard said, a nod to Mainieri's constant instruction to hit the ball on the ground and use his top-notch speed.
"I'll be watching hard tomorrow," Mainieri responded.
LSU ran the score up to 17-2 after five innings, allowing Mainieri to pull Marceaux after just 53 pitches. He scattered seven hits and struck out three.
"That's why we took him out after five innings," Mainieri explained. "We'll have him available for Monday if necessary … I think their aggressiveness kind of worked in our favor tonight because it kept Landon's pitch count down."
The Tigers will get to enjoy a full-night's sleep before taking on Southern Miss in the late game Saturday. First pitch is set for 6 p.m.