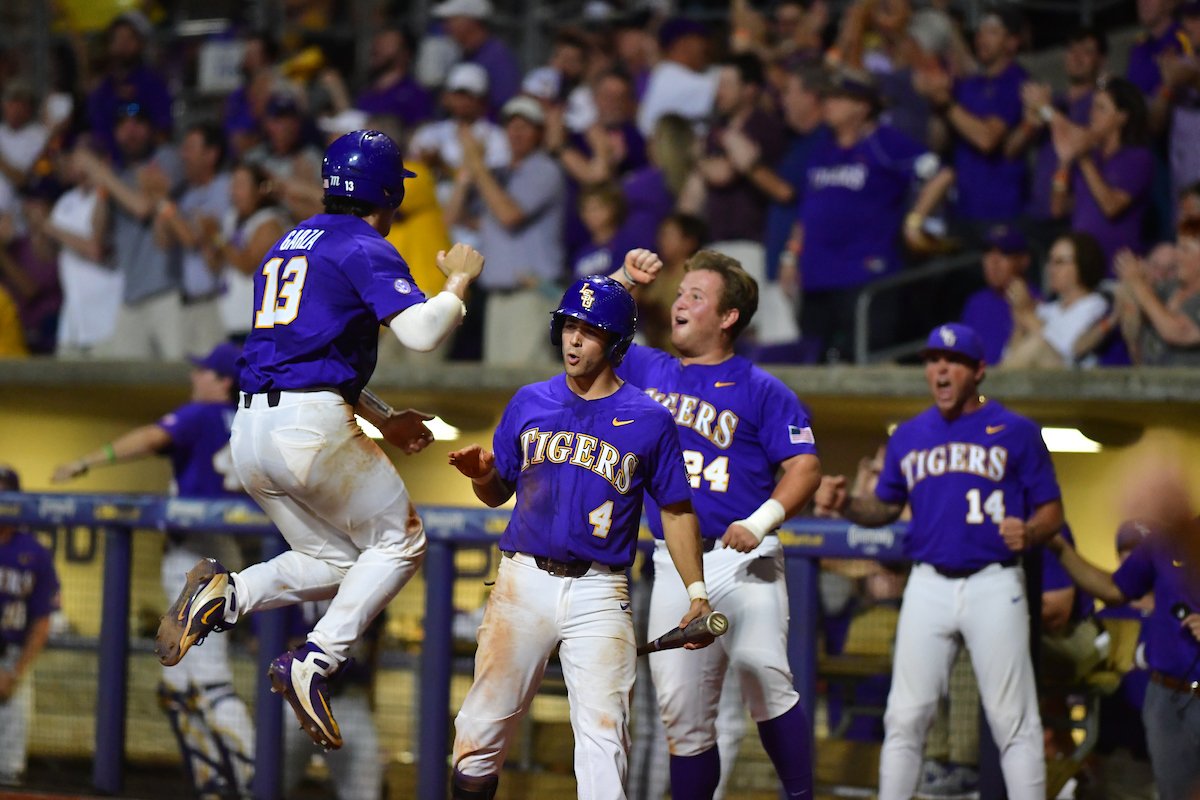 The unlikely rise of Bule might occupy its own special place in LSU lore by the time this NCAA Tournament wraps up.
The boy from Edinburg, Texas, used to blow the heads off rattlesnakes in his front yard. Since committing to LSU last January, he made sure to routinely send photos of the deceased snakes to Paul Mainieri afterword.
"If he had enough courage to kill rattlesnakes in his yard, he could play baseball at LSU," Mainieri smiled.
Saul Garza, Bule for short, delivered the game-winning two-run single as LSU rallied for four runs in the final two innings and held off Southern Miss 8-4 to take the all-important winner's bracket game at an electrified Alex Box Stadium on Saturday night.
The rally came in response to LSU's vaunted bullpen blowing a 4-0 lead the inning before, squandering a fantastic start from Cole Henry in the process. The Tigers went from cruising to tied in one swing of the bat, but the resilient bunch went right back to work.
"I was just so proud of the guys," Mainieri said. "Your first tendency when you give back a 4-0 lead is everybody is going to be tripping over their lip sulking in the dugout. I didn't get that at all. I just saw a lot of determination in our team."
Daniel Cabrera sparked the inning with a leadoff double. Two free passes loaded the bases and brought Garza to the dish. The sellout crowd was primed to explode, but Garza was calm in the eye of the storm.
He lined a 2-2 offering through the drawn-in infield to plate the go-ahead runs. The catcher alertly took second on a throw and then motored home on an RBI single from Chris Reid.
"There's 11,000 people screaming like crazy, and I can't imagine he's ever been in that situation in his life," Mainieri said. "And he had such a calmness about him at the plate. His calmness gave confidence to me."
Zack Hess served up the game-tying grand slam, but Mainieri stayed with him. Nobody else even got warm in the bullpen over the final three innings.
Hess retired the heart of the Southern Miss lineup in order after yielding the game-tying blast. He locked in for six more outs after LSU rallied to retake the lead.
"That is why I have always believed in Zack Hess and always will," Mainieri said. "He is going to be pitching in the big leagues and I'm going to be his biggest fan."
With the win, LSU advances into the regional finals and will have two chances to punch their tickets to the supers with a win. Southern Miss will face Arizona State in an elimination game on Sunday with the winner moving on to the finals needing two wins to advance.  
First pitch is set for 8 p.m. with a winner-take-all game seven (if necessary) set for Monday afternoon. Eric Walker will start for LSU regardless of opponent.
If LSU can find a way to get one more win, it'll head into a super regional with a world of confidence about the chance to line up the one-two punch of Henry and Landon Marceaux in any order, at any venue.
Mainieri opened himself up to be second guessed by pitching Henry in the proverbial "marble game." Henry had made just one start since returning from injury, and he lasted just four outs.
The freshman rewarded his coach's faith with five shutout innings of two-hit ball with six strikeouts.
"This kid has a bright future," Mainieri said. "I know a lot of people wondered why I was pitching Henry. Now you can see why … A month and a half ago I said to myself 'That's the guy were going to pitch in the winner's bracket of an NCAA Regional."

Henry struck out the first batter of the game with 97 mph heat, the highest velocity he's registered in a game this season. Henry pumped 95-96 mph heat throughout the opening frame in what felt like a declaration of his return to form.
History seemed to be repeating itself when Henry issued back-to-back walks to start the second innings. That's when things unraveled for him in the SEC Tournament last week, but Henry managed to right the ship and escape the inning unscathed.
The moment of the game came in the top of the fifth inning. LSU led 1-0 on Beloso's long solo shot in the second, but Southern Miss was threatening with two on and two out against Henry, who'd already thrown 82 pitches. He only through 42 in his first start since the one-month layoff.
Mainieri went to the mound with Todd Peterson ready in the bullpen. After a lengthy conversation, the skipper stayed with Henry. His continued faith paid off as Henry induced a mile-hop popup on a wicked curveball to escape trouble once again.
"I don't think he was going to take me out either way," Henry said. "He was just asking if I was alright. I'm not coming out of that game ever."
LSU finally came through with some insurance runs in the sixth. Brandt Broussard stayed hot with a leadoff double, and Beloso brought him home with a sac fly. Zach Watson followed with his two-run blast, his sixth career home run in five Baton Rouge Regional games.
That lead seemed safe until Peterson lost the plate entirely in the seventh inning. He issued a leadoff walk and hit back-to-back batters to load up the bases with nobody out. Mainieri quickly went to Hess, but Southern Miss second baseman Matthew Guidry golfed a game-tying grand slam off him.
"I was really hoping our offense would give me a lead again because I didn't really want the people of Baton Rouge to burn down my house tonight," Hess said.
Photo courtesy of LSU Sports Information