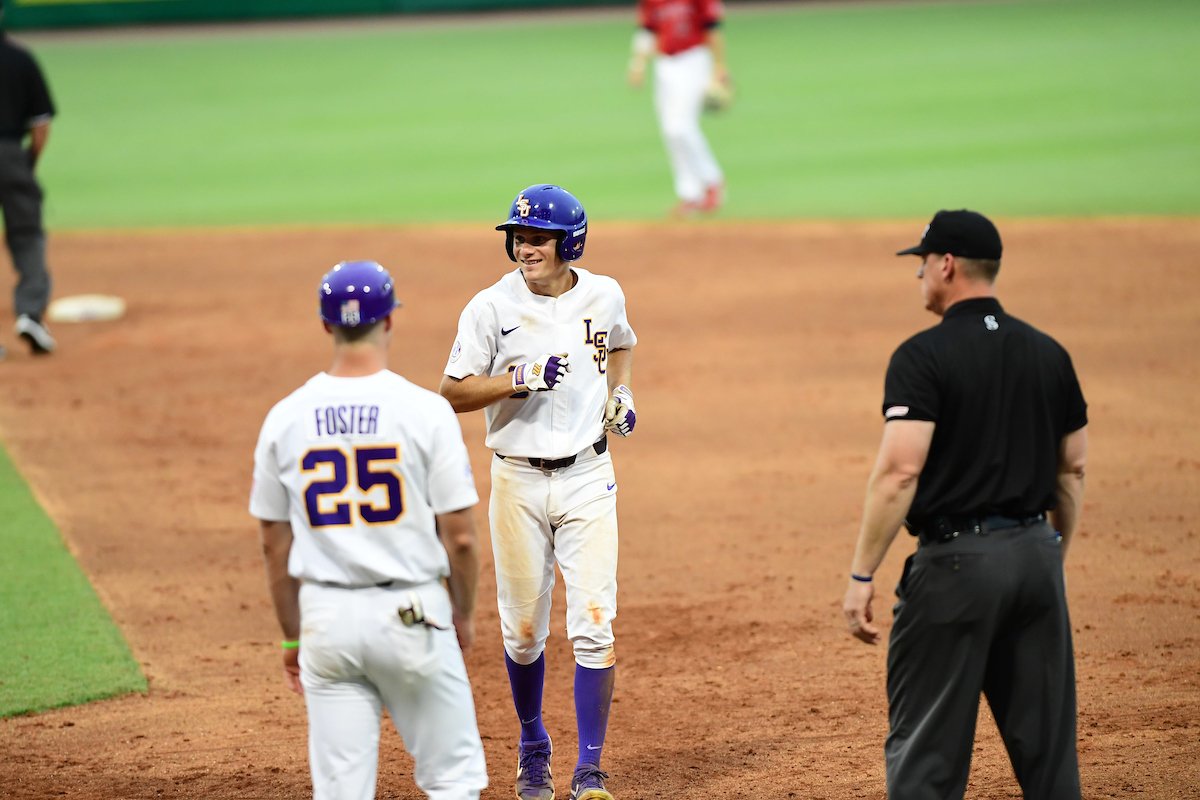 Antoine Duplantis entered the NCAA Tournament needing three hits to tie the great Eddy Furniss for LSU's all-time hits record.
LSU coach Paul Mainieri went out on a limb and predicted LSU wouldn't make it out of the Baton Rouge Regional if his star outfielder didn't break the record this weekend.
Good news for the Tigers: Duplantis picked up three in LSU's 17-3 rout of Stony Brook on Friday night to pull into a tie with Furniss.
"It was definitely nice to get it out of the way in the first game of the regional," Duplantis said. "I did not think about it too much. Obviously, it is in the back of my mind when I step into the box."
The historic night was made a bit stranger by Stony Brook's insistence on deploying an overshift against one of the great pure hitters every to put on the purple and gold.
Stony Brook coach Matt Senk explained why his Seawolves put three infielders on the right side every time Duplantis came up:
"My assistants have done a really good job with a lot of metrics. A lot of what we do is over the last two-to-three weeks. We were going off scouting reports of basically the last three weeks."
The early results indicated that Stony Brook was on to something. Duplantis reached on an error on a slow chopper to the right side his first time up. Then he smoked an RBI single through that crowded right side.
LSU coach Paul Mainieri gave him an edict the next time he returned to the dugout: stop being so hard headed and beat the shift.
Duplantis, as he has throughout his decorated career, took the coaching to heart. Stony Brook continued to shift him with two runners in scoring position and he grounded a two-run single through the vacated hole where the shortstop ought to be.
"He was being a little hard-headed," Mainieri said. "He should've tied the record like a month ago if he'd done more of that. But he hit 11 home runs this year, so now he wants to pull the ball all the time."
Duplantis picked up career hit No. 352 came on a single to left field. A "quintessential" Duplantis hit, to use the phrase Mainieri borrowed from his published author of a son, Nick.
The capacity crowd treated Duplantis to a standing ovation after his record-tying knock. Stony Brook made a pitching change shortly after, which gave him a chance to share hugs with his coaches and teammates outside the dugout.
"It was great," Duplantis said. "I was fortunate enough to have a ton of people cheering me on in the stands. It was a special moment for me and I am glad that I had family, friends and teammates here to witness it."