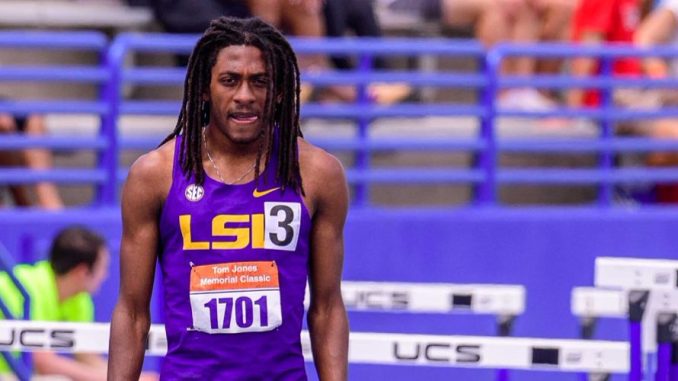 With five of the nation's best women's teams battling for the top in Friday's SEC Cross Country Championships, LSU coach Houston Franks realizes the odds are tall for a team championship.
But there's no reason to believe the Tigers can't take aim at an upper-half finish in the 14-team field.
"It's going to be a barnburner and it always is," Franks said. "Every one of these sports, you finish eighth in the SEC and you may be a Top 15 team."
South Carolina is set to host the 2023 SEC meet at West Charwood Country Club in Columbia. The men's 8K race will begin at 9:08 a.m. followed by the women's 6K at 9:50 a.m. with both races being televised by the SEC Network.
"We need to run as a team and stay as a group halfway through the meet," Franks said of his freshman-laden men's team. "That's now how we've raced and have gotten separated early and everybody's been on an island by themselves. This team needs each other."
Alabama is the defending champion in both races, but if the national rankings are an indicter, you can expect change at the top this year.
Florida's women are the lone team from the SEC in the Top 10, ranked No. 7, followed by Arkansas (No. 11), Alabama (No. 13), Ole Miss (No. 18) and Tennessee (No. 23).
LSU, which won the Florida State Invitational on Sept. 29, has been a team that's garnered some attention in the South Central Regional at No. 4.
"There's going to be a blanket that's thrown over about six to 10, 11 (teams) and we're right in the mix of that," said Franks, whose women were seventh in last year's SEC meet. "There's the five teams that are ranked pretty high. I would love to upset one of them and I would feel great about that. You always want to finish in the top half.
"We're using this to kind of get ready for the regional meet," Franks added. "We think we have a chance to do something LSU's never done as a team (qualify for the NCAA Championships) and that's been the big focus. That's not to say we're not trying to do the best we can this week because we are. We've got a gameplan to try some things that can set us up for where we need to be in two weeks."
Redshirt junior Lorena Rangel-Batres has been LSU's top runner the last two meets, turning in her team's top times that included 20 minutes, 7.8 seconds in placing 15th at the Texas A&M Arturo Barrios Invitational. Sophomore Ella Chesnut (20:34.6) was 46th, junior Michaela Rose (20:39.2) 48th and junior Callie Hardy (20:51.9) 65th.
Chesnut, sophomore Montana Monk and Hardy placed 2-5-6 in the season's first meet – a 4K event- hosted by the University of New Orleans with Monk, Hardy, senior Gwyneth Hughes, junior Carly Nicholson and graduate student Adele Broussard sweeping the top five places to help the Tigers win their own 5K race.
Three of the runners for LSU's men are freshman, while the Tigers also have a redshirt freshman and sophomore.
Juniors Jack Wallce and Dyllon Nimmers are two of the team's most experienced runners and had the team's top times (24:42.4, 25:16.6) in the 8K meet hosted by Texas A&M followed by senior Will Dart (25:31.8).
Wallace (18:18.20) and sophomore Tyler Stevens (18:18.30) went 1-2 in the LSU Invitational – a 6K event – while freshmen Hugh Carlson (15:24.13) and Rob Buisson (15:25.23), and Wallace (15:33.21) went 11-12-13 at the UNO Opener.
Dart (25:37.5) placed 34th over the 8K course at the Florida State Invitational followed by Stevens (25:27.6) and Nimmers (25:54.0) in 49th and 54st, respectively.
"I just want to see us heading in the right direction," Franks said. "I'm not sure what place we can finish. We've had some growing pains this year. We've cleaned some things up. It's a very interchangeable group and they're training well. I have not seen in meets what I've seen in practice and that's part of the frustrating thing. Hopefully we'll get it cleaned up when we need it and have a pretty good showing."