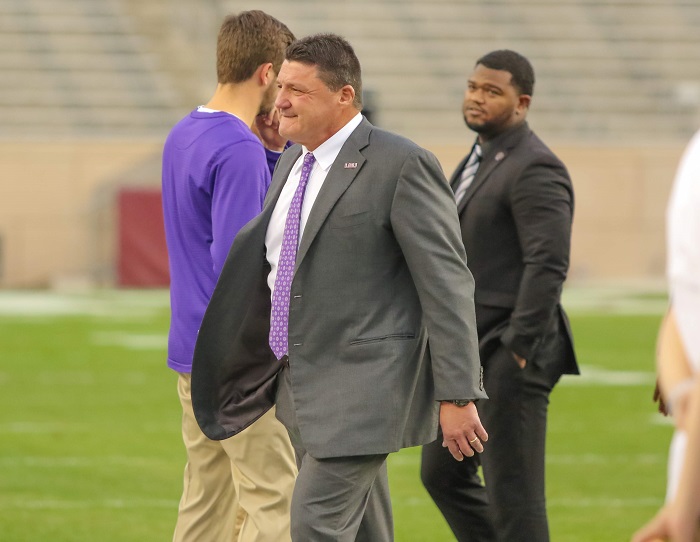 The LSU Board of Supervisors on Wednesday approved a two-year contract extension for LSU coach Ed Orgeron as well as new deals for two of his assistants.
All three of the contracts were approved without discussion or dissent by the Athletic Committee. The proposals were then approved by the full board later in the morning.
The contract, once formally approved, will extend Orgeron through the 2023 season, a two-year addition to his current deal. Orgeron would earn $4 million per year — a 14 percent raise — with $300,000 in additional incentives under the proposed agreement.
"Last year he finished sixth in the country and had a top-five recruiting class," said LSU AD Joe Alleva, who presented the extension to the Board. "I think he's represented the University extremely well."
Orgeron's buyout would increase to $10 million with the amount set to decrease by $250,000 each month through March 2021. The buyout will remain $4 million for the balance of his contract if the agreement is terminated without cause.
The coach is two years into his current contract, which was set to expire on Dec. 31, 2021. Orgeron previously earned $3.5 million annually, which ranked No. 36 nationally and 10th in the Southeastern Conference, according to the USA Today Salary Database.
As for incentives, Orgeron will receive $250,000 if LSU wins 10 games in the regular season — up from $100,000 in the original contract. If LSU has 11 wins in the regular season, Orgeron will receive $350,000 — up from $150,000. And if LSU has a perfect 12-win regular season, Orgeron will earn $500,000 — up from $200,000.
"I'm sure we'd all be happy to pay that $500,000," Alleva joked.
LSU is 19-7 in two full seasons under Orgeron and coming off a top-10 campaign that exceeded all expectations — local and national. LSU is 25-9 since Orgeron took over as interim coach during the 2016 season.
The Board also voted to approve a proposed contract for new passing game coordinator Joe Brady as well and a one-year extension for safeties coach Bill Busch
Brady will receive a three-year contract worth $400,000 a year through 2022. Jerry Sullivan, his retired predecessor, earned $450,000 in the same position last season.
Busch, who was hired last offseason, received a one-year extension and a raise of $50,000 a year. He'll now earn $425,000 annually through the 2021 season.