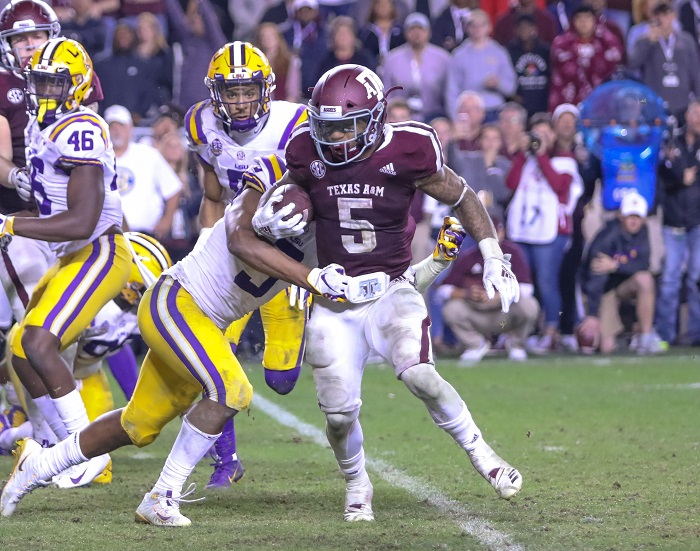 Every player learns to play at the Division I level at their own speed, and guys aren't immune from that fact just because recruiting services tabbed them as a five-star prospect coming out of high school.
JaCoby Stevens is a poster child for that fact. He spent a season and a half bouncing around between safety, wide receiver, tight end and outside linebacker before coming into his own down the stretch last season.
"It was a huge learning curve," Stevens says now. "If there wasn't I would have just come in and played right away. Instead I came in and learn."
The light seemingly came on for Stevens when LSU started playing him at the quarter, a hybrid position that is part safety and part linebacker. The sophomore totaled 27 tackles with half a sack, two pass deflections and an interception over the final three games of the season.
Stevens is feeling as comfortable as ever thing spring after a nomadic start to his career at LSU. He sat down with reporters to discuss finding at home in his new role, the collegiate learning curve and how he's using his spring to get even better headed into next season.
Question: Going into another spring, you got used in a lot of different ways last year. How much more comfort do you have in some of those roles now?
JaCoby Stevens: I'm very comfortable in the roles they're giving me. I was used last season, so I kind of got my feet wet and have an understanding of what's expected of me and how to play college football now. So I'm comfortable and looking forward to next season.
Q: How much of a learning curve was there last year learning all those new things in the defense?
JS: Oh it was a huge learning curve. If there wasn't I would have just come in and played right away. Instead I came in and learn under Coach (Bill) Busch, learn under Grant (Delpit). I saw some of the things that he did. Coach Busch even pulled me over to the side and had extra meetings. We broke down film. Sometimes we broke down tendencies that offenses do. I had to learn how to study and learn the game.
Q: What's your role so far this spring?
JS: Right now I'm still doing the quarter position. I'm starting to work on playing the post and being in the middle of the field. I'm working on blitzing more and having better moves than just speed to power. Just kind of tweaking things and learning how to be a better football player.
Q: You mentioned the quarter position. Is that where John (Battle) was at last season?
JS: JB played free safety last year, but basically all three of us played the quarter position, just at different given teams and against different teams we've faced. Sometimes I'll play it, JB will play it and Grant will play it.
Q: Was moving into that quarter position kind of when the light went on for you last year? It seemed like you were making a lot of plays by the end of the season.
JS: When I moved to that position, it was an opportunity that the coaches gave me, and I knew I had to do something with it. They've given me multiple opportunities on offense. They moved me to outside linebacker on defense. So when they moved me to quarter, it was basically a combination of safety and outside linebacker, so I felt like that was the best opportunity for me to showcase the skills that I have. Also it's a position where you have to be a smart player to play or you expose the defense a lot.
Q: I know Grant was playing at that quarter position a lot early in the season. Was it sort of a natural fit for him to move back as you emerged?
JS: Grant is such a good all-around player and so versatile that you can line him up anywhere and play. When I had my time and began to make plays, and make a name for myself, it wasn't hard for them to find a place for Grant to play. He can play the quarter, he can blitz, he can cover and he can play the middle of the field. To have both of us on the field, I don't think that was a hard decision. Coach (Dave) Aranda didn't have to get too technical to get us both on the field at the same time.
Q: So you said you were learning some new pass rush moves. What kind of moves?
JS: I'm learning the bob-and-swat. I'm learning to dip my shoulder, kind of a hesitation move to make the offensive lineman get set, and then go past them and know down their hands. Just something different then trying to beat them with my speed, and then if they open up too wide, going speed to power and trying to put them on their back. Most guys that go to the NFL can get paid off one pass rush move, but if you can get more than one, it can be pretty special.
Q: So who coaches you on that?
JS: Coach Busch does actually, and sometimes I sneak a peek at Coach O and what the defensive line is doing. I try to mimic that, even the sound. If you go to practice, they make all kinds of weird sounds during individual drills. I always make fun of them. I even try to do that sometimes. Just stand around Breiden Fehoko of guys like that. I think that's they're secret. The weird sounds get them the sacks.
Q: I know Ed (Orgeron) likes to have his linemen watch film on NFL guys to learn their moves. Is there anybody in particular whose moves you like to study?
JS: I just watch our guys, and I watch how Grant rushes. Also Tyrann (Mathieu) was one of the best ones to rush off the edge in kind of that nickel corner position. Then Coach Busch will send me some random guys over text messages to show me different moves that they do and how they set everybody up. Another guy that Coach Busch put together with me, it's not ideal because he went to the other school, but Landon Collins. Somebody that is my same size and has a similar skill set. He shows me how he gets around the edge and how he blitzes from certain packages in different defenses. How to get one-on-one matchups with a guard or a tackle, and if it's a running back, Coach Busch says to just over them.
Q: Speaking of pass rushing, it must be different for you than a defensive lineman when you get matched up with a tackle or a guard. How do you get around those blockers who have a size advantage?
JS: For a tackle, based on where they're lined up, I try to get as close to them as possible and use my speed around the edge; dip my shoulder. For a guard, if I was going to get on a guard, I'd try to stick and move them. They do have help around them, so for a guard I'm trying to isolate him and get around him. For a running back, most of those guys weigh 215 (pounds), and I can just get through them.
Q: What was your reaction when you saw Coach Busch got an extension and a raise?
JS: I don't think Coach Busch knew that I knew about his extension. Yesterday, in a meeting, I got up and said "Congratulations on your extension Coach!" It kind of caught him off guard. I'm very happy for him and he's deserving of it.