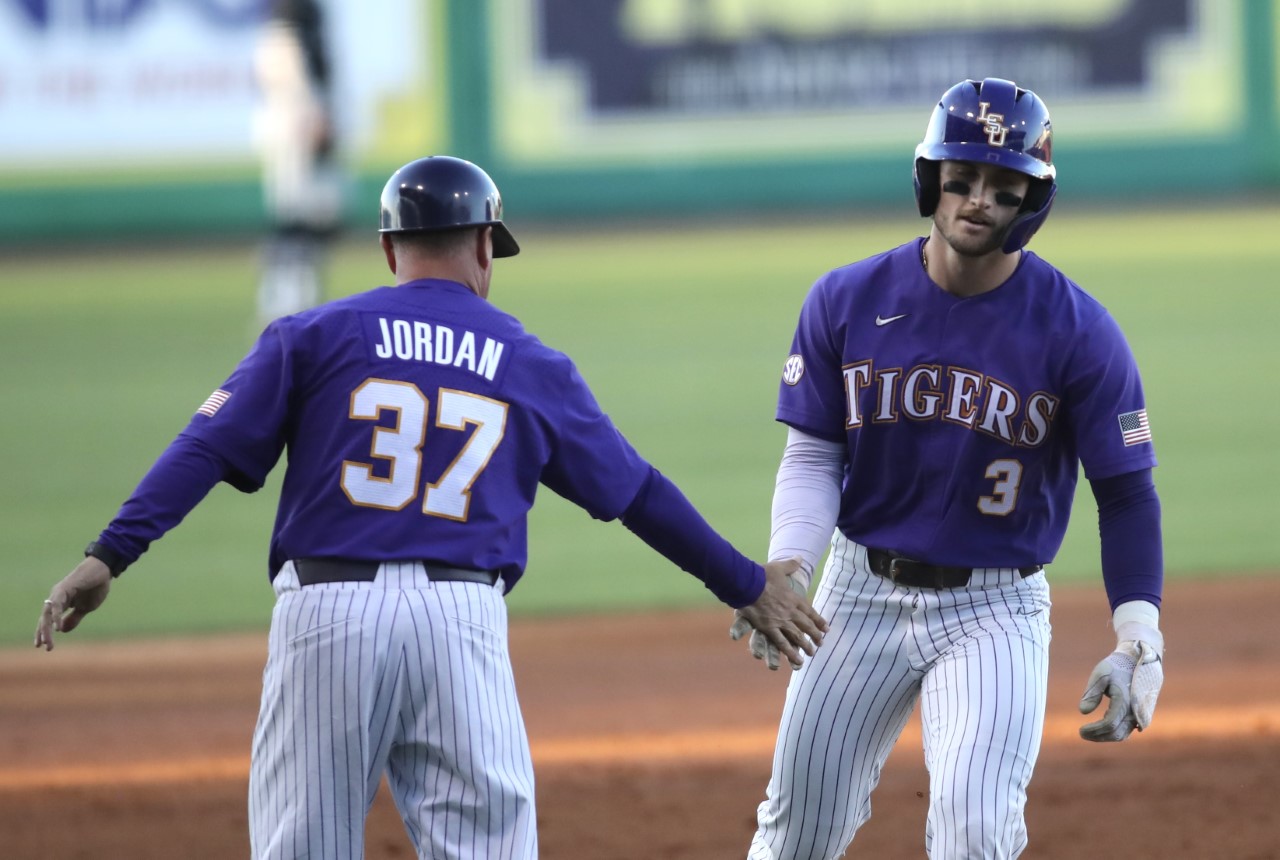 Jordan Thompson's hard-hitting and timeliness, along with Dylan Crews' timelessness, were on full display on Tuesday night in No. 1 LSU's 10-4 win over Central Arkansas at Alex Box Stadium, Skip Bertman Field.
Thompson's two-out, three-run home run put LSU ahead, 7-4, in the bottom of the fifth inning after he doubled and then scored the tying run an inning before when the Tigers trailed the Bears through three-and-a-half innings.
Meanwhile, Crews crushed his sixth home run of the season, extended his hitting streak to 19 games, and pushed his gaudy batting average to .515.
Freshman pitcher Griffin Herring (1-0) picked up the win for LSU (19-2) with 2.1 innings in relief of starter Blake Money. Herring did not allow any runs while giving up one hit, walking one and striking out three.
Dilla Janik (0-1) was the losing pitcher for Central Arkansas (11-9).
Crews' two-run shot to right center field with no outs in the bottom of the first put LSU up 2-0, driving in right fielder Josh Pearson, who led off with a single to right.
The first inning ended on a base-running error from Tre' Morgan, who had singled to left field, but failed to tag first before taking off when Gavin Dugas hit a hard, deep shot to right center that Bears center fielder Kade Seldomridge caught after a long run. Seldomridge threw to first base to complete the double play and end the inning.
The Tigers added a run in the bottom of the second to go up 3-0 on catcher Alex Milazzo's RBI ground out that scored designated hitter Jared Jones from third. Jones led off with a double down the third-base line and advanced to third on left fielder Brayden Jobert's single to right field.
Central Arkansas scored four runs in the top of the fourth and chased Money on center fielder Dylan Cyr's two-run home run that put the Bears ahead, 4-3. Seldomridge led off the inning with a double to center field and scored on designated hitter Tyler Monroe's triple. First baseman Evan Hafley added a sacrifice fly to center to drive in Monroe.
LSU tied the game at 4-4 with one out in the bottom of the fourth when Thompson doubled down the left-field line took third on a fielding error. With two outs, Pearson's infield RBI-single scored Thompson. Pearson squibbed a spinner down the third-base line that plunked the bag and he was safe at first.
Herring got the Bears in order in the top of the fifth.
Thompson hit a two-out, three-run home run in the bottom of the fifth, helping LSU regain the lead at 7-4. His homer followed back-to-back walks from Jones and Jobert.
"He's (Thompson) as clutch as he can be," LSU baseball coach Jay Johnson said. "He's been one of the most important players here in my short tenure. I just trust him, and he's been working hard. I think his at-bats this season so far have been better than the results he's been getting."
Central Arkansas' weekend starter Pay Windham, who was returning from an injury, relieved Janek after Thompson's home run. Windham walked Milazzo and then Pearson grounded out to second base to end the inning.
LSU added three more runs in the bottom of the sixth to extend its lead to 10-4 in the bottom of the sixth despite not having any hits. The Tigers used three walks, a balk, a throwing error and what amounted to a swinging bunt by Jobert.
Windham walked Crews and White to start the bottom of the sixth before being replaced by Trent Gregson to face Morgan. Morgan reached on a fielder's choice to shortstop, forcing White out at second but leaving LSU with Crews and Morgan on the corners and one out. Gregson was called for a balk, scoring Crews before he walked Dugas then struck Jones out swinging for the second out. Jobert's swinging bunt scored Morgan when Jobert reached first on a throwing error.
Gavin Guidry relieved Herring to start the seventh inning and allowed two base runners before rallying to retire the Bears to get out of the inning. Guidry walked Cyr before giving up a single to catcher Noah Argenta, Shortstop Reid Bowman flied out to center for the first out before Guidry struck out second baseman Tanner Leonard after coming back from a 3-1 count with consecutive breaking balls. Seldomridge grounded out to first for the third out of the inning, stranding two Bears on base.
LSU, which is 2-1 in the SEC following last week's series win against No. 15 Texas A&M, plays host to No. 5 Arkansas (3-0 SEC) beginning on Friday. Johnson said Arkansas is clearly one of the best programs in college baseball and will present a great challenge for the Tigers on a variety of fronts.
"So tomorrow we're going to use the time to get some guys rested up in the training room and get some treatment," Johnson said. "We'll have some individual work with some of the players. Just clean up some things. Then, we'll have a good team practice.
"We really want to encourage the fans to come out this weekend. We need that real home-field advantage," Johnson said. "This is one of the beasts we've got slay to get back to the top. When I took this job, this was always one of the programs, it's like, 'alright, this is going to be a year-to-year thing.' They're always going to recruit. They're one of the best recruiting programs in the country, and thus have been one of the most successful programs in the country. So, I'm excited for the weekend. I know our players are excited for the weekend. It's going to be a great matchup."