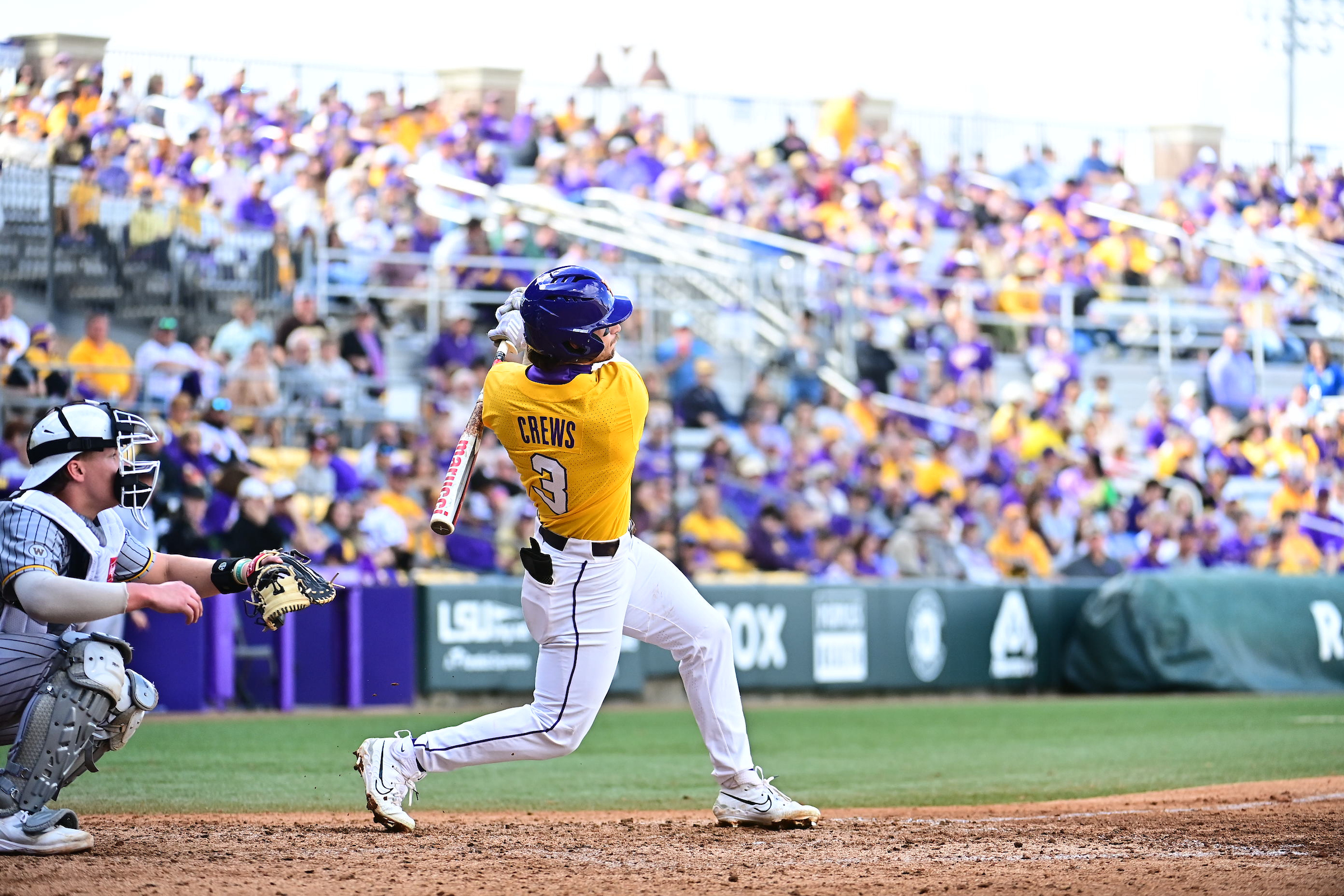 Dylan Crews' 440-foot, two-run home run in the bottom of the fifth on Sunday afternoon exited Alex Box Stadium in a hurry – like it had a purpose.
Like it had places to go, things to do, etc.
It traveled out of the stadium at 111 miles per hour, to be exact.
That's 24 miles-per-hour faster than the average home run exit velocity – in Major League Baseball. The average exit velocity is 87-miles-per-hour.
It was in a hurry – to get LSU's offense revved up and going.
The impact of Crew's home run was obvious on LSU's offensive psyche and performance, immediately obvious.
Crews' homer broke a 1-1 deadlock, driving in Gavin Dugas to ignite a five-run inning for No. 1 LSU and powered the Tigers to a 9-2 win over Western Michigan. The Tigers (3-0) completed a season-opening series sweep of the Broncos.
It packed quite a punch.
Crews' blast also woke up LSU's bats for the first time this year.
A 10-0 season-opening win on Friday in cold, blustery conditions was devoid of home runs and slim on extra base hits.
Saturday's methodical 5-3 win did feature one homer, Dugas' solo shot, but LSU remained mostly docile at the plate in that victory, as well.
Sunday, though, was a different story.
Brady Neal followed Crews' missile only a handful of pitches later in the fifth with an RBI-single, driving in Jared Jones. Jordan Thompson then crushed a 1-0 fastball over the left-field wall for LSU's second two-run home run of the inning for a 6-1 lead.
Dugas kept it going, opening the bottom of the sixth with a solo home run, his second in as many days. It was the fifth-year senior's sixth hit in eight at-bats so far this season, a .750 batting average.
"Gavin has faced adversity with injuries, but he has persevered and got himself right," LSU coach Jay Johnson said. "I think the best is yet to come for him."
Crews said during the preseason he would be more of a vocal leader this season. And he has been true to his word and Sunday, though, he let his bat do the talking.
His gawker-alerting home run reverberated throughout the lineup.
You can argue the clear skies, the moderate 66-degree temperature at game time, and the relatively calm wind conditions were simply conducive to more power hitting than Friday and Saturday.
No one will argue.
But, keep in mind, LSU's bats didn't get going until Crews hurried the Tigers along with his tie-breaking bomb to break both the 1-1 tie and also break open the flood gates.
Crews served notice that strong, solid pitching is nice. It's even great. Glad to have it. Now, let's do our thing.
LSU did, thanks to Crews.
And Western Michigan (0-3) was done.
Freshman Chase Shores got his first career start and gave up one run in 3.1 innings of work. The bullpen did the rest, limiting the Broncos to just one hit over the final 5.2 innings.
Junior right-hander Ty Floyd picked up the win in his first action of the season.
Floyd started the fifth inning in relief of Sam Dutton, who relieved Shores in the fourth inning with one out. Dutton retired two batters before giving way to Floyd who faced nine batters, striking out four and giving up no hits.
"Ty came in with the game tied, and he got the momentum back in our dugout, and we rolled from there," Johnson said. "He did a great job; he is one of the best pitchers on our staff, and you have to have a guy like Ty that you have confidence in to come into a tough spot."
LSU returns to action at 2 p.m. Tuesday against Southern University in Alex Box Stadium, Skip Bertman Field. The game will be broadcast on affiliates of the LSU Sports Radio Network, and it will be streamed on SEC Network +.
"I thought the entire weekend was great, a really good model for what we want to establish going forward," Johnson said. "We had really good starting pitching, really good defense and we were excellent in situational hitting. I really liked the amount guys that contributed to winning as well."