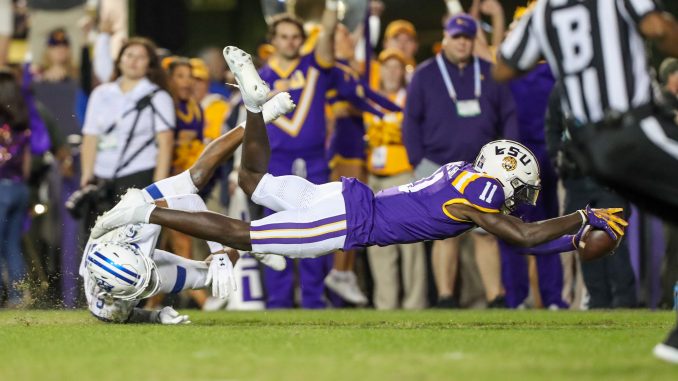 LSU accomplished one objective while keeping its best player in line for the nation's top honor.
The No. 15 Tigers snapped a deadlock early in the second quarter behind another statistical windfall from Jayden Daniels who continued to hone his Heisman Trophy credentials in a 56-14 nonconference victory Saturday over Georgia State.
Daniels accounted for 509 total yards and season-high eight touchdowns, leading LSU (8-3) on eight consecutive scoring drives and 582 total yards before an announced crowd of 100,212 at Tiger Stadium.
"I believe that I could come here and make an impact," Daniels said. "Just make an impact to this magnitude and being high in the Heisman conversations and stuff like that. For me, it was kind of just coming here trying to get a fresh start, just to make a name for myself from where I was at Arizona State and now coming to LSU. Just to go out find the joy in football."
Daniels, the nation's leader in total offense, completed 25 of 30 passes for 413 yards and six touchdowns. He rushed for another 96 yards on 10 carries and two TDs and his eight touchdowns he was responsible for equaled Joe Burrow's school record.
Daniels became just the sixth player in College Football history to pass for more than 3,000 yards and rush for over 1,000 in the same season. He also joined former Texas A&M Heisman Trophy winner Johnny Manziel in the exclusive club in the SEC to also accomplish the feat.
"Everybody knew what was at stake tonight, and our offense just kept flowing, and that was evident with our eight possessions and eight touchdowns," Daniels said of his pursuit of Burrow's record. "The success we had tonight is something we value highly within the offense. Once I found that I had the record, I was trying to do it again, but I got shut down a little bit."
From the point LSU, who were five-touchdown favorites, took a 21-14 lead and the Tigers reeled off 42 unanswered points, to build a 42-point lead with 8:59 remaining to be played.
In 34 years of coach LSU's Brian Kelly singled out Daniels as the best player he's coached.
"I think right now, the way he's playing, and the decisiveness and the way he's taking over games, he's the best player," Kelly said. "And I would say that because the numbers we're reaching. He tied Joe Burrow's record. Many people were kind of saying, 'what eight touchdowns'? I think that's the level of play. So yeah, I would say he's the best."
Daniels threw a pair of touchdowns and ran for another in the second half when LSU added to its 35-14 halftime lead.
He found freshman tight end Mac Markway for his first career touchdown – a 3-yarder on first-and-goal – and found Malik Nabers for the second time on a spectacular 40-yard scoring grab near the back of the end zone.
Nabers, who had a team-high eight catches for 140 yards, made an over-the-head grab of Daniels' attempt and his scoring play was confirmed by video review.
The trio of Nabers (8-140, 2 TDs), Kyren Lacy (5-101, 2 TDs) and Brian Thomas Jr. (4-103, TD) became the first set of receivers in school history with 100-plus receiving yards and a touchdown in the same game.
"We are not focused on who goes in and gets touchdowns every game," Nabers said. "It might look like Brian will have a good game, then Kyren had two touchdowns and a 100-yard game. It is just week in and week out for who it might be."
Daniels also added his second rushing touchdown on the game on the second play of the fourth quarter after a horse-collar penalty against GSU kept the drive alive. Operating under center, Daniels followed center Charles Turner III into the end zone from a yard out for a 49-14 lead.
"I thought it was a great performance, again by our offense," Kelly said. "Eight possessions, eight touchdowns. What more can I say? It's been exciting to watch, and I hope everybody's enjoyed the efficiency in which they operate."
Georgia State (6-5), which dropped its fourth straight game, was led by quarterback Darren Grainger who completed 23 of 29 for 179 yards and a TD. Running back Marcus Carroll, the nation's No. 3 running back at 120.6 yards per game, finished with 87 yards on 15 carries and a TD. He also caught four passes for 51 yards.
LSU defense allowed 120 of Ga. State's 365 total yards after halftime and twice held the Panthers on fourth downs which the Tigers converted into touchdowns.
"I think Georgia State had a great game plan," Kelly said. "They came in trying to hold onto the football. They had 35 minutes of possession to our 24, hoping to shorten the game. We were just so efficient on offense.
"I thought after the two touchdowns that we gave up defensively, two plays that we obviously felt like we should defended better," Kelly said. "They settled down and did a nice job defensively from that perspective. So, good win."
Daniels worked his magic through the first half, amassing 339 total yards and five touchdowns to lead LSU to a 35-14 halftime lead.
The Tigers scored on all five its possessions in a variety of fashions, scoring on their final possession of 60 yards in three plays with Daniels connecting with Lacy for the second time of the half – this time on a 13-yard score with 23 seconds left before halftime.
The two teams matched opening touchdowns with GSU taking a 7-0 lead on its opening series with Grainger throwing a 6-yard TD to Tailique Williams less than four minutes into the game.
The game was tied twice at 7-7 and 14-14 with Daniels keeping on second-and-goal and scoring on a 14-yard run that he cut to the right side. The drive was set up by the Tigers longest punt return in three season when up man Javien Nicholas took Kade Loggins' short punt back 27 yards to LSU's 47-yard.
LSU defense didn't have many solutions in slowing down the duo of Grainger and Carroll in the first half, enabling the Panthers to remain in contention at 14-all on Carroll's 44-yard scoring sprint at the 12:45 mark of the second quarter.
Daniels triggered a stretch of 21 unanswered points until halftime with three successive scoring drives of 80, 70 and 60 yards, respectively. The Tigers took the lead for good at 21-14 at the 10-minute mark on Daniels' 27-yard TD pass to Lacy.
LSU forced a turnover on down when Grainger threw incomplete on fourth-and-seven on an incompletion from LSU's 30 into the end zone with 2:35 showing.
Thomas, the nation's leader in receiving touchdowns, made his first catch of the game a memorable one – hauling in a 70-yarder in stride from Daniels on first down. The score was confirmed following video review and made it 28-14.
LSU, which used two of its three time outs, forced a punt to give the ball to its offense which Daniels took care of with his fourth TD pass of the half and second to Lacy from 13 yards out.
"One thing I learned is you have to keep fighting," LSU safety Major Burns said. "Some people lay down when things get hard. If you're fighting and keep going, usually good things will happen in the end."