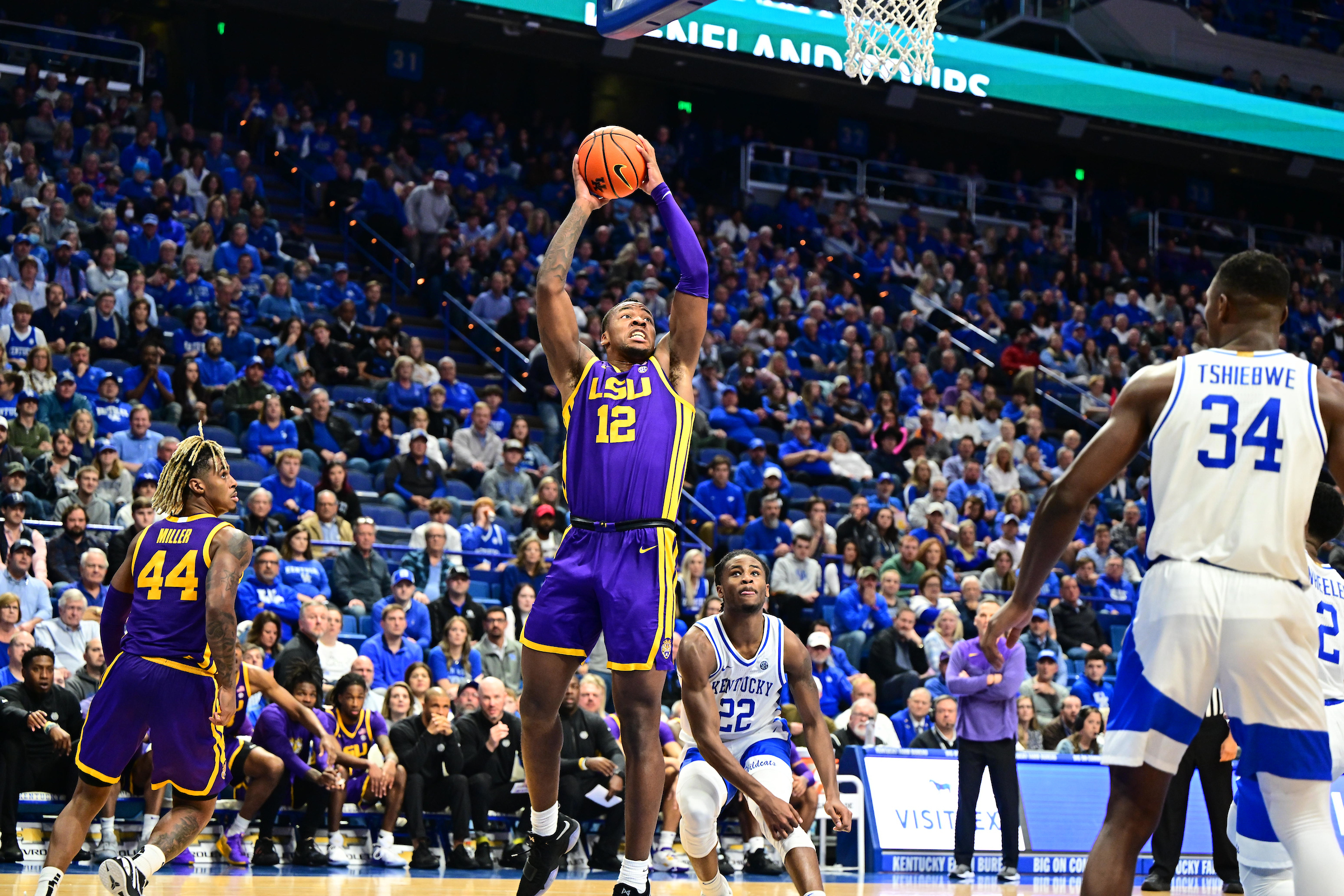 It could have been over early, but LSU and Kentucky wound up in a catfight until the final buzzer sounded Tuesday night where the Wildcats prevailed, 74-71.
With 10:42 left to play in the game on the road at Kentucky in Rupp Arena where the Southeastern Conference's preseason favorite Wildcats had won 27 consecutive home games, LSU found itself down, 60-50, following a slam dunk by Jacob Toppin on an alley-oop pass Cason Wallace.
A defensive lapse for LSU – the kind that could have done in the Tigers in their first conference road game of the year.
But LSU recovered, primarily because there simply does not appear to be an ounce of quit in this team.
And even though LSU coach Matt McMahon implied that very little about his first-ever SEC road game went as he expected on Tuesday night, one thing he said that did ring true to form was LSU's characteristic fight remained intact.
LSU fought back over the final 10 minutes, twice cutting Kentucky's lead to one point.
And with 3.4 seconds left to play, McMahon found himself devising an inbounds play to go the length of the court and to free up either Adam Miller (first) or KJ Williams (second) to launch a 3-point shot that would, he expected, land softly in the bottom of the net and send the game into overtime.
It was, after all, LSU's 3-point shooting (11 of 25) that kept them in the game as Kentucky dominated the Tigers on the offensive and defensive boards all game, outrebounding LSU, 31-22.
The final play ended up with the ball going to Williams, instead of Miller.
Williams' shot was contested and fell short.
Kentucky escaped, beating back LSU by three points.
"I'm disappointed that we didn't get it done, we came up here to win," McMahon said. "But as I told our players, man, they showed me a lot tonight. . .their character, their toughness and their unselfishness. We just didn't make enough plays there to get it done."
Turns out, even if Williams' last-second shot had made it to and through the hoop, it would have only been worth two points, not three. Williams had his foot on the three-point line.
In the end, things don't always go as planned.
McMahon explained the final play he drew up, why he expected it to work, and why ultimately it did not.
"Because of the way we were playing it, we wanted to try to hit Derek (Fountain), and then for Derek to lead Trae (Hannibal) up the floor. The ball was in the air, so the clock hadn't started yet, and we were advancing the ball down the court (saving time). We were trying to have Ace (Adam Miller) screen in to flare for KJ. So, Trae's look was the catch and rip it up, and then if they were to switch at Ace, he was just going to pop to the ball there for that 3. KJ was 4 of 6 on the night. Sometimes bigs have a hard time guarding those flair screens. You know, got a decent look, but that's not a great spot to be in."
Williams led all scorers in the game with 23 points, while LSU's guards Miller (15 points) Hannibal (12 points) and Cam Hayes (11 points) combined for 38 points total.
Toppin led Kentucky with 21 points shooting 9 for 13, Oscar Tshiebwe had a double-double, 19 points and 16 rebounds.
LSU (12-2 overall, 1-1 SEC) saw its seven-game win streak snapped by the Wildcats (10-4, 1-1 SEC), who won their 28th consecutive home game.
"The game was a little different than I expected," McMahon said. "I thought both teams played better offensively than I was anticipating going in. I thought on the offensive, you look, I mean, we're 50 % from the floor, 11 of 25 from 3, 15 assists to nine turnovers – that's good enough to win.
"We just weren't able to get enough stops. They hit some tough shots. I thought the last eight minutes, we got better on the glass," McMahon said. "We closed that gap a little bit. But (Savhir) Wheeler banks in the three, Toppin hits the three out of the corner, just some clutch shots they were able to knock down. But I thought for the most part our guys executed very well on the offensive side. Just some clutch shots they were able to knock down. But I thought, for the most part, our guys executed very well on the offensive end."
LSU returns to action at Texas A&M on Saturday at 5 p.m.. The game will be on the SEC Network. The Aggies, who are 8-5 overall, open their SEC schedule Wednesday night at Florida.