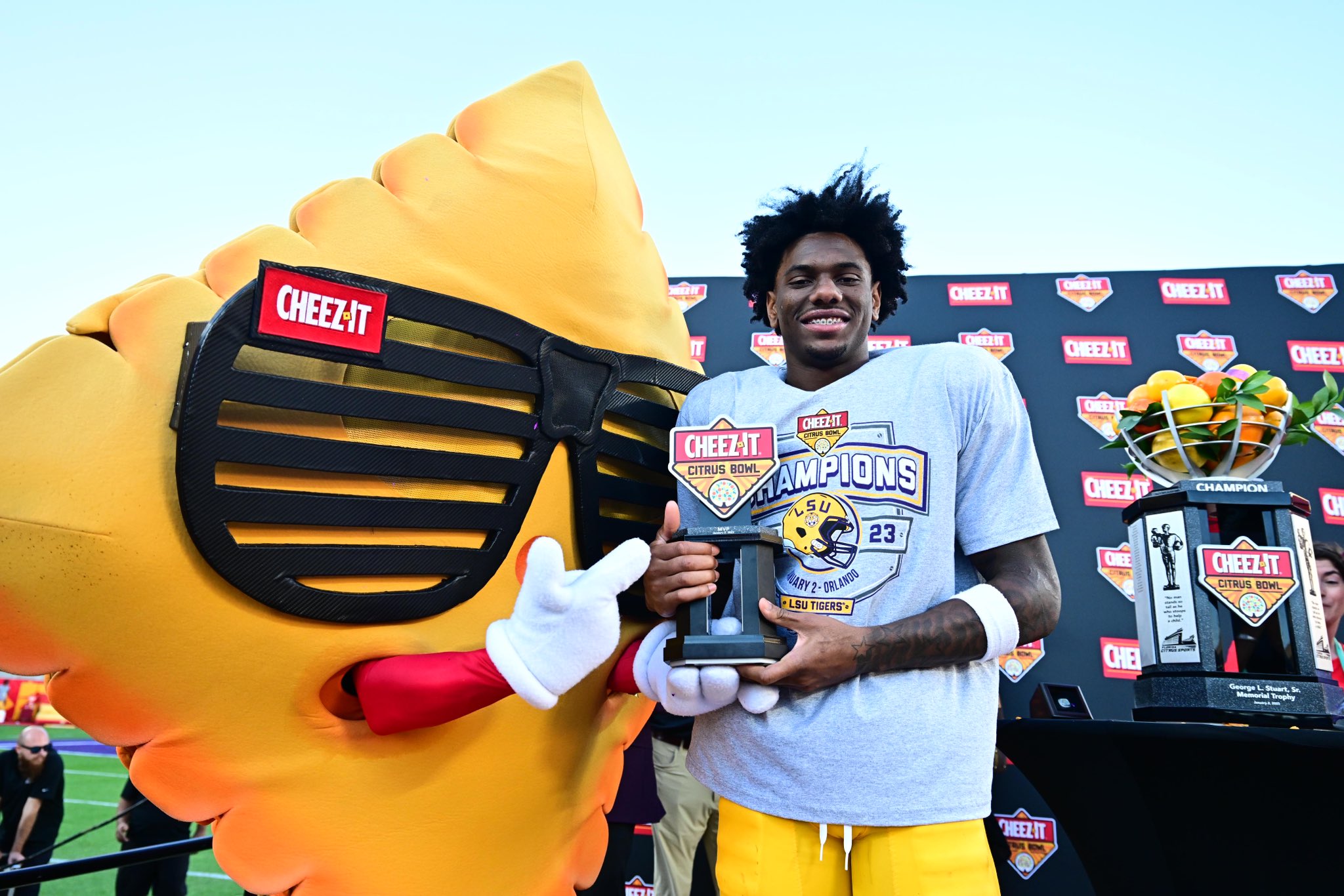 It would have been easy for LSU wide receiver Malik Nabers to sidestep his misgivings after having his day in the Florida sun in Monday's Citrus Bowl.
Before totally embracing the Citrus Bowl MVP trophy after his team's 63-7 trouncing of Purdue, Nabers reminded everyone of his season-long ascent. He began in the season opener with a pair of muffed punts in a 24-23 loss to Florida State and dropped three passes in his team's final game.
"I think it made who I wanted to become," Nabers said. "The beginning of the season wasn't how I wanted to come out in my sophomore season. We all don't wish to come out and be emotional like I was. To come back and see all my teammates lifting me up through week-after-week, it made me strong, and it made me want to perform at a high level with them. So, this is like my – I believe my second MVP of my whole, you know, life, and I am really going to be appreciative of this one.
"It is a big stage to come out in Orlando in the Cheez-It Citrus Bowl and come out at a high level and win the MVP award," Nabers added. "Three drops that I could have easily caught could have changed that. I am very happy with the outcome of this game and hoping to carry on into next year."
LSU (10-4) concluded the season with a highwater park in matching a school record 63 points in a bowl game.
With quarterback Jayden Daniels announcing his plans to return and direct the team's offense in 2023, he'll have an unquestioned leader in Nabers at wide receiver to throw to.
"This performance, it shows that I am able to come out here and perform at a high level with anybody in any conference," said Nabers, who will be a junior. "It's something that I can build on to next year, keep my confidence up."
Nabers, who began the season in the shadows of preseason All-American Kayshon Boutte, didn't leave any doubt who the team's best receiver was in 2022 with an MVP performance against Purdue in the Citrus Bowl.
The Lafayette native combined for 213 yards of offense and two touchdowns, becoming one of three players to throw for a touchdown in the game. He topped the Tigers with season highs in receptions with nine and yards with 163 that included a 75-yard touchdown from quarterback Garrett Nussmeier.
Nabers registered 100-plus yards in three of his last four games and wound up with a team-high 72 catches for 1,017 yards with three touchdowns.
"I think he is maturing," LSU coach Brian Kelly. "I think we have gone through understanding how to be in the right zone emotionally to his preparation in practice, where he is preparing harder than anybody else, to flipping the switch to performance. Look, he mentioned one of the drops. He drops the ball, but he comes back the very next play and made a spectacular play. His ability to focus and refocus, that is the maturity that you see from Malik in terms of how he has grown in this past year, and I am really proud of him."
Nabers' first big exploit in the Citrus Bowl was a 12-yard reception on fourth-and-two that extended LSU's drive to later include John Emery Jr's 1-yard scoring run on third-and-goal at the 7:01 mark of the first quarter.
His 13-yard reception on third-and-8 resulted in a first down and running back Noah Cain scored the first of two 9-yard touchdowns near the end of the quarter.
Nabers had seven catches from Daniels and Garrett Nussmeier in the first half for 80 yards, but he was just getting started.
He followed that up with a first-down reception of 15 yards with his first pass attempt of the season, taking the ball on an end around and spotting Kyren Lacy for a 45-yard completion to set up Nussmeier's 10-yard TD pass to Brian Thomas Jr. for a 35-0 halftime lead.
Nabers finished LSU's sixth straight scoring drive with his first career touchdown pass. He took a handoff from Emery in the 'Wildcat' position and completed a 5-yard TD pass to Daniels on the 'Philly Special' that extended the Tigers' lead to 42-0.
His 75-yard TD pass from Nussmeier was a result of his jet sweep motion, taking the short pass and turning the corner. He hit the sideline, broke a tackle and weaved through traffic at Purdue's 20 to complete the scoring play and make it 49-0.
"My coaches, Coach Kelly, Coach (Cortez) Hankton, they always talk about having fun, don't be so stuck up and to try to get all the highlights," Nabers said. "If it is destined for you, it is going to come. Today was destined for me to have this amazing game.
"My coaches put me in different positions," Nabers said. "I switched from 'Z' to 'W' in the Auburn week and switched back to 'Z' this week and didn't have a lot of time to know all the new plays. I focused on what I had to do for the team, and I came out very successful, and I appreciate my coaches."