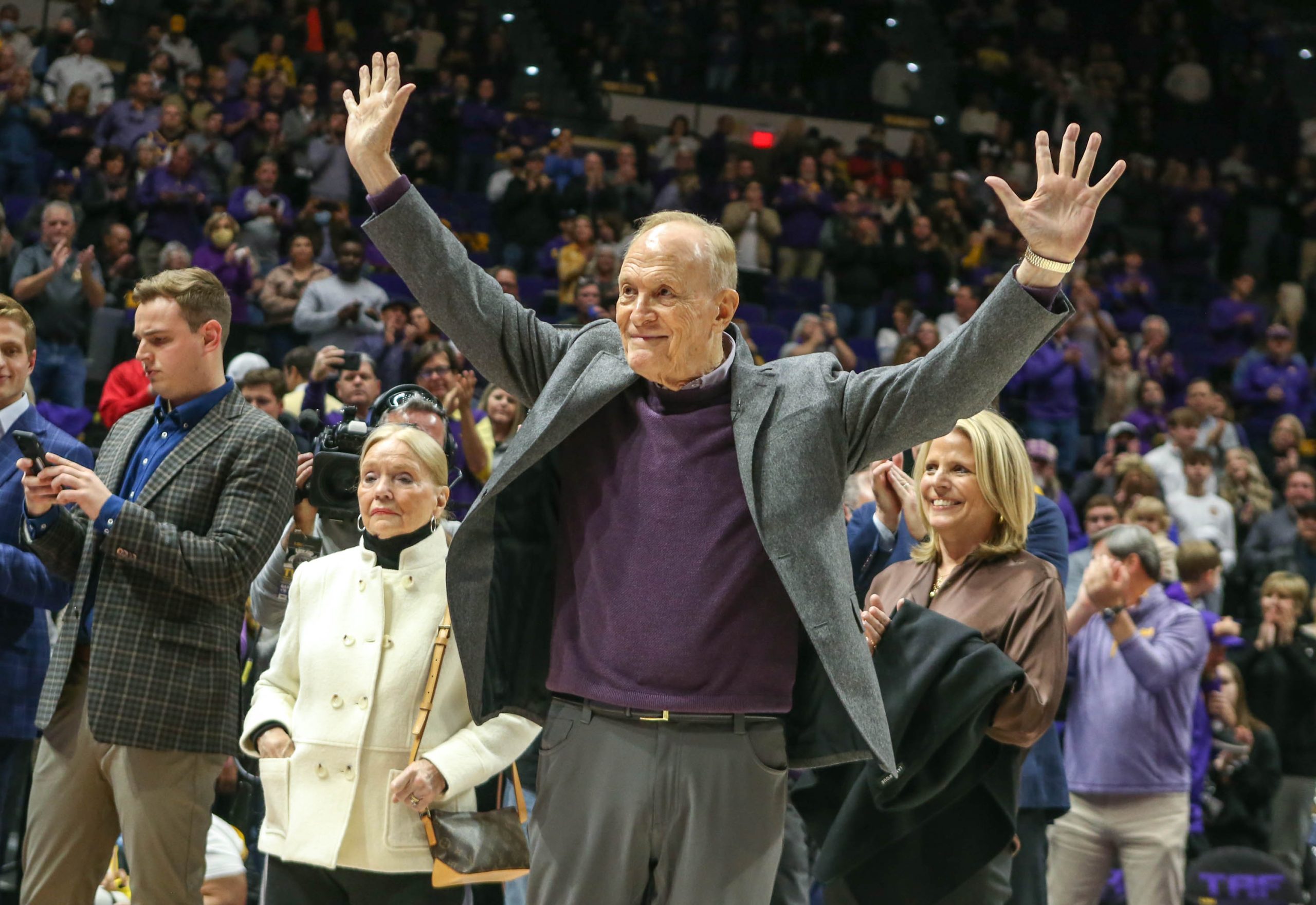 Dale Brown was an impressionable boy living in a sparse apartment in the frigidly
remote hamlet of Minot, North Dakota when he became a fan of the Minneapolis Lakers.
The NBA premiered in 1946 as Brown was 10 years old. The Lakers, located 499 miles
southeast of Minot, were the best team in the new league and showcased the game's first professional icon in George Mikan.

When the Lakers arrived in Minot to play an exhibition game at the local gymnasium,
a precocious youngster was determined to attend despite lacking resources to purchase
a ticket. He braved the winter chill and snuck through a window with autograph book in hand.

It was Brown's first of many appearances in a locker room of stars. He asked the first Laker he spotted for an autograph and was rudely rebuffed. That snub sparks pangs of rage more than seven decades later. The coach has a penchant for answering each request for a signature and returning every phone call, even if the response comes after midnight. A way of life emanated from rejection at a gym in Minot in the 1940s.

Brown arrived in Baton Rouge 50 years ago this March, traversing Louisiana with a reservoir of energy equal parts evangelistic fervor and pugnacious tenacity. He hung nets on baskets from Lake Pontchartrain to Lake Providence and transformed basketball from an after-thought to a must-see attraction.

The fighting side of Brown was featured in headlines more often than the more prominent humanitarian who visited hospitals and offered inspiration to the downtrodden. There was the rumble at the PMAC with Vanderbilt fans and the fracas at the SEC Tournament with Tennessee's Carlus Groves. Brown acted like a man poised to fight for his future, and he was right.

Brown is famously remembered for calling NCAA investigators "gestapo bastards' and for unleashing fury to anyone who dared to slight one of the 160 players he coached during a tenure in TigerTown that lasted from 1972-97.

When Brown's bombastic and peripatetic style was met with ridicule and derision by some cohorts, a man who was no stranger to fistic encounters emerged as a prospect to settle scores by any means possible.

In my freshman year, Brown's Bengals blasted Tulane 120-88 on Dec. 7, 1977. The 36th anniversary of the Pearl Harbor bombing was a time for beleaguered Greenies' Coach Roy Danforth to decline to shake Brown's hand at the conclusion of the Tiger onslaught. Danforth called his adversary an SOB, provoking Brown to remark that Danforth was a punk. "I could deck him with one punch," said Brown with ferocious bellicosity.

Tennessee Coach Don DeVoe questioned Brown's ethics in hiring assistant coaches tethered to prize recruits. "Ask DeVoe about the ethics of divorce," Brown countered. His nemesis was going through a messy dissolution of his marriage at that time.

Brown's most prominent feud was with the Bloomington bully Bob Knight. After the Indiana coach avoided a technical foul or other sanctions for slamming a telephone and intimidating referees in a 77-76 regional final victory over LSU in 1987, Brown challenged his counterpart to a naked wrestling match in a closet.

Knight's Hoosiers won the national title in New Orleans a week later, a championship that could have gone to Brown and LSU in their home state if Knight had been penalized for his histrionics in Cincinnati. It is a disappointment that Brown never pummeled this soft-bodied whale of a man who strutted like a tough guy, but sadly could not bench press his weight.

If Wrestlemania had come a few years earlier, Knight's persona could have crumbled in a battle with his tormenter from bayou country. Instead, the bloated blowhard built a reputation for manliness by attacking accountants half his size in faux rumbles outside the arena.

Knight's most notable victim was diminutive Baton Rouge CPA Buddy Bonnecaze, who wound up in a trash can in Cherry Hill, New Jersey by insightfully surmising that Knight was an "asshole" after Indiana outpointed LSU 67-49 in the NCAA semifinal at the Spectrum on March 28, 1981.

At 86, Brown has mellowed after a life of intense jousting with racists, foes and naysayers. He weathered death threats after presenting an all-Black starting lineup in 1978, eight years removed from Frank Truitt's resignation as LSU coach because he was ordered not to recruit any Black players.

Brown has risen above the chaos, and after 25 years of retirement, the court he called home is now named in his honor. He won four SEC titles, advanced to four Elite Eights and two Final Four finishes. Seventy-percent of his athletes received a degree, a level above the LSU student body. Their per capita income level is superb through achievement in endeavors unrelated to the sport they played.

Brown provided media types with the best of both worlds, winning and controversy. He graced the cover of Sports Illustrated with the caption "Crazy Days at LSU" in the same year his team journeyed to the Final Four, Tiger football
captured an SEC championship and Skip Bertman's team made its inaugural College World Series visit.

No script writer could have penned a more compelling story than the flurry of headlines produced by this reliable quote machine, who did not provide a sitting target to his opponents.

There will never be another like the loquacious leader who landed in Baton Rouge on March, 22, 1972 by way of Minot, Palm Springs, Berkeley, Logan, Utah and Pullman, Washington. When his wife of 63 years, Vonnie, arrived on campus a half-century ago, she noted that "LSU was like a little Gingerbread Land."

The televangelist Oral Roberts offered Brown an increase in pay six-fold to move to Tulsa and coach ORU in the mid-70s. Dale, Vonnie and daughter Robyn opted to stay in Baton Rouge and have moved only once since 1972.

Press conferences have withered since Brown quit opining in post-game remarks about the wonders of Imelda Marcos, Philip Roth and Oscar Wilde, who provides the quote used most often by Brown: "Every saint has a past and every sinner has a future."

Brown's career at LSU concluded with charges from former player Lester Earl that NCAA gumshoes salivated over after a quarter-century of pursuit. Earl's statements have been recanted, but Brown logged 25 years of Purgatory in his homeland amid the taint of untrue allegations.

With his reputation restored and the jerseys of three of his players hanging in the PMAC, the LSU Board of Supervisors voted 12-3 last fall to provide a modest acknowledgment of a man whose legacy transcends the game he coached.

Basketball was a means to an end for Daddy Dale, who used his bully pulpit to successfully advocate for better treatment for all players in the college ranks and to satisfy an intellectual curiosity that took him to 90 countries. As he approaches a significant anniversary, LSU is wise to acknowledge that while Brown, the coach, was exceptional. Brown, the person, is even more special.

WELCOME ADAM HUNSUCKER
Tiger Rag is pleased to announce the installation of a new editor. Adam Hunsucker is a nationally award-winning journalist who was born in 1985, the year that this columnist first started writing for our publication.
We look forward to the Bible of LSU Sports reaching new heights with Adam at the helm and with Assistant Editor William Weathers and the multi-talented Joe Gallinaro producing a quality magazine that readers have come to trust over 44 years of reporting.
We thank Ron Higgins for an impressive two years as editor and wish him well in his new assignment with Tiger Details.