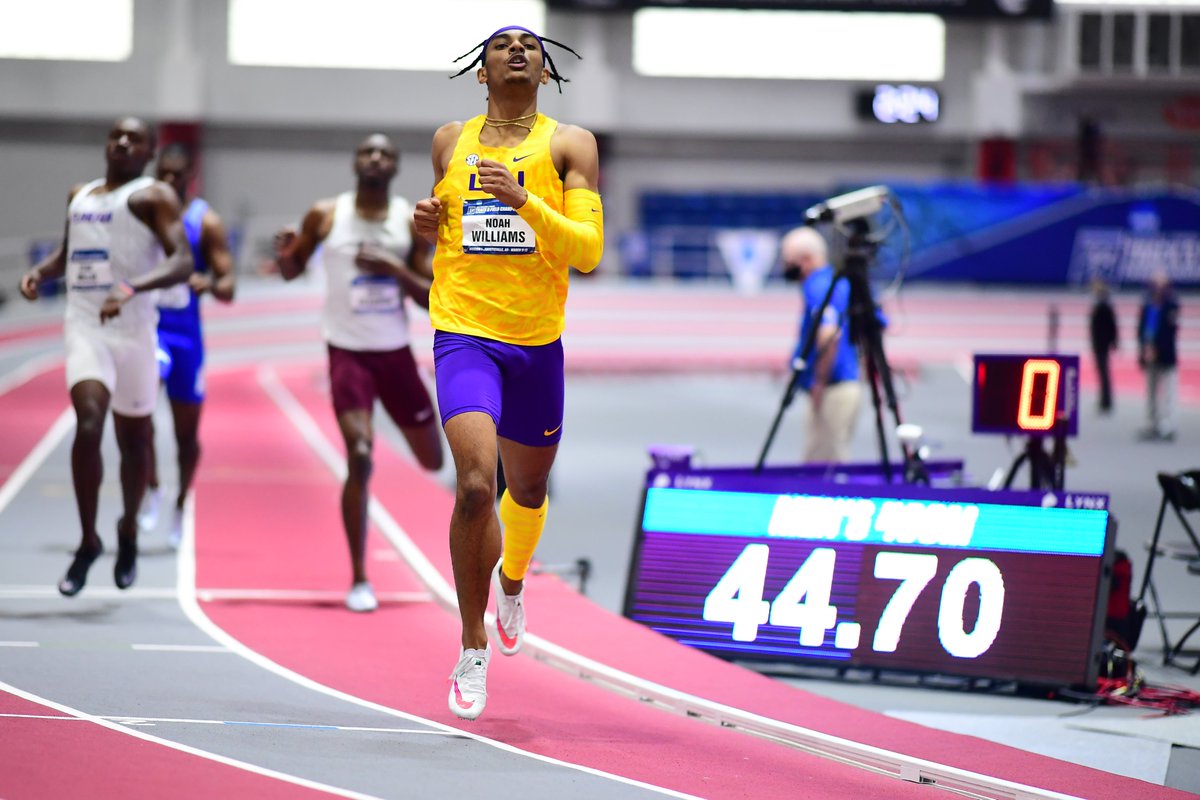 There weren't many other track teams across the country with more star power than LSU which featured four-time NCAA champion JuVaughn Harrison and sprinter extraordinaire Terrance Laird.

Together, they were at the heart of the Tigers' run to the 2021 NCAA indoor runners-up finish, coupled with a dominating performance to win the NCAA outdoor title in June.

Both competitors, along with 60-meter hurdler Damion Thomas, all had a year of eligibility remaining to compete in both the 2022 indoor and outdoor seasons but following successful showings in last summer's U.S. Olympic Trials, opted to pursue professional careers.

"It was too late to replace them," LSU track coach Dennis Shaver said. "It's not like we didn't try to replace some of those people we lost, but that it wasn't an easy task."

That's not to suggest LSU's cupboard is completely empty for the '22 indoor season where the Tigers won't be short on star power once again when the Tigers open their 2022 indoor season at home Friday in the Carl Maddox Fieldhouse with the Purple Tiger Invitational.
LSU will have a pair of returning NCAA outdoor champions in sophomore Sean "Squirrel" Burrell in
the 400-meter hurdles and junior Noah Williams, who ran the third fastest 400 meters (44.71) in collegiate history and ranked fourth on the world's indoor list.

Senior Eric Edwards also reached the NCAA indoor finals in the 100 hurdles where he placed fifth (7.58).

"The biggest thing is just having Noah Williams back and Sean Burrell," Shaver said. "Those are guys that are the leaders for us, the ones that really challenge the team at practice. We've got some new people come in, but they have to show us what they've got."

Burrell, the state's former Gatorade Track Athlete of the Year at Zachary High, ran a personal best of 45.57 in the 400 to rank second to Williams on the team during last year's indoor season. Williams and Burrell are also two key cogs on the Tigers' 4×400 relay (3:06.64) along with returning members Dorian Camel and Charles Lewis.

With Laird setting the pace in both the 60 and 100 meters, Camel was right on his heels in second on the team in both races at 6.76 seconds and 21.03, respectively.

Sophomore Da'Marcus Fleming was third in the 60 (6.80) and Lewis fourth in the 60 (6.88) and third in the 200 (21.09). The Tigers also increased their depth in the sprints with the transfer of senior Kenroy Higgins II of UCLA.

"Over the last month of training in the fall he seemed to kind of come back into his own," Shaver said of Camel. "We're looking forward to seeing how he develops and continues to improve throughout the indoor season."

Edwards (7.58) was second to Thomas on the team in the 60-meter hurdles and enjoyed a solid fall of training, Shaver said.

Sophomore Sean Dixon-Bodie will be a central figure in the field for LSU after placing fifth (54-5 ½) at the NCAA indoor meet – also the fifth best mark in school history.

"We're looking forward to him improving this indoor season in the triple jump," Shaver said of Dixon-Bodie. "We've got some new people that I think are going to help us we just need to wait and see."

LSU returns its top two throwers in the weight event in senior Jon Nerdal (72-11 ¾) – third best mark in school history – and fifth-year senior JAKE NORRIS (71-11) – with fifth best distance in school history. The Tigers also picked up a key transfer in Michigan's John Meyer, a first team indoor All-American in the shot put where he finished seventh in last year's NCAA meet (63-11 ¾) and was second at the Big 10 Conference meet (65-0 ¾).

The Tigers will be able to rely on plenty of experience from their distance runners with the return of junior Davis Bove, graduate student Eric Coston and sophomore Jackson Martingayle, the team's top runner in the 5,000 meters (14:40.98).

Bove, LSU's top cross country runner in '21, led the Tigers in the mile (3:57.49) – an event where he holds the school record – and 3,000 meters (8:00.34) with Coston leading the way in the 800 (1:50.71) and ranking just behind Bove in the mile (4:06.13) and 3,000 (8:02.15).

Bove and Coston also help comprise LSU's distance medley relay with senior Adam Wise and Charles Lewis where they enjoyed a top time of 9:43.14 last season.
The Tigers also have returning distance runners in sophomore WILL DART (mile, 3,000 meters) along with juniors Cade Martin and Garrett Hamilton in the mile.

"The main thing is keeping everybody healthy during the indoor season so when we move outdoors which is where we have great shot at things," Shaver said.
2022 LSU Indoor track schedule
JANUARY
14
Purple Tiger Invitational, Carl Maddox Fieldhouse
21
Red Raider Invitational, Lubbock, Texas 28-29
Razorback Invitational, Fayetteville, Ark.
FEBRUARY
4
Bayou Bengal, Carl Maddox Fieldhouse
5
New Mexico Collegiate, Albuquerque, N.M.
11
Tyson Invitational, Fayetteville, Ark.
11-12
Iowa State Classic, Ames, Iowa
18
LSU Twilight, Carl Maddox Fieldhouse
24-25-26
SEC Championships, Bryan-College Station, Texas
MARCH
11-12
NCAA Championships, Birmingham, Ala.