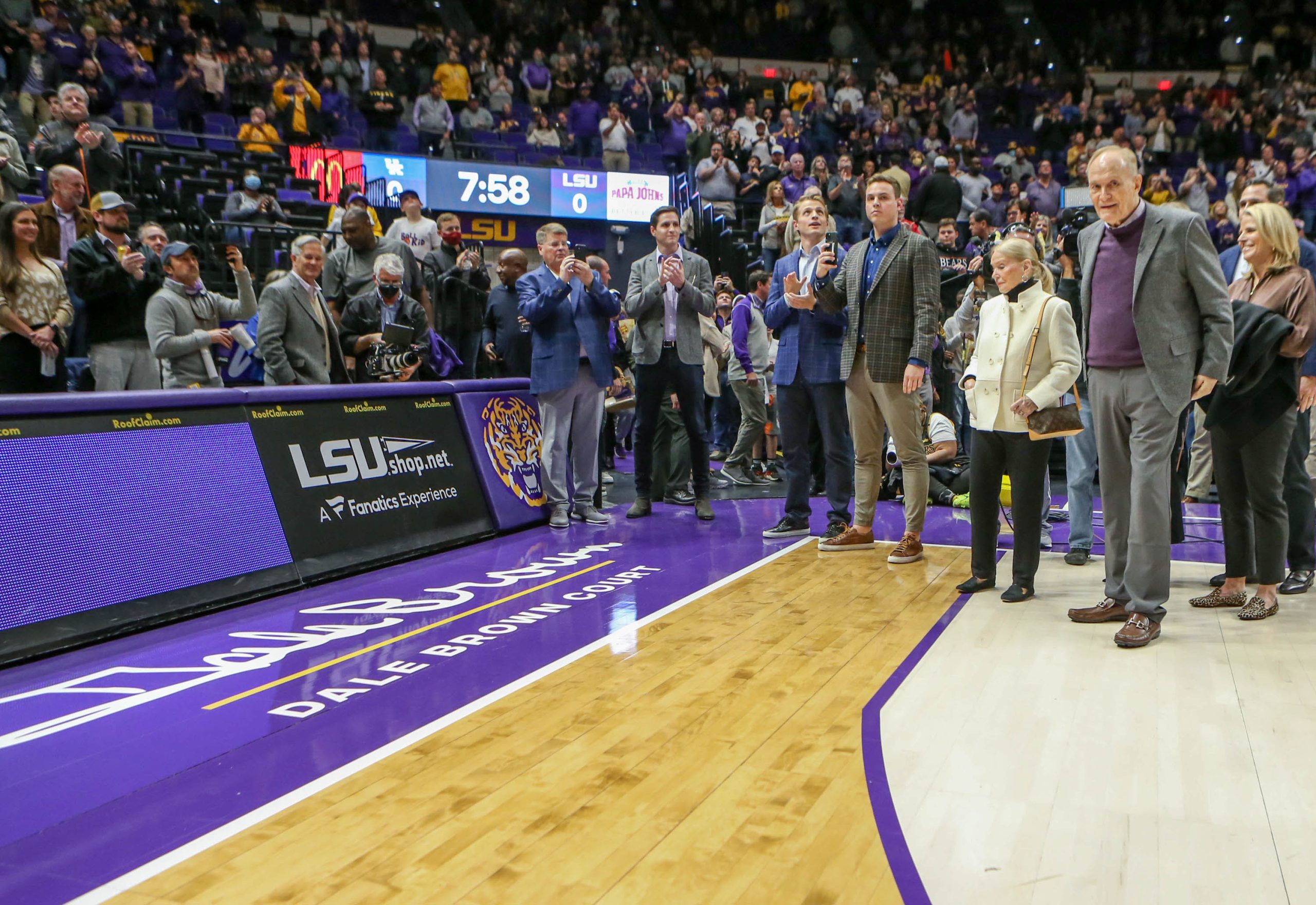 Mere months after the floor at LSU's Pete Maravich Assembly Center was named, it appears a bid to rename Dale Brown Court is underway.
The effort, however, is being met with impassioned resistance from supporters of the former LSU basketball coach.
A proposal to change the name to Gunter-Brown Court could wind up on the agenda when the LSU Board of Supervisors holds its next meeting Sept. 8-9 in Baton Rouge.
The purported renaming proposal would honor both Brown and Sue Gunter, who coached the LSU women's team for 22 seasons from 1982-2004.
Gunter, who battled emphysema, died in August 2005, at the age of 66.
Supervisor Glenn Armentor told Tiger Rag he feels such a change would be a "bald-faced insult" to Brown, who was LSU's coach for 25 seasons from 1972-97 and took the Tigers to the Final Four in 1981 and '86.
"What a horror that would be for LSU," said Armentor, who added that bestowing such an honor then taking it away would be "the biggest insult you could possibly hurl at any great coach or any great person."
An upset Brown responded to Tiger Rag's request for comment on the matter.
"Sue was a dear friend of mine and she does have a statue up in PMAC," Brown said via email. "Vote by Board (of) Supervisors was 12-3 to name court (Dale Brown) Court. I refuse to campaign for anything or turn something into a political issue."
The board indeed voted by that count last September to name the court in honor of 86-year-old Brown, whose LSU teams made 13 NCAA Tournament appearances during a 15-season span from 1979-93.
The decision came nearly two-and-a-half decades after Brown, lauded for his dignity and famous for his vocal criticism of the NCAA, last coached the Tigers.
Brown was on hand for a special ceremony Jan. 4, when his name – written in cursive – was unveiled on a sideline area of the floor prior to an LSU win over Kentucky.
Changing the name of the court now makes no sense to Collis Temple, chairman of the LSU Board of Supervisors' Athletics Committee.
"I speak for Collis Temple; I don't speak for the board," Temple told Tiger Rag. "But Collis Temple would not understand why, after 12 people decided to name a court for this gentleman, we would change the name again. I would not understand the purpose.
"In my opinion," Temple added, "if these individuals who made the decision to name the court for Dale Brown wanted to name it something other than Dale Brown Court we would have done it five months ago. So, I don't get the logic of naming the court again. I don't get the logic."
Gunter's teams played in 14 NCAA Tournaments and went to the Final Four in 2004, after she took a midseason medical leave of absence.
But some of Brown's biggest backers are intensely opposed to the name of Gunter, whose statue stands inside a PMAC concourse, being added.
"Dale Brown's national stature is tremendous all over this country," said Louisiana-based author and publisher Trent Angers, a two-time Nobel Prize for Literature nominee who championed the Brown floor-naming cause along with some of the coach's most-ardent advocates, a group that also includes Armentor, Temple (who played for Brown and was LSU's first black basketball player), Tiger Rag president Jim Engster, Shreveport-based national sports broadcaster Tim Brando and local pastor/Tigers basketball fan Cary Hughes.
"Sue Gunter was a winning women's basketball coach; however, her stature vs. Dale Brown's stature, they aren't even comparable," added Angers, who also is writing a book about Brown. "They're not even in the same league."
Those sentiments, however, aren't necessarily shared by everyone with a vote in the matter.
"She won more awards than Dale Brown did," Supervisor Jay Blossman told Tiger Rag.
In reality, both are well-accomplished.
Gunter, an assistant coach on the U.S.'s 1976 silver medal-winning Montreal Olympics team, is a Naismith Basketball Hall of Fame inductee. She was Team USA's head coach four years later, but the Americans boycotted the 1980 Moscow Games.
A two-time SEC Coach of the Year credited with a .667 winning percentage at LSU, her 1985 Tiger club won the WNIT. Gunter also was the Basketball News Coach of the Year in 1983, after her first season at LSU following 12 at Stephen F. Austin, where she also coached softball, tennis and track.
Brown, he told Tiger Rag, had two main objectives when he coached the Tigers.
"My 2 major goals were to try my best to make LSU a national power in basketball and improve young men's lives," he said.
He succeeded on both counts.
"Coach Brown believed in me when I didn't believe in myself," Brown's highest-profile LSU product, NBA legend Shaquille O'Neal, once said, according to Brown himself. "He helped me break out of my shell and sent me words of encouragement every week."
His players who attended LSU for four years, by Brown's own count, "had a graduation rate of 85%."
Brown – whose only head coaching stop was at LSU, where he had a .598 winning percentage – was a four-time SEC Coach of the Year.
His Tiger teams had an 18-13 NCAA Tournament record. He's in the National Collegiate Basketball Hall of Fame, and he's won national coach of the year honors three times – twice from CBS and once from
Sporting News.
"I think Dale Brown was just a great coach who cared about people," Armentor said. "The fact he didn't win a national championship was an anomaly. He went to the Final Four twice; probably should have won a national championship, he just didn't.
"The bottom line is that there are probably 35 or 40 coaches whose names are on their traditional home courts who did less than Dale Brown."
ALL ABOUT 'THE PROCESS'
Armentor sponsored the proposal to name the PMAC court after Brown, and it resulted in a long, contentious debate.
Blossman was one of the dissenting votes in the 12-3 decision, along with the board's then-student member and Supervisor Mary Werner.
Armentor, Temple and Blossman all said they didn't know which supervisor is the driving force behind the apparent renaming bid.
But it's not Blossman. The student member at the time who voted against "Dale Brown Court," Monica Aguilera, no longer is on the board. That leaves just Werner among the three who dissented.
Is it her?
"That's deductive reasoning," Temple said. "That must be who it is. … She hasn't told me about it. I haven't talked to her about it. But maybe. That's logical, and that makes 'numbers sense.' And numbers don't lie."
Werner, who didn't respond to requests for comment for this story made via phone and email, is a former Athletic Committee chairwoman and a staunch supporter of Gunter.
Werner supported a failed motion to have the floor named after both coaches prior to last September's vote, citing equality issues among her reasons.
"We still can't raise a woman to the equal level of a man in this community," Werner said then, according to The (Baton Rouge) Advocate.
Blossman, also a member of the board's Athletics Committee, said he was opposed to the Gunter-Brown motion for the same reason he voted against the Brown-only proposal that passed.
He evidently takes issue with the process by which naming proposals are brought to the board, calling it "flawed."
In August 2020, LSU announced formation of a "Building Name Nomination Committee" – a 16-member group of LSU faculty, staff, students, and alumni that included executive deputy athletics director Verge Ausberry. The school also has an Athletics Hall of Fame Committee whose duties include jersey retirement and statue approval matters.
The question of precisely how a vote on naming a court should properly be sequenced is a murky one.
Blossman said he'd also be a 'no' vote if a new proposal is brought to rename the floor Gunter-Brown Court for reasons related to his initial Dale Brown Court opposition.
"You have to go through the process," Blossman said. "If they want to change (it), have a new process. Have Coach Gunter go through 'the process.'
"And it (isn't) anything against her accomplishments. She's a great woman, a great leader, a great coach that was a great asset to LSU. But there's still a process you have to go through, or it just comes down to where the board's gonna make the final decision. We might make the same decision after the process anyway, but I don't like how we skipped the steps."
LSU's athletic department, for its part, apparently has little or no say in the matter.
"There are certain decision processes that go through the board, and when they make those decisions we execute them," said Cody Worsham, LSU's chief brand officer. "The board is our governing body, and when that decision is made we're happy to follow their vision and their leadership."
DALE BROWN 'RUFFLED FEATHERS'
Former LSU athletic director Joe Dean was among the first to suggest naming the floor after Brown, doing so in 2004. The Louisiana state senate passed a motion supporting the proposal in 2019.
But the idea is not supported by all at LSU, and Brown does have detractors.
One school of thought suggests the university should have sold naming rights to the floor, reaping the resulting financial windfall. Some have suggested Brown wasn't deserving because he never won a national championship. Others point to the fact his last four LSU teams did not make the NCAA
Tournament field.
Then there are NCAA-related issues.
An investigation into the program in the early 1980s essentially went nowhere. The governing body of college sports sanctioned LSU in 1998, after ex-Tiger Lester Earl told investigators he was paid to play by a former assistant. The NCAA found no such evidence implicating Brown or his assistants, but it did uncover an alleged $5,000 payment from a former program booster.
An apologetic Earl later recanted, suggesting the NCAA pressured him into saying what he did. Brown never was found guilty of any major rules violations, but LSU was put on probation for three years and received a one-year postseason ban.
Ultimately, Brown's criticism of the NCAA – he called the organization hypocritical, and frequently lobbied against it – only endeared him to supporters.
"His willingness to speak out about the inequities and injustices of college sports, and NCAA governance, may have ruffled feathers at the time, but by now much of what Dale advocated has been vindicated and put into practice," renowned sports broadcaster Bob Costas wrote in a submission to the board.
Temple witnessed what Costas referenced first-hand.
"Let me tell you this: Dale Brown is one of the greatest humanitarians in the life of LSU and Louisiana," Temple said. "He has worked to help people across all spectrums of life, and, you know, I have the utmost respect for what this man did during his tenure as the LSU basketball coach for 25 years above and beyond what took place with young men on the court. … I'm talking about humanity.
"And I was a part of the decision-making related to fairness, equity, openness. I was a part of this man's life when he was full of energy and he was fighting for human rights," Temple added. "So, that's all I can say. He's a good man."
It was Temple's election to the board in 2020 that tilted the court-naming in Brown's favor, allowing Armentor to gather favorable votes after Temple – a one-time San Antonio Spurs ABA player – shared his personal story.
"Collis," Angers said, "was wild about the fact people were trying to block this," Angers said.
Which was all that was needed by Armentor, who took his proposal straight to the Board of Supervisors rather than work through the Hall of Fame Committee.
"I spent three years, from the time I started reading about Dale Brown, thinking that he deserved more than he got," the lawyer from Lafayette said. "Because he was a kind man who recruited black players and treated them like human beings when it wasn't being done. And took good care of them. Took good care of all of his kids."
Brown's five-year letter writing campaign in the 1980s encouraged university presidents and chancellors, board members, athletic directors and others throughout the country to advocate for NCAA reform.
His efforts resulted in changes to rules – many of them perceived as petty legislation against, in Brown's words, "human dignity" – that have benefited countless student-athletes, especially those from impoverished households, in the decades since, despite the NCAA's best attempts at the time to silence the activist coach.
Understanding why Brown's name, and his alone, is on the PMAC floor would educate those ignorant of his accomplishments beyond basketball, backers believe.
"I think it would be a real boon to LSU for people to know that Dale Brown took on the NCAA and attacked 43 of their rules that were racial – indignantly racial, and inappropriate – and changed 32 of them almost singlehandedly," Armentor said. "That's the stuff of movies, and LSU would get a tremendous amount of the credit for that."
CAN A RENAMING BID SUCCEED?
What hasn't happened since Brown was honored prior to the Kentucky game, however, is placement of his name on the actual court.
A temporary sticker featuring his name was unveiled, but it has not yet been applied in full size where it's supposed to remain.
That was to have happened by May, according to Brown backers.
According to LSU facility management senior associate athletics director Dan Gaston, however, that now will be done in July.
Some of Brown's supporters wonder if there's a nefarious reason for the wait. That doesn't seem to be the case, however.
The PMAC has been booked recently with offseason camps, according to Worsham.
"The end of July is our typical time we resurface the main court," Gaston told Tiger Rag via email. "We had activity in May so we are going to complete the court during the typical time."
Supervisor Blossman isn't concerned.
"Listen, there's no rush to do it. They don't have a basketball game for how many months? Five months?" he said. "That's irrelevant, whether they scratch it in on there now."
What does intrigue Blossman is the question of whether a renaming bid so Gunter can he honored too would succeed.
He seems skeptical.
"I don't know what the process would be," the Mandeville-based attorney said. "You can't unname the court, so do you name the court for both of them? Do they both warrant it? You've got to go through the process."
But Blossman doesn't know precisely what the process is.
Armentor is hopeful nothing will change. Temple would be surprised if it did.
"It's hard for me to conceive that it would be easy to turn that vote around," Armentor said, "so they (Gunter-Brown Court advocates) are usurping the authority of the other supervisors – and that board shouldn't be usurped. It has the ultimate authority."
"My guess is the perception of the public (if the name was changed)," Temple added, "would be, 'Okay, what are these guys doing? They're clearly not making a good decision. They're indecisive. Why are they so indecisive?' "
To alter the court's name now, Armentor said, would be "ugly, and horrible,
and mean-spirited, and uncalled for."
"To change it would diffuse the focus on Dale Brown," Angers said. "Dale Brown is one of the most exemplary people who has ever come through LSU, a man of national stature in the sports field.
"But by staying focused on Dale Brown Court only, it holds him up. It doesn't look like a political compromise … This generation needs role models. They need to see what a person of courage and integrity and stick-to-itiveness looks like. For that reason, I think we shouldn't defuse it."