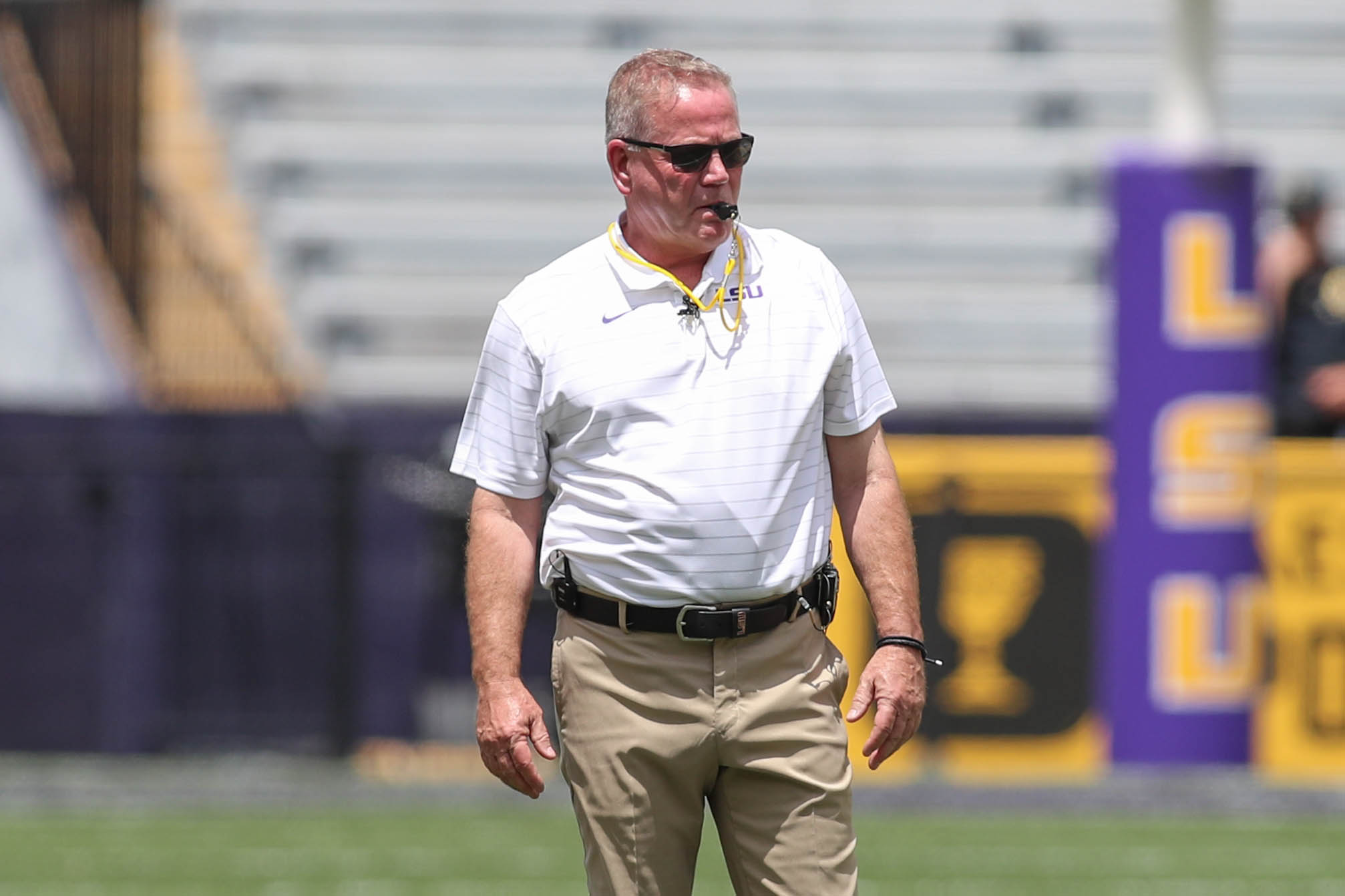 It was November of 1999 when LSU Athletic Director Joe Dean received a call
that would forever change the trajectory of LSU football. The voice he heard was that of agent Jimmy Sexton saying he had a client who might be interested in coaching at LSU even though the Tigers had posted eight losing seasons in the previous 11 years. The candidate was 48-year-old Nick Saban, who was completing his fifth season of a 34-24-1 tenure at Michigan State.

Dean and LSU Chancellor Mark Emmert quickly boarded a jet for Memphis, where they met Saban in Sexton's living room. Dean relayed this story over lunch at a quiet table at the Baton Rouge City Club before his death in 2013.

Twenty-three years ago, he was meeting clandestinely at airports in hopes of landing a successful head coach to defect to LSU after a 3-8 disaster in Gerry DiNardo's farewell. Dean was rebuffed by Miami's Butch Davis and Minnesota's Glen Mason before Dean and Sexton were united through mutual friend Sean Tuohy, a former Ole Miss basketball guard.

Saban was offered the job by default, and Emmert agreed to a then outrageous sum of $1.2 million per annum for five years to persuade the coach to relocate from East Lansing, where he had lived off and on for a decade counting a stint as an assistant coach under George Perles.

Dean never received due credit for hiring Saban but acknowledged that Emmert asked good questions of LSU's prospective coach. Emmert, according to Dean, queried Saban about whom he would secure as the Tigers' offensive coordinator.

Saban quickly responded that he planned to hire 34-year-old Jimbo Fisher to run the LSU offense. Fisher was a coordinator at Cincinnati at the time. The Bearcats of '99 also went 3-8, but in the words of Dean, Saban asserted confidently, "Fisher can coach his ass off."

Emmert smiled and commended Saban for having cultivated a relationship with his targeted hire. Dean laughed as he recalled Saban responding, "I've never met the man, but we can get him."

A few weeks later, Fisher was in Baton Rouge working for Saban. And a love-hate relationship blossomed. In two years, LSU captured its first SEC title in 13 years with a dazzling offense led by Rohan Davey. Two years later, LSU was the BCS champion with Fisher calling the plays for Matt Mauck, another unique find for Saban. Mauck was brilliant in 2003, and a year later, the Miami Dolphins coaxed Nick to the NFL, leaving the LSU job open for Fisher.

As far as we know, Saban did not recommend Fisher for the post in his exit interview with the new Athletic Director Skip Bertman. This was much different than the scenario two decades earlier when Bill Arnsparger convinced Chancellor Jim Wharton and the LSU Board of Supervisors to go with top assistant Mike Archer as his successor instead of Steve Spurrier or Sam Rutigliano. This may be the root of the ire between the maestros perched on both sides of LSU 18 years later.

Bertman brought Les Miles to TigerTown with a pedestrian record of 28-21 in four years at Oklahoma State. Fisher was retained as offensive coordinator and helped LSU to a 22-4 record in 2005-06. He then accepted a role as head coach in waiting at Florida State, where Bobby Bowden was completing his legendary tenure. By 2013, the Seminoles won a national crown under Fisher, who emerged as a more highly regarded coaching commodity than Miles.

In 2015, Fisher was primed to leave Tallahassee for Baton Rouge when the LSU brass got cold feet and decided to stick with Miles, who lasted just four games into the 2016 season.

Fisher returned to the SEC in 2018 at Texas A&M where he would lock horns with Saban every year on the field and many times more traversing a similar recruiting map. The Aggies and Fisher edged Saban 41-38 last Oct. 9 before 106,815 patrons at Kyle Field as the most prized pupil showed his iconic boss was not invincible.

Fisher parlayed the victory over the Tide with a bonanza year of five-star athletes to kick-off the NIL era. Make no mistake, Saban now views A&M, not LSU, as his principal competitor in the SEC West.

So Nick and Jimbo are mired in a verbal chess match that appears possible to erupt into a fistic brouhaha. WrestleMania covets this matchup but for the moment there is a truce the SEC pretends to encourage. In reality, the conference honchos love the friction between the pair of Little Big Men. This is box office mojo that can only intensify fan interest when Saban and Fisher start yapping again.

Both coaches can claim to have won the battle of insults. Saban made his statement about the College Station crew being the best recruiting class money can buy. Fisher countered by terming Saban's rhetoric "despicable" and referring to his erstwhile mentor as narcissistic. He dared to call the 5-foot-6 Tuscaloosa tough guy, "God."

This is the most personal feud the NCAA has hatched since Dale Brown challenged Bobby Knight to wrestle him naked in a closet 35 years ago. The difference is that Saban and Fisher will see each other on the schedule every year until one of them retires or drops dead. And this involves the mothership of American academia – SEC football.

A&M visits Bryant-Denny Stadium on Oct. 8 with Aggies quarterback Max Johnson vying to become the Joe Burrow of 2022. If Burrow had not prevailed 46-41 at Alabama in 2019, LSU would not have won the SEC West and Burrow would almost certainly not have been a national champion and Heisman Trophy winner.

Johnson, who directed the LSU offense for two years under Ed Orgeron, stands to be the starter for Fisher, who is salivating to take down God and supplant Alabama as the lead dog in the conference.

This is an opportunity for Brian Kelly to triangulate and immerse himself and, by extension, LSU into the Feud of the Century. Kelly holds the option of insulting both division rivals and initiating a three-ring circus in the SEC West. This was designed to be Kelly's year for cornering national media stories, but the bloviating between Saban and Fisher is irresistible hype with scribes, sportscasters and bloggers hanging on every mouthful of lava spouting from the tongues of the combatants.

LSU can't afford to allow Saban and Fisher to monopolize all the pre-season oxygen. Kelly can remain in the headlines if he challenges his talkative counterparts. What a splendid thought it is to envision a trio of little guys publicly unloading the garbage in their houses. The lonely eyes of the SEC faithful are waiting with glee for A&M and Alabama to tangle on Oct. 8 even though LSU faces both teams in the following month.

With their macho bravado, Saban and Fisher have provoked a magical mystery tour for the Southeastern Conference. Kelly can seize the moment and join the fun. No matter how the Saban-Fisher battle evolves this season, Kelly's dates at home with Alabama on Nov. 5 and on the road against the Aggies on Nov. 26 loom as the most pivotal assignments for LSU's new leader.

What does Kelly have to lose by antagonizing his foes and stimulating the nation's most rabid fan base?