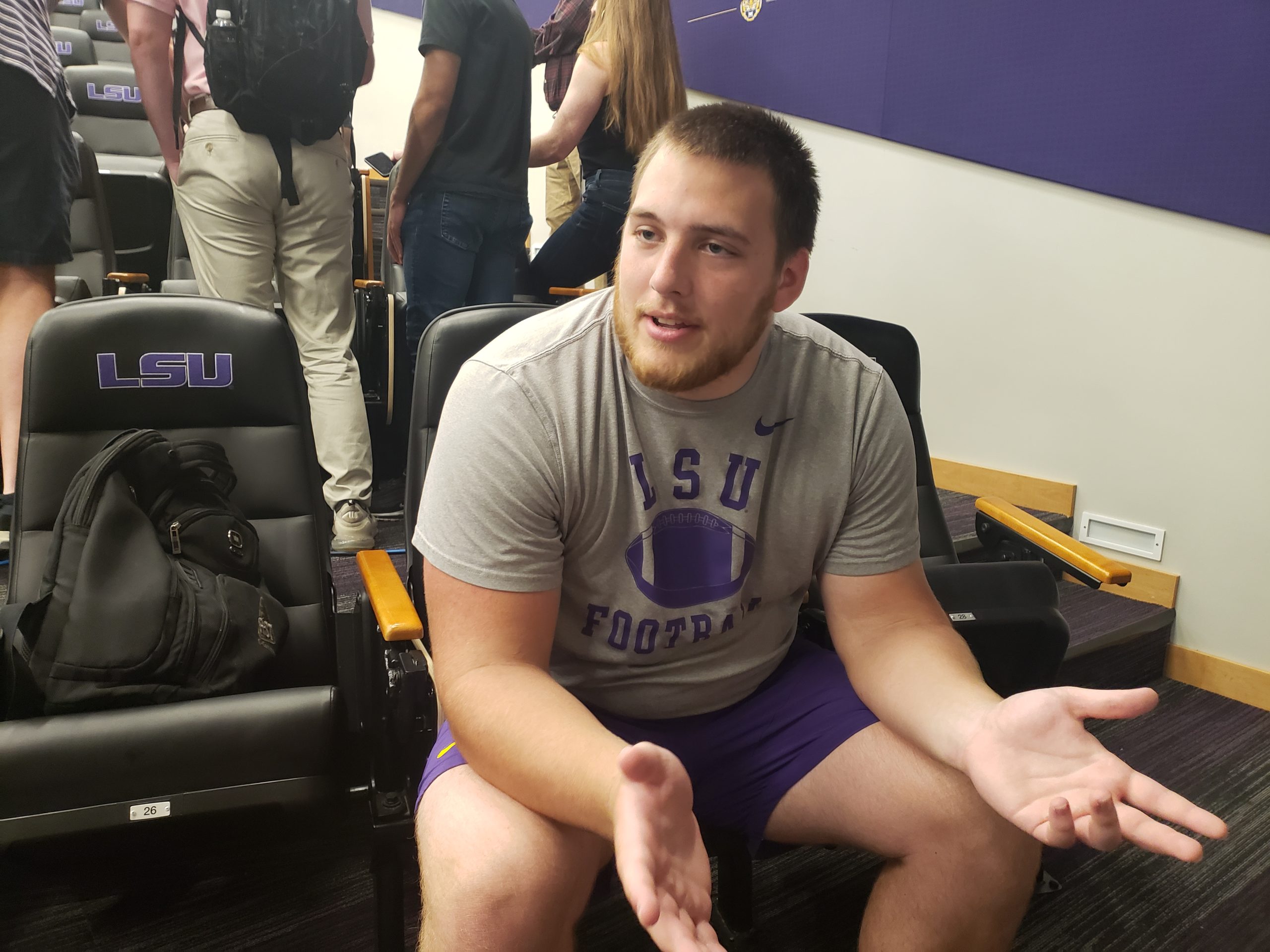 Brian Kelly has decided on a starting quarterback, but said Monday he would not yet disclose the winner of the battle between Jayden Daniels and Garrett Nussmeier.
The LSU coach was more than willing, however, to identify his anticipated starters on the offensive line for the Tigers' 2022 season opener Sunday night against Florida State at the Superdome in New Orleans.
Kelly said he'll go with Garrett Dellinger at center, Florida International transfer Miles Frazier at left guard, Anthony Bradford (who started five games last season) at right guard, Cam Wire (who started four games last season) at right tackle and true freshman Will Campbell at left tackle.
Wire, a fifth-year senior, has 10 career starts over the last two years, including nine at left tackle.
Dellinger had four starts including ones at tackle and guard as a true freshman last season, but he has never before played center.
East Tennessee State transfer Tre'Mond Shorts, who worked with the starters at left guard during spring practice and for the first several days of preseason camp, will rotate in after the 6-foot-5, 345-pound Bradford moved from tackle to guard.
"The linchpin to the decision on the offensive line started and ended with the center position," Kelly said.
"Once we felt comfortable with Garrett Dellinger at the center position, everything else was able to fall into place."
Dellinger will be backed up by Charles Turner, who started at center during spring drills while Dellinger recovered from shoulder surgery.
THE KICKER SITUATION
Redshirt freshman kicker Damian Ramos will start Sunday when it comes to handling field goals and extra points, Kelly said Monday.
But no decision has been made yet as to who will handle kickoffs, according to Kelly.
Ramos won a battle with highly hyped freshman kicker Nathan Dibert, Northwestern grad transfer Trey Finison and returning reserve Ezekeal Mata.
A product of St. Paul's High in Baltimore, Maryland, Ramos joined the team as a walk-on shortly before the start of last season and did not appear in any games as a true freshman working behind 2022 NFL Draft pick Cade York.
Kelly suggested Ramos' inexperience will not adversely impact decision-making on whether to try a kick.
"When we make a decision on the kicker, we're all-in," he said.
"We're not going to change the way we operate the game and protect anybody."
Kelly also revealed his strategy when it comes to kicks.
"Look, I like to use analytics in the game," he said. "We'll have somebody with an analytic book, just so everybody knows. … I use the book, and sometimes I use my gut."
THE PASS CATCHERS
The Tigers have one of the country's top pass-catchers in Kayshon Boutte, but Kelly said he intends to go deep into his arsenal at receiver against the Seminoles.
Boutte, Jack Bech, Malik Nabers, Brian Thomas Jr., Jaray Jenkins and Louisiana transfer Kyren Lacy all are among what could be a seven- or eight-deep rotation.
Bech missed the start of preseason camp due to shin splints.
"Having Jack Bech back and being able to up his work volume, and getting him running to the level he's capable of without the pain, has really given us the kind of flexibility that we needed at that position," Kelly said.
"Now we can move around guys to get suitable matchups. We can move Kayshon, we can move Malik. Lacy can now go to the field or play in the boundary. … Brian Thomas gets to get into a position where we can move him around a little bit as well."
Jenkins has been the most consistent of the bunch in preseason camp, according to Kelly.
MISC.
Kelly said Nabers "should be good" to go after sitting out drills Saturday and using Monday as a recovery day from an ankle sprain. … When asked, essentially, if running back John Emery Jr. still must sit out two games by NCAA rule to start this season as part of a carryover academics-related suspension that also caused him to miss all last season, Kelly again said he was not permitted to discuss the matter. But he did add that "John's done everything that would allow him to be in good standing in the football program, but, you know, I have things that are out of my control as it relates to who I can and cannot play." … The season-ending injury sustained during camp by reserve running back/special teams player Corren Norman is an ACL tear, Kelly disclosed Monday.