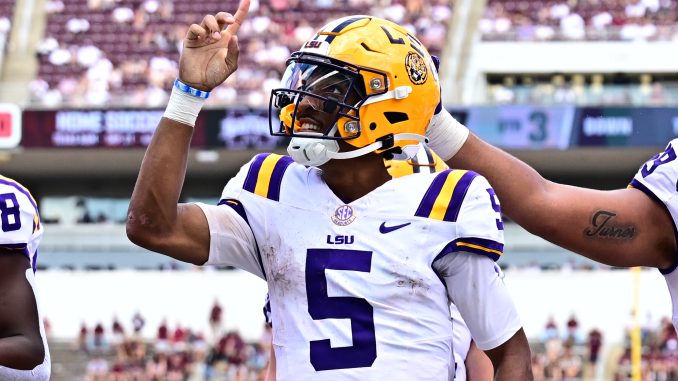 Years from now, most people will point to LSU's 32-31 thrilling and ballsy overtime upset of Alabama in 2022 during Brian Kelly's first season as the first true milestone win in his Tigers coaching career.
Hardly anyone, anywhere, will remember how important Saturday's 41-14 shellacking of Mississippi State in Starkville was to the writing of Kelly's history as LSU's head football coach.
But, man, what Kelly and LSU did to the Bulldogs was huge in that regard.
In fact, historically speaking, what Kelly managed to get LSU to do in Starkville was downright pivotal for both Kelly's coaching career and for LSU's season in 2023.
LSU, under Kelly, had gone 3-3 since that magical November night in Tiger Stadium in '22 when the Crimson demons were excised, when Satan (aka Nick Saban) was tossed out of his former home on his tail.
Worse, Kelly's three losses in that span – Texas A&M, Georgia, and Florida State to open 2023 – were all blowout losses.
Had LSU shown up in Starkville sleepwalking for its 11 a.m. SEC-opening kickoff against Mississippi State, Kelly's honeymoon in Baton Rouge would have soured irreverently amongst the LSU faithful forever moving forward. LSU would have been all but finished in its pursuit to win the SEC West, its hopes to return to the SEC Championship game in December, and its goal of breaking down the door and returning to the College Football Playoffs for the first time since 2019.
But Kelly made sure LSU hit the field at Davis Wade Stadium before noon against Mississippi State fully alert.
And the result means the many people who questioned whether or not the Tigers were going to be contenders after an opening loss to Florida State now must face the fact: LSU proved it is a team that's ready to compete for another SEC West title.
In LSU's first real test since falling flat on its face in the second half against Florida State in the season opener, the Tigers also began laying claim to and fitting into what its 2023 identity will be.
A sampling:
Jayden Daniels was near perfect in his historic performance.
Daniels completed 30 of 34 passes for 361 yards and two touchdowns – an 88.2 percent completion percentage. That's the best completion percentage in LSU football for any quarterback with a minimum of 25 attempts.
In short, Daniels wasn't perfect, but he was the best ever in one very important statistical category for modern day quarterbacks.
Daniels also added two more touchdowns rushing, by the way. Not to mention, 64 yards rushing to lead all LSU runners – again.
Malik Nabers, though, was, in fact, perfect.
Nabers was targeted 13 times.
He made 13 catches.
Nabers amassed 239 yards.
And, Nabers scored two long touchdowns. Emphasis on long. As in deep, on deep passes from Daniels.
Nabers' yardage against Mississippi State on Saturday ranks as the second-most from an LSU receiver in the past 22 years. In fact, only Kayshon Boutte had more receiving yards than Nabers. That came during Boutte's 308-yard effort against Ole Miss in 2020, otherwise known as Boutte's coming-out party.
Nabers' effort – as prodigious as it was – did not sneak up on anybody. He's a already known as not just a Dude, but the Dude, by everyone, including NFL scouts. It makes what Nabers did against the Bulldogs even more impressive.
5 to 8 is Unbeatable @JayD__5 ⅹ @whyguard13

📺 ESPN pic.twitter.com/wtqzL6XZLK

— LSU Football (@LSUfootball) September 16, 2023
LSU's running game proved it was alive and potentially able to thrive.
Logan Diggs was potent, as was Josh Williams. John Emery, Jr. returned and began to shake off some rust, but freshman Kaleb Jackson – well, Jackson proved he's a bull and the kid, or the man – should probably start referring to Jackson as a man now – had a signature run that proved he too is now a Dude. A Dude packing abnormal power.
I mean this is the SEC. Kaleb's not just a stud, he's a bull.
See below:
#LSU Kaleb Jackson with an early I'm grown and you're not. My gawd. pic.twitter.com/WqnOaBDblS

— Jacob Hester (@JacobHester18) September 16, 2023
And LSU's defense.
LSU defense redeemed itself and proved it had more than just a heartbeat; it proved it had a soul.
Early on, as LSU jumped out to an early 10-point lead, built it to 17 points and then to 24-0 before it had a chink in the armor.
Finish the game by doing the little things. One more half in Starkville

📺 ESPN | @Katie_George05 pic.twitter.com/zeEAvfZqmT

— LSU Football (@LSUfootball) September 16, 2023
The Tigers' previously porous defense pressured Will Rogers and totally shut down Mississippi State's reputable new rushing attack.
At one point, LSU had held the Bulldogs to seven yards total offense on 16 plays – more than four possessions for those cowbell-clangers.
Mississippi State's first touchdown, oddly enough, came after running back Jo'Quavious Marks broke through the LSU defensive line to the second level one time late in the first half thanks to a counter play, broke a tackle and headed down the sideline for 52 yards. State scored a few plays later.
Unlike against Florida State – where LSU fell victim to counter play 12 times in second half alone for not only chunk yardage but also increased play-action passing susceptibility – the Tiger defense adjusted to the counter right away, wrapped a tourniquet on the gash and stopped the bleeding.
State's second touchdown came late in the fourth quarter after LSU had gone up 41-7 and put mostly back-ups in on defense.
Still, overall, LSU held Mississippi State to 201 yards total offense – 94 on the ground and 107 through the air.
Grambling State almost got that much in three possessions against LSU one week ago.
Rogers had his worst game as a starting quarterback. The senior was 11 of 28 for 103 yards, no touchdowns and no interceptions. It was the fewest completions and yardage he's had as a starter.
The Bulldogs, who are transitioning away from late coach Mike Leach's Air Raid offense in its first full year under coach Zach Arnett may want to rethink their offensive approach after LSU slobber knocked them to death all day.
Just goes to show you how much a defense can improve from one week to the next early in the season because LSU could hardly tackle in its two previous games.
It's only one win, but by moving to 4-3 since his first signature win at LSU, Kelly's honeymoon on the bayou continues.
More importantly, though, LSU is more of a contender than a pretender with SEC play now underway.
When it matters most.