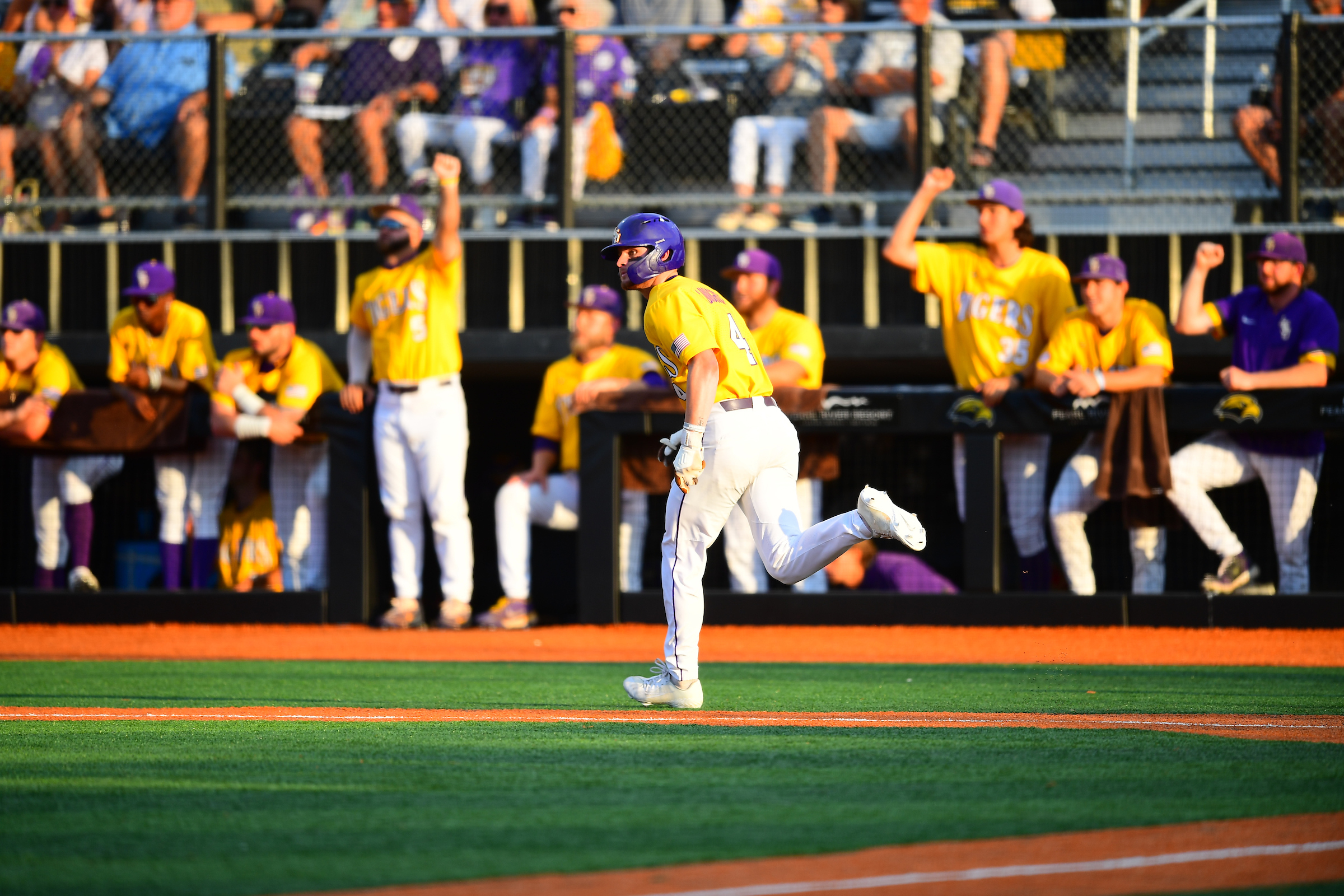 The late-game dramatics that framed LSU's run to the NCAA Regional Championship game were absent with an opportunity to clinch the title.
This time once top-seeded Southern Mississippi snapped a 4-all tie with three runs in the bottom of the sixth, the was all the Eagles needed in an 8-4 victory Sunday over second-seeded LSU at USM's Pete Taylor Park.
Because of USM's ability to twice stave off elimination, including an earlier 4-3 win over Kennesaw State in 10 innings, the Eagles (46-17) will host LSU (40-21) in a winner-take-all game at 3 p.m. Monday with the winner advancing to next week's Super Regional.
The game will be broadcast locally by 98.1-FM.
"Tonight doesn't have anything to do with tomorrow unless the players let it and we will not do that," LSU baseball coach Jay Johnson said. "Our approach will be to get 27 outs as fast as we can with as few of the guys from Southern Miss scoring. I don't really have an answer of what that looks like just yet, but we will by the time the bell rings tomorrow.
"We've answered the bell with after falling before and did it very well, so it's not anything that's uncommon. I want them to be themselves and play in character."
USM, which took its first win over LSU since 2007, took advantage of faulty relief pitching that included two walks, a wild pitch and balk, to score three times and never looked back.
LSU turned to experienced reliever Eric Reyzelman for Riley Cooper in the sixth, but USM parlayed a walk to Danny Lynch into a run when he scored the go-ahead run on a wild pitch from Reyzelman. Dustin Dickerson followed with an RBI-single to left field and the Eagles added a third run when Reyzelman was called for a balk during Reece Ewing's plate appearance.
The Tigers threatened in the top of the seventh, getting their first hit off USM reliever Justin Storm since there were two out in the third. Dylan Crews (2-for-5) singled to lead off the inning, snapping a string by six straight batters retired, when Cade Doughty drew a two-out walk when Tre' Morgan grounded out to Storm.
The 6-foot-7 left-handed Storm (3-0) was the story of the game for USM. He entered as the team's fourth pitcher in the fifth and threw a season-best five shutout innings, allowing two hits with seven strikeouts and a walk. He made his 12th appearance of the season with a 1.13 ERA in 9.2 innings of work.
Doughty (2-3, 3 RBIs) gave LSU a 2-0 lead in the top of the first, driving a two-run homer off the scoreboard in left-center field with Jacob Berry aboard after a double.
USM tied the game at 2-2 with two runs in the second when Slade Wilks, who led off with a single, scored on a double by Lynch and an error that was charged to Pearson in right field. Lynch then tied the game on a double-play grounder that shortstop Jordan Thompson handled.
LSU regained the lead at 4-2 when Doughty picked up his fifth RBI of the regional with an RBI-single to left fielder to score Crews. The Tigers made it 4-2 when Pearson scored on a passed ball during a plate appearance from Brayden Jobert.
USM, which scored a run in the ninth to force extra innings in Sunday's first game, scored twice in the third and tied the game at 4-4.
The Tigers began with reliever Grant Taylor, who replaced starter Samuel Dutton, but he left the bases loaded in favor of Riley Cooper, who allowed consecutive run-scoring singles to Wilks and Lynch.
USM, which outhit LSU 11-8, added a run in the eighth on Carson Paetown's two-out solo homer to right field off reliever Blake Money.