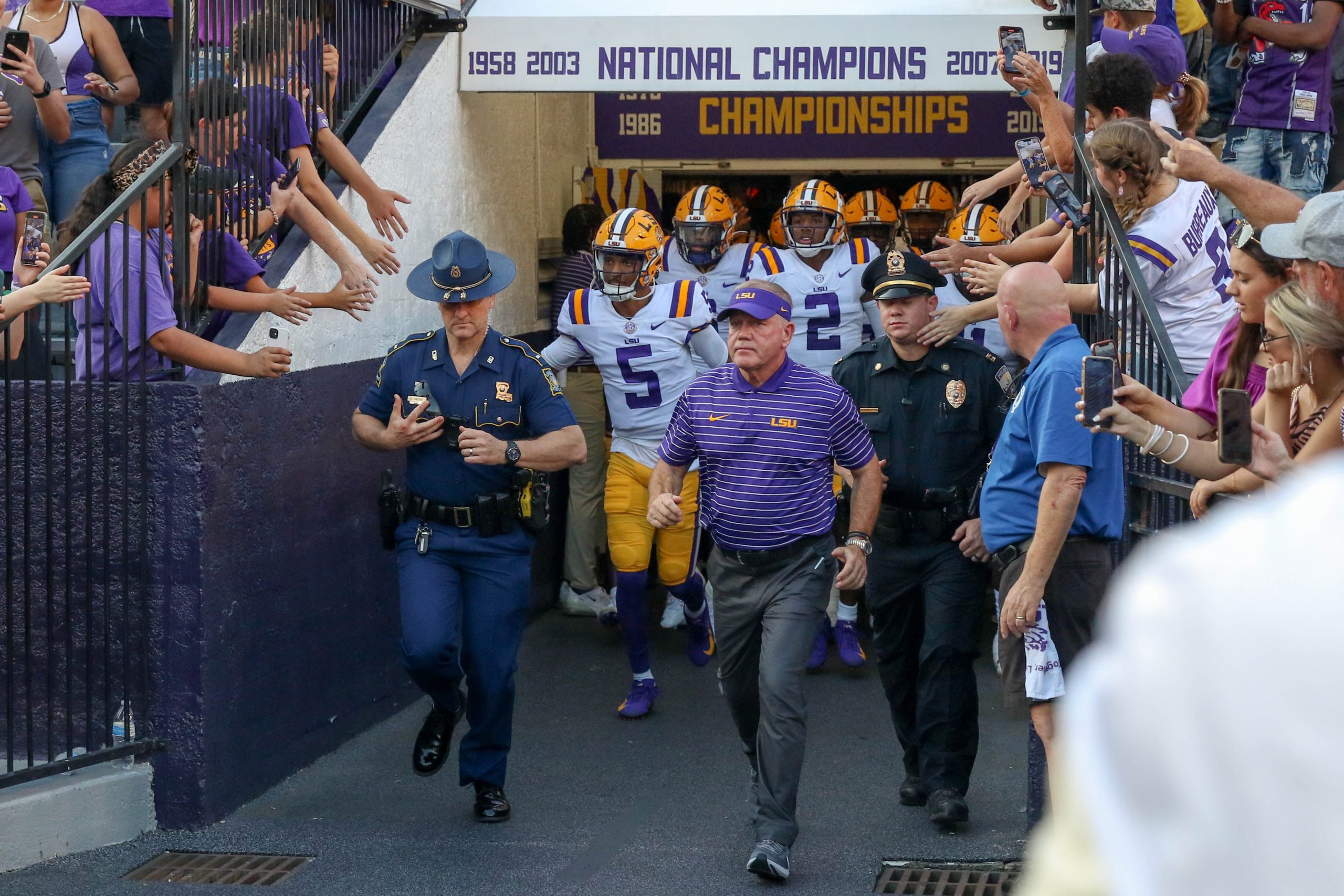 Tennessee's 40-13 victory at Tiger Stadium Oct. 8 stands as the most lopsided loss at
home for LSU to a foe not named Alabama in 21 years. Florida outpointed LSU 44-15 on Oct. 6, 2001 as the Tigers of Nick Saban rebounded from that shellacking to capture the school's first SEC football title in 13 years.
Curley Hallman once lost to Florida by 55 points in Baton Rouge. But in the past two decades, beat downs on the bayou are rare occurrences met with alarm by LSU's fan base.
The early read on the Brian Kelly restoration project is that it will take him more than four years to return LSU to the NCAA throne. This would mean Kelly is destined to fall behind the pace of Saban, Les Miles and Ed Orgeron.
They zoomed into the football stratosphere in four years or fewer in their tenures in Baton Rouge. With naysayers fantasizing about another break-the-bank coaching change, my colleague at Tiger Rag and Louisiana Radio Network, Kyle Coats, offers words of hope for the impatient Tiger throng. Coats correctly made the call that LSU would take the national title three years ago at the outset of the season.
He also predicted Joe Burrow would win the Heisman Trophy in 2019, one season removed from a junior campaign that saw Burrow go four straight games with zero touchdown passes.

The Cincinnati Kid made up for lost time by tossing for 60 scores in 15 games in the magical year of 2019. Little did we know the Golden Age of LSU football would end 20 seasons after it started when mighty Nick came to TigerTown at the close of the Twentieth Century.
When Odell Beckham delivered a wad of big bills to Burrow as he departed the field at the Superdome on Jan. 13, 2020, the magic stopped and the rebuilding started amid a pandemic.
Coats is projecting a football national championship in 2023 and has history on his side. Next season occurs in a Louisiana election year, and LSU advanced to the winner's circle in 2003, 2007 and 2019 which were also election years. The Tigers also made it to the championship game in the 2011 season, another election year, before bowing to Alabama for the crown in a 21-0 debacle at the Dome.

Inconsequential Tiger Drippers are already derisively referring to LSU's gladiators as "Kelly Girls," These lame losers should leave their computers and demonstrate character by powering down machines and powering up physiques.

A wise man once advised me to never trust a man whose ass is wider than his shoulders. This accurately captures the look of keyboard cowards, who log their sedentary days and nights anonymously hurling venom in cyberspace rather than confronting their targets directly. Bottom feeders of the worst kind congregate online and take pot shots at a coach who could buy and sell them and run laps around them.

While corpulent critics have challenges counting victories and calories, real LSU supporters should show patience. Coats is counting on Kelly actually beating Saban, Miles and Orgeron to the pinnacle at LSU. The king of college forecasters is counting on BK to post at least two national championships in his first four years as a resident of Lakeshore Drive in Baton Rouge.

THE CASE FOR HERSCHEL WALKER
University of Georgia 1982 Heisman winner Herschel Walker is in Herculean condition at age 60 and is striving to become a Medicare recipient while serving in the U.S. Senate. Walker is challenging Georgia Senator Raphael Warnock on Nov. 8, the day that LSU Board member and former basketball standout Collis Temple Jr. turns 70.

Walker, unlike many members of Congress, is no washed-up wuss and if elected might spur a trend toward fitter men and women using the lavish Senate gymnasium reserved only for the 100 members of the chamber.

Walker can make the case that fiscal discipline begins with physical discipline. Perhaps it will soon be a requirement to bench press your weight 10 times in order to become a member of the Capital club. After all, a senator has to be 30 years old to take office. Let's make certain we elect members who also possess waistlines below 35 inches. It's time to cut the fat in D.C. and choose people who look good naked.
Walker made his case as he confidently once posed au naturel for the Body Issue of ESPN, the magazine. Forget the revelation that Walker has fathered four children with four different women and allegedly paid for an abortion for one of the mothers of his kids. Men who flex like Walker are occasionally inclined to have relations with an array of eligible women.
Joe Namath once boasted of bedding 400 women at the University of Alabama with bad knees. Walker has no such impediment to companionship.

Louisiana re-elected in 2010 a U.S. senator who missed votes for veterans to consort with prostitutes. Sounds like Walker is qualified to join this select group and might entice Louisiana's John Kennedy and Bill Cassidy to get in fighting form to rival the gentleman from Georgia.

Kennedy and Cassidy are well educated while Walker failed to make the grade to graduate at Georgia. Walker might counter that it's preferable to be a dumb ass rather than a lard ass. Walker is a lot of things, but he is not an empty suit.

WALKER RUNS AHEAD OF THE PACK
Walker last played for Georgia 40 years ago, winning the 1982 Heisman Trophy after finishing second in 1981 and third in the 1980 balloting. He is first in SEC career rushing yards with 5,259, 490 yards more than fellow Bulldog Nick Chubb, who is second in league history with 4,769 yards in four seasons. Darren McFadden is third with 4,590 yards in three seasons at Arkansas from 2005-07.

LSU's Kevin Faulk is fourth overall in the conference with 4,557 yards from 1995 to 1998. Dalton Hilliard is eighth with 4,050 yards, while Charles Alexander is ninth at 4,035 yards. Leonard Fournette ranks 16th with 3,830 yards at LSU and Derrius Guice is 42nd in the conference with 3,074 yards.

Guice does not have his career numbers recognized by LSU, which has omitted him from the media guide for alleged sexual misconduct. The SEC continues to acknowledge that Guice did play for the Tigers and gained thousands of yards from 2015 to 2017.