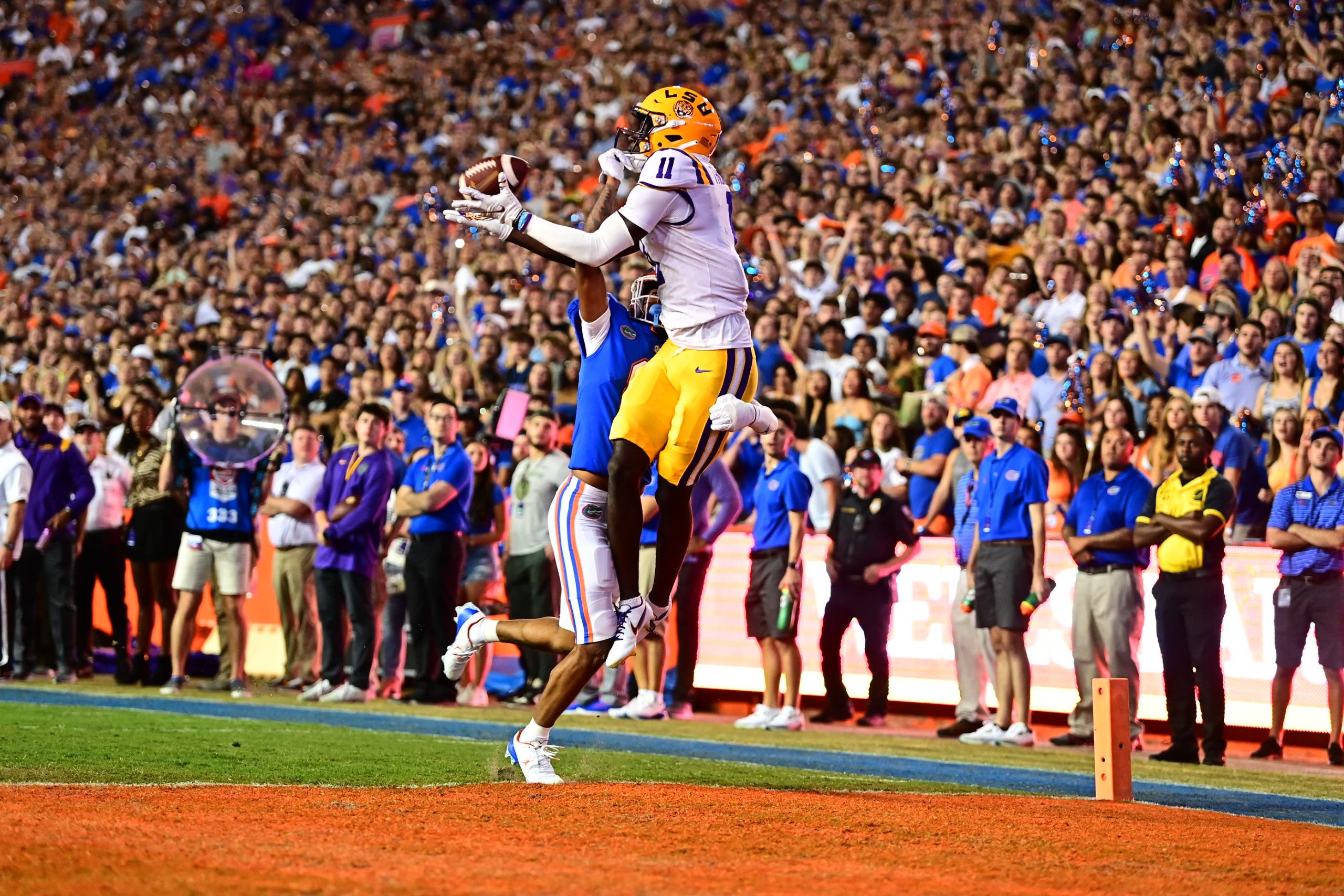 There will be something unforeseen a week ago waiting when LSU kicks off Saturday's 2:30 p.m. game at Tiger Stadium with No. 7 Ole Miss.
A share of the Southeastern Conference lead.
Raise your hand if you envisioned such a scenario when then No. 25 LSU left its home field a week ago, a battered team in the wake of a 40-13 drubbing at the hands of now third-ranked Tennessee.
Ole Miss (7-0, 3-0 in SEC) has done its part, ascending to the top of the SEC West with a perfect league mark, while Tennessee toppled Alabama, 52-49.
LSU took care of its part, once again overcoming an early deficit and rode the red-hot right arm of Jayden Daniels' 349 passing yards and six total touchdowns, to a 45-35 road win over Florida.
The Tigers are 5-2 overall in their first season under coach Brian Kelly and 3-1 in the SEC, tied for second with Alabama with the opportunity to move into a first-place tie with a win over Ole Miss.
The month of October hasn't been for the faint of heart for LSU fans and this Saturday won't be any different when Ole Miss rolls into town.
Maybe, this time, the Tigers will be better prepared to handle such a moment with a turn-the-corner triumph going into an open date and Alabama coming to town Nov. 5.
"It's a big game," Daniels said. "It's the kind of game I came here to play."
Daniels handled his team's latest road assignment at Florida with greater aplomb than he did two weeks ago in a middling 21-17 win at Auburn.
LSU defeated Florida because of Daniels, not in spite of him, as was the case at Auburn.
Daniels, a transfer from Arizona State, accounted for 393 yards with 349 yards passing, the most for an LSU quarterback ever against Florida. He also became the first player in school history to account for six touchdowns in a regulation game, also rushing for three scores and helping the Tigers gain separation with as much as a 21-point lead.
Daniels directed LSU's offense to six consecutive scoring drives that all covered at least 73 yards and resulted in touchdowns.
He was 14 of 18 for 252 yards and three touchdowns in the first half, giving LSU a 28-21 halftime lead on a 54-yard TD pass to Jaray Jenkins with 2:24 left.
With the offensive line adding true freshman Will Campbell back at left tackle, that group provided optimum time that resulted in only one sack of Daniels. They also paved the way for 38 rushing attempts for 179 yards.
Running back Josh Williams opened the second half with a 50-yard burst and led the team with 106 yards on 14 attempts. That led to the first of two 9-yard TD runs from Daniels and a 35-21 lead.
LSU covered its most territory – 88 yards – with Daniels completing 5 of 7 passes for 61 yards with all five completions resulting in first downs. He kept on second-and-goal from nine yards out, pushing the Tigers scoring spree to 21 unanswered points and a 42-21 advantage with 1:07 left in the third quarter.
With LSU apparently clicking on all cylinders, it was head-scratching to see the Tigers open the door ever so slightly for Florida to step back into the game.
Regardless of the urging of Tom Petty's, 'I Won't Back Down', the Gators looked their most inspired on Anthony Richardson's 81-yard TD run and Jennings native Trevor Etienne followed with a 1-yard TD run, reducing LSU's lead to 42-35 with 7:39 to play.
Florida had 132 of its 395 total yards on two plays, an early 51-yard TD pass from Richardson to Justin Shorter, coupled with Richardson's resurgent run that appeared to jumpstart the Gators' efforts.
The Swamp became electric when it appeared Florida's defense was about to get LSU off the field with an interception on an overthrow from Daniels with 5:47 remaining.
Instead, the Gators were guilty of roughing the passer when defensive tackle Jason Marshall drove Daniels into the ground after the pass, akin to Marco Wilson's 15-yard personal foul for throwing Kole Taylor's shoe in 2020 and aiding the Tigers' 37-34 comeback victory.
Given new life, LSU ran the next nine plays, gained two first downs and more importantly, took nearly four minutes off the clock and Damian Ramos cemented the game with a career-best 47-yard field goal.
The Tigers are riding high and a victory over Ole Miss, forcing a tie for the lead in the SEC West, would show they're right on schedule.