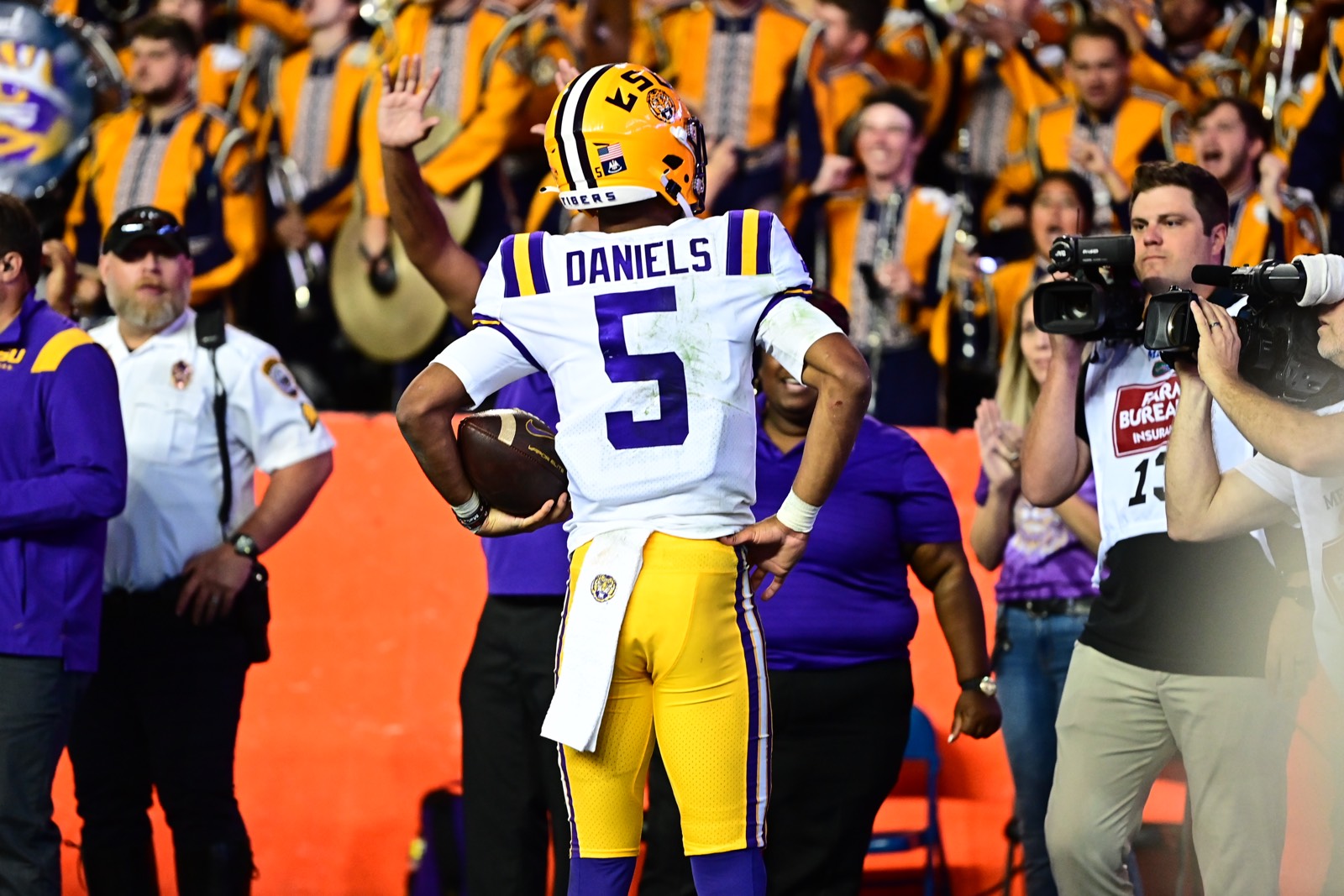 Jayden Daniels finally arrived at LSU on Saturday night.
Okay, so it was in Gainesville, Florida where he arrived. But the kid arrived in a big way.
Best of all, Daniels did not back down. (It was Tom Petty night at Ben Griffin Stadium.)
Daniels' arrival, his coming out party, could not have come at a more opportune time for LSU, which now, believe it or not, finds itself in the heat of a SEC West Divisional race with unbeaten No. 9 Ole Miss and once-beaten Alabama only one week after the sky appeared to fall in on the Tigers in an embarrassing 27-point loss to Tennessee in Tiger Stadium.
What a difference a week can make!
Now, LSU literally finds itself in a position to have meaningful games over the next five playing weekends and a chance to possibly square off with Tennessee once again in the SEC Championship in Atlanta in December.
Too soon?
Okay, but thoughts like that actually started occurring during a 2 ½-half quarter span against the Gators when Daniels worked his long-awaited magic against Florida coach Billy Napier and company.
For the first time this season, LSU (5-2 overall, 3-1 SEC West) exploded offensively.
Daniels passed for 342 yards and three TDs. He also rushed for 44 yards and three TDs. He completed 72 percent of his passes (23 of 32) and finished with a QBR of 194.4. His six touchdowns in one game tied an LSU record set by Joe Burrow, who did it five times.
After falling behind 21-14, in the first half, thanks in part to another plethora of self-inflicted wounds, including a special teams mistake – a muffed punt return attempt by Jack Bech – a missed coverage assignment in the defensive backfield on a 51-yard touchdown bomb on the second play of the game, and then getting gashed on a 39-yard touchdown run, Daniels led LSU to 28 unanswered points.
Daniels led LSU on six consecutive scoring drives, and at one point, seven consecutive third-down conversions. The Tigers were also 2 of 2 on fourth-down conversions.
Florida (4-3, 1-3 SEC East) led 7-0, 14-7 and 21-14 before the Tigers scored 28 straight points for 42-21 lead. Florida then managed to score touchdowns on two consecutive fourth-quarter possessions to make it a one-score game with 7:39 left.
But Daniels and LSU managed to use up 5:47 of the clock late in the fourth quarter, and finally put the Gators away for good when Daniel Ramos kicked a 47-yard field goal, his longest of the field goal of the season, with 1:57 left in the game to put the Tigers up, 45-35.
LSU finished with 528 yards total offense.
All told, Daniels completed passes to nine different receivers, including connecting with preseason All-American Kayshon Boutte six times in eight target attempts for 115 yards.
Daniels looked patient and unhurried most of the game even though, as ESPN announcer Joe Tessitore told Greg McElroy, "This Florida defense is not chopped liver. What Daniels is doing, has done tonight, is impressive."
It was.
What will be even more impressive is if Daniels can do it again next week Ole Miss, who struggled to get past Auburna in Oxford.
If Daniels can keep it going, LSU has a real chance to upset Ole Miss on CBS next week. That would mean the Tigers would head into an off week more than likely preparing to host Alabama and Nick Saban one week later in Tiger Stadium for first place in the SEC West.
What a difference a week can make.