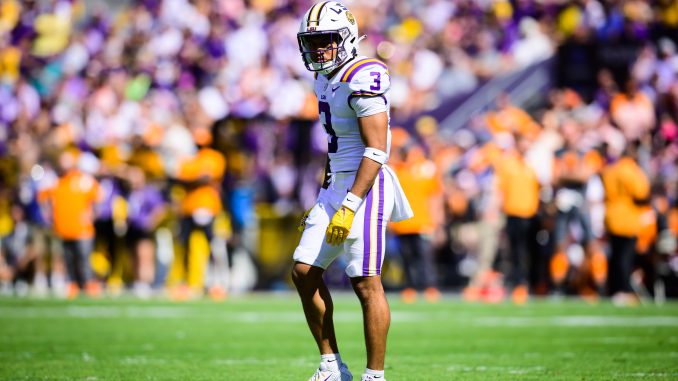 Fifth-year senior safety Greg Brooks, Jr., is a physical, hard-hitting, aggressive defensive back that can play corner, safety, nickel or even linebacker if need be.
He also has a penchant for seeing things on the field unfold before they actually happen, therefore, Brooks is usually in the right place at the right time.
Case in point, the LSU-Auburn game last season.
LSU was struggling offensively, trailing 17-0 and then rallied to take a 21-17 lead it was desperately trying to hang on to.
Brooks perfectly timed his break on a pass from Auburn quarterback Robby Ashford to wide receiver Koy Moore. Brooks was credited with an interception with 2:18 remaining, the fourth turnover produced by his team, and LSU ran out the remainder of the time to preserve a come-from-behind 21-17 victory at Jordan-Hare Stadium.
"Yeah, I'm not the biggest guy in the world, so I use a lot of motivation just playing hard each and every time," Brooks said.
"I also feel like I have a great IQ for the game, and a lot of times I know stuff that's coming before it actually happens, like last year against Auburn, on that late interception, I knew it was coming so it wasn't even my assignment to do that," he said. "I just took a chance with it and made the play. I saw the play happen seconds before it happened. But a lot of things I feel like I know football IQ-wise and that gives me an edge, and just helps me play fast and more strongly on the field. More aggressively."
Brooks was a New Orleans prep star who originally signed with Arkansas and played there for three seasons. He transferred to LSU last season when then first-year coach Brian Kelly went hunting in the NCAA transfer portal for solid and experienced defensive backs, ideally from Louisiana.
He said he loved his time with the Hogs, but he knew – ahead of time – LSU was the best place for him.
Brooks started 31 games in three seasons at Arkansas, so he was a seasoned veteran.
Last season at LSU, Brooks started 13 games of 14 games, and settled in at safety for the Tigers after his first game against Florida State when he opened the season playing cornerback.
Brooks had a career-high 66 tackles last season, including five tackles for a loss, one sack and one forced fumble while snagging two interceptions.
"I've been working on that all off season," Brooks said. "I should have had at least three more interceptions last season. Right place at the right time and just didn't hold on to the ball. It's one of the big things that my coaches pointed out to me during film reviews."
One of the first things Brooks said he noticed right away about playing at LSU versus at Arkansas was the game experience.
"Playing at LSU is way different," Brooks said.
"First, just playing in Death Valley, it's a hugely different atmosphere. Obviously, Arkansas had a big stadium and stuff like that. But, man, playing at LSU, in Tiger Stadium, is totally different – so much more fun and exciting. It's hard to describe how different it really is. Totally different atmosphere, at nighttime especially, but it was a huge difference being able to play more freely and show my versatility with everything," he said.
Brooks said once he got to LSU, he realized almost immediately the coaches had studied him in depth and knew exactly how to not only take advantage of his strengths, but also how to work with him to develop and improve his game.
"The coaching staff just communicates so clearly," Brooks said. "It really freed me up to excel and understand myself as a player at a whole new level."
"(Arkansas) Coach (Sam) Pittman was a good coach. He just approached things differently than Coach Kelly, and I feel like Coach Kelly allows us to be… he has his path that he wants to take, and I think it is good that it's helping us actually understand what we are doing and why we are doing it. It's pretty disciplined, that just the nature here at LSU. You know what you're doing and you know why you're doing it. It really makes you want to work and improve every day."
Deciding to return to LSU for a fifth-season was not a difficult decision to make, Brooks said.
"I came back to lead this new group of DBs, to be their leader on the field, and to win the national championship. We're going to the playoffs and we really think we're going to win it all," Brooks said.
"I definitely feel like I am the leader of this room. Definitely. And not just because I'm a senior, anything like that. It's just everybody, they are going to need that one voice, and I feel like I have to be that voice. So every day I work out with Denver Harris – every day, you know what I'm saying? Making sure he gets everything right. Helping him improve. So, I know we're going to be real good . . . I can see it."