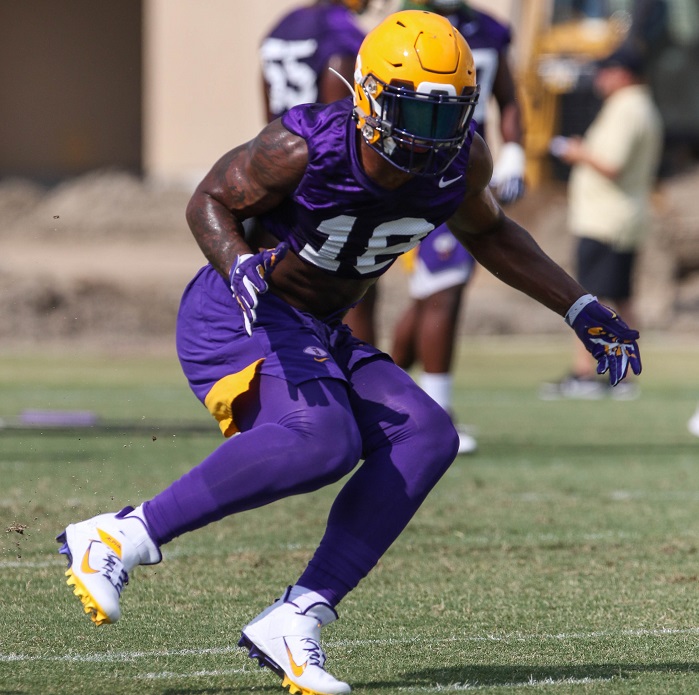 K'Lavon Chaisson knows the data and has done the math.
The average college quarterback in today's modern game of RPOs and quick passes only holds onto the ball for 2.6 seconds on average. A secondary like LSU's can buy some additional time, but that still doesn't leave much time for dancing around blockers.
Beat the tackle clean with speed or a well-timed move and the quarterback is a sitting duck. Take any longer to get home and that ball is probably long gone. That fine line differentiates the alright pass rushers from the truly elite.
There's no doubt Chaisson considers himself to fit in the latter category. Coaches and teammates predicted last fall that the outside linebacker would break LSU's single-season sack record in his first year as a starter.
He was off to a pretty good start, too, picking up a sack in the season-opener against Miami. Then, in the blink of an eye, his season ended with a torn ACL suffered in the fourth quarter.
Now he's back, and his expectations haven't lowered an inch.
"You do the math," Chaisson told reporters Saturday in the first interview session of his college career. "Take like 40-45 plays a game, all I need is one-and-a-half sacks each game. That's 18 sacks, and that's a record right there."

Sounds easy enough, right?
It wasn't for a defense that had to reconfigure on the fly after Chaisson went down last season. Defensive coordinator Dave Aranda came up with tricks and defensive back pressures to help out, but LSU finished tied for No. 32 nationally with 34 sacks. Six Southeastern Conference teams had more.
LSU coach Ed Orgeron has been hammering home the importance of creating negative plays since before his players reported to Fall Camp. LSU's pass rush was decent last season, and Orgeron seems hell bent on ramping things up in 2019.
Orgeron has talked about using multiple defensive fronts and exotic packages like the "bandit" (2 DL and 7 DB) to create more plays in the backfield. Anything that can put more speed on the field at the same time.
"If we can have a four-man rush and play coverage, that's great for us," Orgeron said. "That's what we want to do, but we want to make sure we've got our ducks in a row to make sure we have a better pass rush."
One player doesn't make or break a pass rush, but Chaisson isn't your ordinary talent. Orgeron, who has coached his fair share of prolific pass rushers, described him this week as a first-round talent with the potential to rack up 12-to-15 sacks.
It's been a long road back from laying in the end zone at AT&T Stadium to leading LSU's revamped pass rush in that newly-awarded No. 18 jersey, but Chaisson insists he's handled it all with a smile on his face.
THINK ABOUT ALL the hype surrounding Chaisson at this time last year. He'd shown flashes of brilliance filling in for Arden Key as a true freshman, and suddenly veterans like Devin White and Michael Divinity were predicting he'd break Key's sack record.
The fact that Chaisson ostensibly declined to do interviews only added to the mystique. He'd come to LSU with plenty of fanfare as a five-star recruit out of North Shore High School, a Class 6A powerhouse in Houston, and one year later it was time to become a star.
Instead a season with so much potential ended abruptly after three strong quarters in Dallas. Chaisson waved off a medical cart and walked off the field under his own power after going down, but two days later LSU announced he was lost for the season.
"Definitely I felt some type of way," Chaisson said. "I felt a sense of disbelief, but I mean everything happens for a reason you know, so I don't have anyone to blame for it. It's just God's timing, so I know he has something special going on. Whether it's this year, next year or whatever year it comes, it's something he has waiting on me and I'm patient. I'm waiting on it."
That positive attitude served Chaisson well in the rehabilitation process. He had to miss a couple of games after undergoing surgery, but he consciously stuck around the team and tried to remain his normal upbeat self.
"I'd rather be with the team than be alone," Chaisson said. "I've heard how a lot of guys took their process, and how being alone gave them a sense of depression feeling like nobody was there for them. I know my teammates are not like that. I'd rather be around them."
It would've been easy to withdraw into a state of self-pity. Instead Chaisson relied on his faith and chose to stay focused on the bright side: missing a season isn't ideal, obviously, but think about injuries like the one sustained by Pittsburgh Steeler linebacker Ryan Shazier. He'll probably never play again.
"I'm not a negative mindset person, so I went into every day smiling, laughing and jumping around. Just being me," Chaisson said. "I know there's a lot of injuries that's very worse than mine. So thank God it was just a minor injury like this that sat me out for a small period of time, and we can move forward."
Chaisson underwent surgery on Sept. 20, according to a photo he shared on social media. He tweeted out a video of himself running without a knee brace on Dec. 1, which is fairly remarkable.
The ACL was fully healed by that point, and the focus of LSU's training staff shifted to regaining the strength in Chaisson's quads, the muscles that allow for explosive and lateral movement. He worked on it twice as a day as soon as he was cleared to do so.
If he had his way, Chaisson would've been allowed to fully participate in spring practice — contact and all. The staff didn't allow it for fairly obvious reasons, and Chaisson respected their decision.
Most players coming off such an injury take anywhere up to a year before they regain confidence in the knee. Chaisson is adamant that he won't have such an adjustment period.
"I'm not really a mental person," Chaisson said. "I didn't have any mental block going on. They could've told me to do a backflip and I probably would've tried to do a backflip."
He explained further: "I honestly feel like if anything were to go bad, it's God. I'm not put on Earth to hold back. Whatever he's going to let me do, he's going to give me the ability to do. If I have the ability to run full speed and cut, I'm going to run full speed and cut. I don't have time to have mental blocks going on and be cautious because I trust in my training staff and I trust in the man above."
SOMETIMES IT'S THE most obvious simple, obvious questions that produce the most genuinely-funny answers.
Orgeron, two days earlier, used the phrase "green team" while talking about LSU's efforts to improve the pass rush. It's not so much an exotic new look as a third-down package that puts LSU's four-best pass rushers — regardless of position — on the line of scrimmage.
A reporter asked Chaisson if he'd be part of the green team, which drew a smirk from the personable pass rusher.
"Is water wet?" Chaisson responded.
Chaisson downplayed the idea that his return alone would mean a more ferocious LSU pass rush. It's a team game, he insists, and it takes at least four defenders to create a sack. More if you count the defensive backs who're smothering receivers and forcing the quarterback to hold the ball.
That being said, he's not too hung up on all the tricks and gadgets that LSU is implementing, either. He said he's spoken to Aranda about some news plays and concepts, but his primary focus at this point is helping create a more effective four-man rush.
"That's cool and all, but my job is to get to the quarterback," Chaisson said. "So if I can do that without us doing all the crazy things; that makes everything a lot easier. That way we don't have to do all the stunts, twists and confusing mind games for the offense. If you can get pressure with the four-man rush, then that's all that needs to be done."
There is one kind of mind game that Chaisson whole-heartedly endorses: trash talk.
Whether it's trying to keep up with fellow No. 18 Lloyd Cushenberry in the weight room or trying to get an opposing tackle off his game, Chaisson is always talking. It's as much a tool in his bag as a spin move or speed rush.
"Have I done it? Duh," Chaisson responded to another apparently-too-obvious question. "I'm going to be annoying. That's me though. I'm going to keep going just to get you out of your game. And you're going to get all aggressive, and that's when I come in with my finesse ways."
Players on the other side of the ball have taken notice, even at this early stage of camp. Ask Joe Burrow about LSU's new rush packages or aggressive stunts, and the first thing that'll pop into his head isn't anything new, but rather someone who has returned.
"We have… it's really good to have K'Lavon back," Burrow said. "He's one of the hardest workers and most-talented guys on the team, and he's going to have a big year."
LSU certainly hopes so.