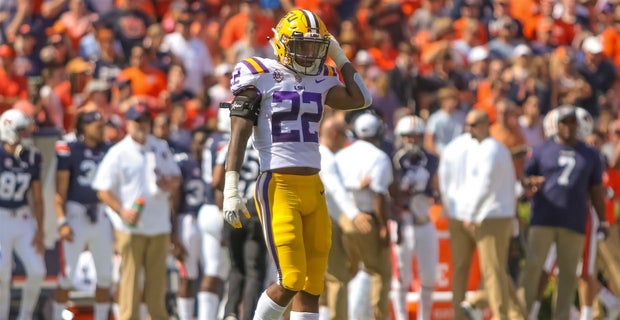 A year ago today, Kristian Fulton had no idea whether he would get to suit up for LSU last season.
The highly-touted cornerback now enters fall camp drama and injury free, knowing he's got a role on the field locked up for the first time since arriving in Baton Rouge.

"I just kept saying 'it's great to be back'," Fulton said. "I'm back on the field for my first camp where I wasn't suspended besides my freshman year. So I haven't felt this good about going to camp since freshman year. I'm just happy to be back."
The talented senior cover corner missed a season of eligibility after using another player's urine during an NCAA PED test, though the NCAA originally ruled he would serve a two-year ban for tampering.
After originally upholding that suspension through a second year prior to the start of last season, they backpedaled after a receiving a letter from then-athletics director Joe Alleva and ultimately allowed LSU to reinstate him for the 2018 season.
Fulton made the most of his return to action, playing in 10 games in which he tallied 25 tackles, nine pass breakups and an interception before his season ended with an injury suffered late in LSU's 24-17 victory against Arkansas.
Fulton says he could go on for hours about what the situation ultimately taught him.
"I learned how to do the right thing the first time," he said. "The fact that to be a pro, you have to learn early and fight through adversity.
"I would said it make me stronger, but the people around me helped me, too. They got me stronger mentally. They kept pushing me int he weight room so I got stronger."
The way he handled this adversity didn't go unnoticed by his teammates.
LSU junior safety Grant Delpit said he admired how Fulton dealt with the hand that was dealt to him.
"I think he handled it like man. He lived up to what he did and owned up to what he did," Delpit said. "He came back and had a hell of a season. That's great character on his part. he made he made a couple plays last year and he set us up pretty good for this year so I think the breakout season."
Now Fulton is back. No suspension, no injury. He's just ready to go out on the field and play football the way he grew up playing it.
That's made easier knowing he has a solid teammate and fellow starting cornerback across from him in Derek Stingley Jr.
"He's a dog," Fulton said with a grin.
He later added: "He's just different, you know? He comes and he's just more mature. We're still working on little things, but I feel good about this group.
Fulton also echoed the words of LSU head coach Ed Orgeron, saying this is the best group of defensive backs he's ever been a part of .
"I definitely think this is probably one of the best secondaries of my years," Fulton said. "We got a lot of young guys but we also got a good group of older guys safeties-wise, and whenever you have like that's back, they make our jobs a lot easier."
With a ban that nearly cost him half his NCAA eligibility and a season-ending injury now in the rear-view mirror, it's unlikely Fulton isn't ready for whatever the 2019 season throws his way.
"I'm definitely more confident in myself going into the season," he said. "I'm just feeling good about the team, feeling good about myself, and I'm just ready to get after it this camp."