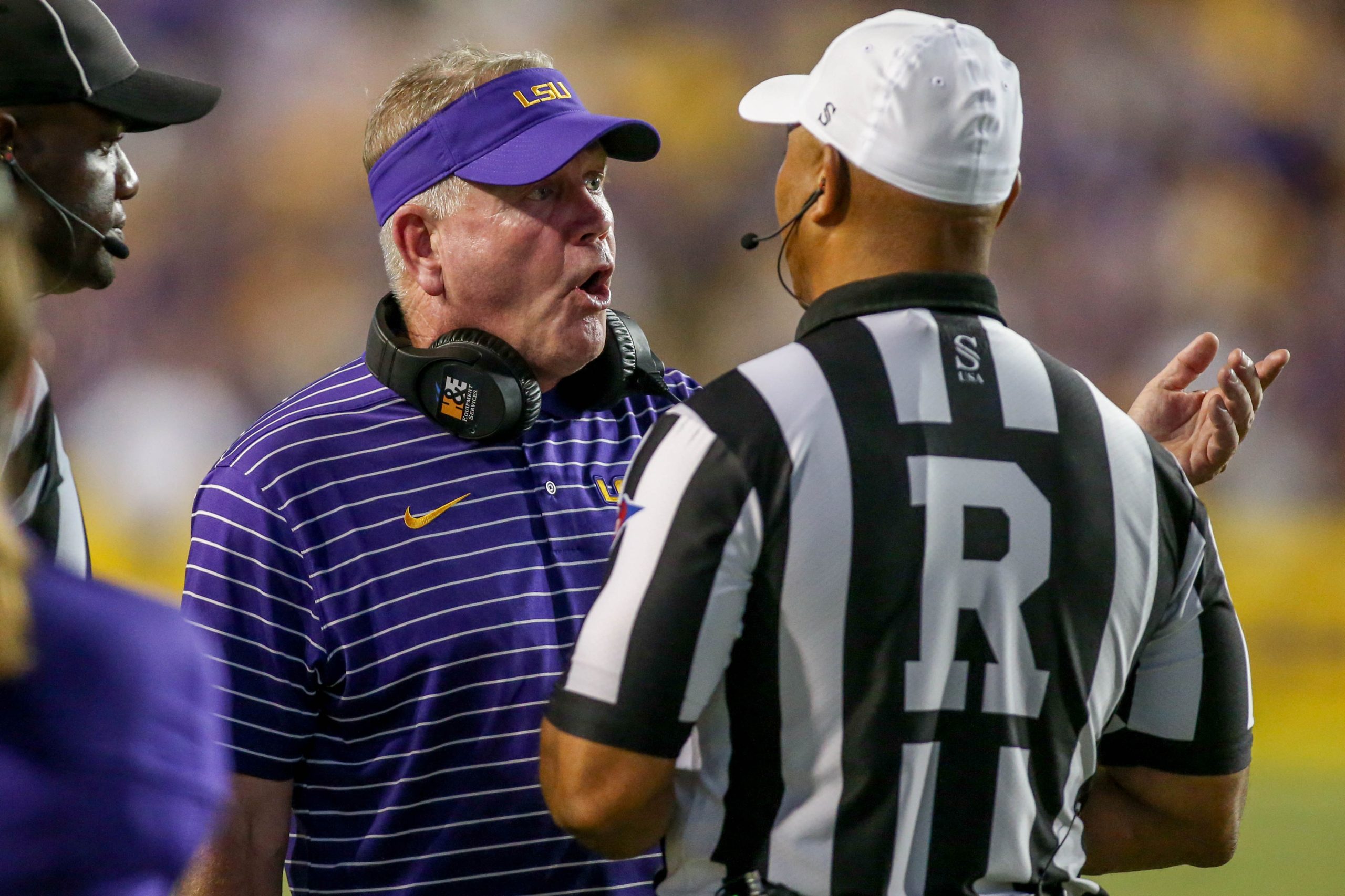 It's safe to say that in 32 years as a head coach LSU's Brian Kelly's experienced it all.
His Tigers (4-1, 2-0 in SEC) are riding a four-game winning streak, broke into The Associated Press' Top 25 for the first time at No. 25 and host No. 8 Tennessee (4-0, 1-0) at 11 a.m. Saturday at Tiger Stadium.
The game will be televised by ESPN and broadcast locally by 98.1-FM.
Even Kelly knows a big-time matchup when he sees one, a game he's effused excitement during his two public appearances with the media this week.
"Playing a Top 10 team here at home Tiger Stadium, a great challenge for us," Kelly said during Wednesday's SEC Coaches' Teleconference. "It's always better to be at home but again. A very talented football team, (Tennessee football coach) Josh (Heupel) has done an incredible job in his second year there. It's an offense that is averaging 48 points per game and led by (quarterback) Hendon Hooker who leads the SEC and total offense.
"Talented running backs, wide receivers and then on defense, just a lot of athletic players across the board," Kelly said. "Then they lead the league in turnover margin, so they do a great job of taking care of it getting the football out. It's just a great challenge, great matchup between two teams that are looking to continue to build on their success as they transition with new coaches. It should be an exciting atmosphere here at Tiger Stadium."
Here's what else Kelly had to say:
On Greg Brooks' game-sealing interception?
"I think Greg's a very smart player. That route had been run a few times. I think in the earlier timeout, we were reminded about some plays that they were likely to come back to and that was one of them. Greg was sitting on the route, was ready for it and just made a great play. I think they counted it as an interception, but the ball was in fact completed in our eyes and he just took it out of his hands. Just a great individual play. Greg's a very experienced SEC player, so to have a guy in that position for us that we got through the transfer portal paid great dividends for us in that game. Tat obviously was a game changer for us."
On giving Brooks the game ball?
"There were obviously big plays. BJ Ojulari's play right before the half, where we get the strip fumble and Jay Ward picks it up and scores. We needed something to happen, that was a huge play. But this effectively sealed the game. Greg's been asked to do a lot of things for us, and we just thought this was the culmination of unselfish play all year, the last play being the biggest play, and somebody needed to make a play that night. We needed to make a play and so that made it kind of in the moment in the game that's why we gave him the game ball."
Any ties to Tennessee in your coaching career?
(Current Tennessee secondary coach) Willie Martinez was my defensive coordinator at Grand Valley State. I know Willie very well. (LSU senior defensive analyst) John Jancek, who's on my staff here was the defensive coordinator. Butch Jones, who was the head coach at Tennessee was on my staff (at Cincinnati). John has a son (redshirt sophomore wide receiver Jack) on the team at Tennessee so yeah, I'd say we'd have a lot of ties with Tennessee from that perspective."

On traits of defensive coordinator of Matt House?
"I think Matt's done a great job. He's an experienced defensive coordinator in the SEC. He did a great job at Kentucky. Was outstanding on the staffs at Pittsburgh and North Carolina State. Obviously in the NFL, he had a big role in what they did in Kansas City. This is an experienced defensive coordinator who knows how to get the guys in position, he communicates very well. We haven't turned the ball over in terms of interceptions either. We've done a pretty good job on the offensive side of the ball, but Matt's experienced being in the SEC understanding. I don't think there's an offense that he hasn't seen before. That doesn't mean he's an expert in anything. He would tell you that, but he's got a pretty good system. Our system of defense is such that it is set up to be flexible against all offenses we do run across in the SEC."

On challenges facing Tennessee quarterback Hendon Hooker?
"I've gone against Hendon Hooker, so I know about him when he was at Virginia Tech. He's also much more mature as a quarterback and in particular in the passing game. I think in my career I've seen quarterbacks that have the physical stature of a Hendon Hooker. And when I say physical stature size, the ability to run and then have the arm strength to push the ball down the field. That's what he has. He's got both. He can hurt you running the football because of his athletic ability, and his size. He's got a great arm. There's a lot of those quarterbacks. He fits this system really well because he throws a great deep ball and the way they run their offense; they get so many one-on-one matchups. You've got to have a highly accurate quarterback who can throw the deep ball and he always did that well at Virginia Tech. He does that really well with Josh's system of offense. So that in itself makes him a really effective quarterback because if he was just a running quarterback there's a lot of those guys. It's his accuracy and the deep ball that makes him that double threat."

On pace of Tennessee offense?
"They can't motion, they can't shift. They can't formation you to death. But you can't do quite as much on defense either. You've got to get lined up and you've got to get your cleats in the ground. You know a lot of this comes down to winning one-on-one matchups, so being fundamentally sound, tackling, playing the ball in the air and defeating one-on-one blocks. People talk about this being a spread offense, one of these kind of newer offenses. But it really breaks this game down to winning one-on-one matchups. In probably the most pure sense, that's what we'll have to do defensively. We're going to have to win a lot of one-on-one matchups."