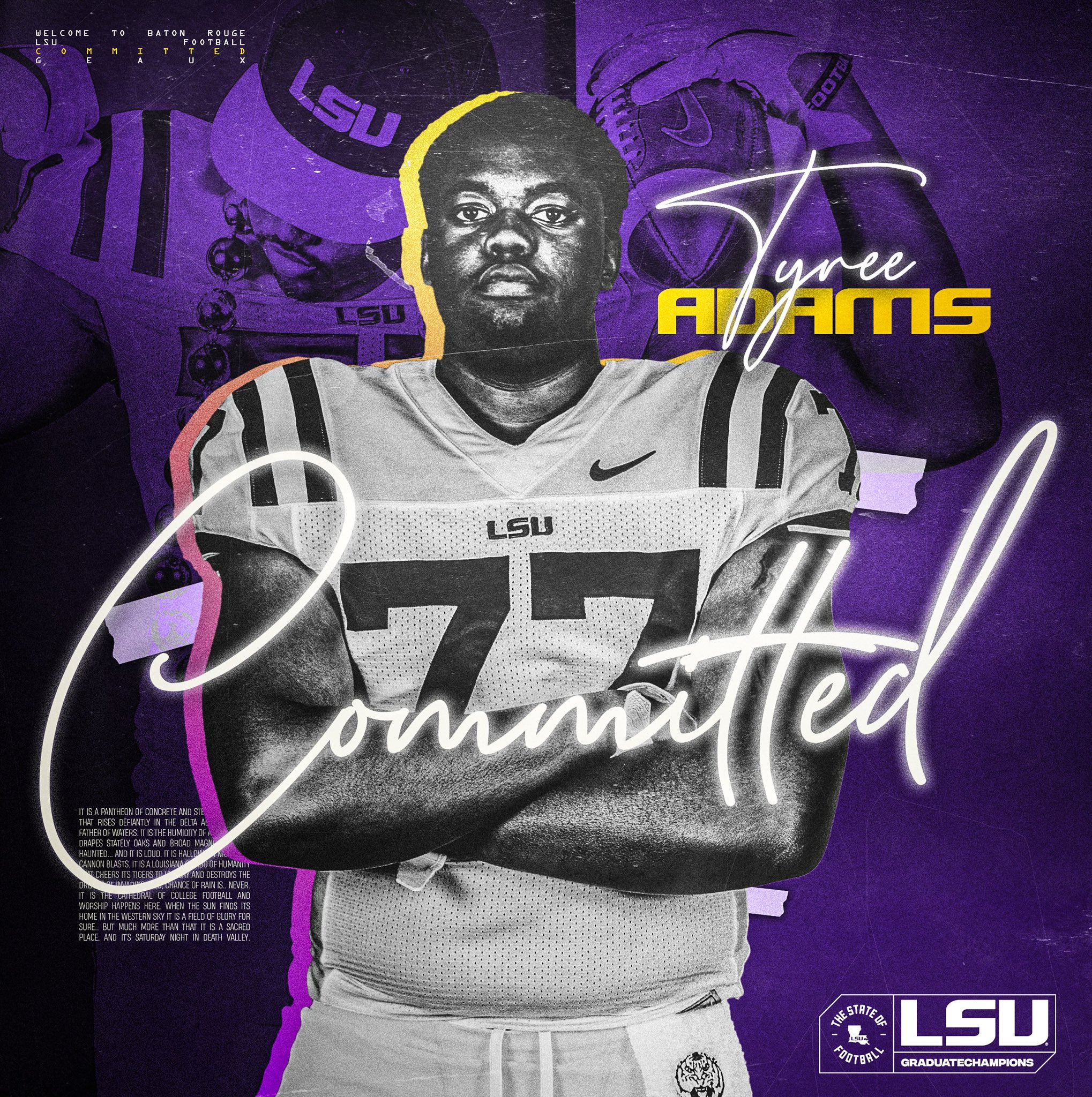 LSU's coaching staff had a couple of aces in the hole when it came to recruiting four-star offensive lineman Tyree Adams of St. Augustine High in New Orleans.
The Tigers were able to rely on their St. Aug connections – running backs coach Frank Wilson, wide receivers coach Cortez Hankton and analyst Carter Sheridan – to help land Adams' commitment Friday during an unofficial visit to the school.
"They played the biggest part, especially being alumni as well as being there for me personally. That was the biggest factor for me," Adams told On3Sports.
LSU's current 2023 class jumped back into the top 10 nationally, according to 247Sports, with the commitment from the 6-foot-6, 285-pound Adams. He selected the Tigers over Florida, Georgia, Alabama and Ole Miss, pushing this class of commitments to 17 including two offensive linemen that includes Paul Mubenga of Buford, Georgia.
The Tigers are ninth per On3 in the national recruiting rankings and 12th according to Rivals.com.
"It's the home team and they made me feel at home even though I wasn't," Adams told 247Sports. "I love every moment of LSU. They are going in the right direction, and I trust in what Coach (Brian) Kelly is doing."
Adams, ranked as high as No. 105 overall by On3, also gave plenty of credit for his decision to LSU offensive line coach Brad Davis. He worked closely Davis and developed a rapport during a recent trip to the school's elite football camp.
"I love him," Adams told On3. "He's on me through every rep, through every drill and he's on me all day with the little things, not even just the big things. Coming to see that is great.
"He loves his players, and he loves what he does and that's why he's going to be here for a long time. I'm loving LSU. They show me consistent love each and every day. I'm really appreciative to be a very high prospect on their list."
Adams is rated the nation's No. 20 offensive lineman by 247 and No. 10 by On3. He played right tackle at St. Augustine in 2021 and the Purple Knights (5-5) reached the second round of the Division II state playoffs, losing to eventual state champion Catholic High-Baton Rouge.
"It was one of the hardest decisions to date for me," Adams said. "LSU wound up being right for me by just it being close to home and having the potential to play early."