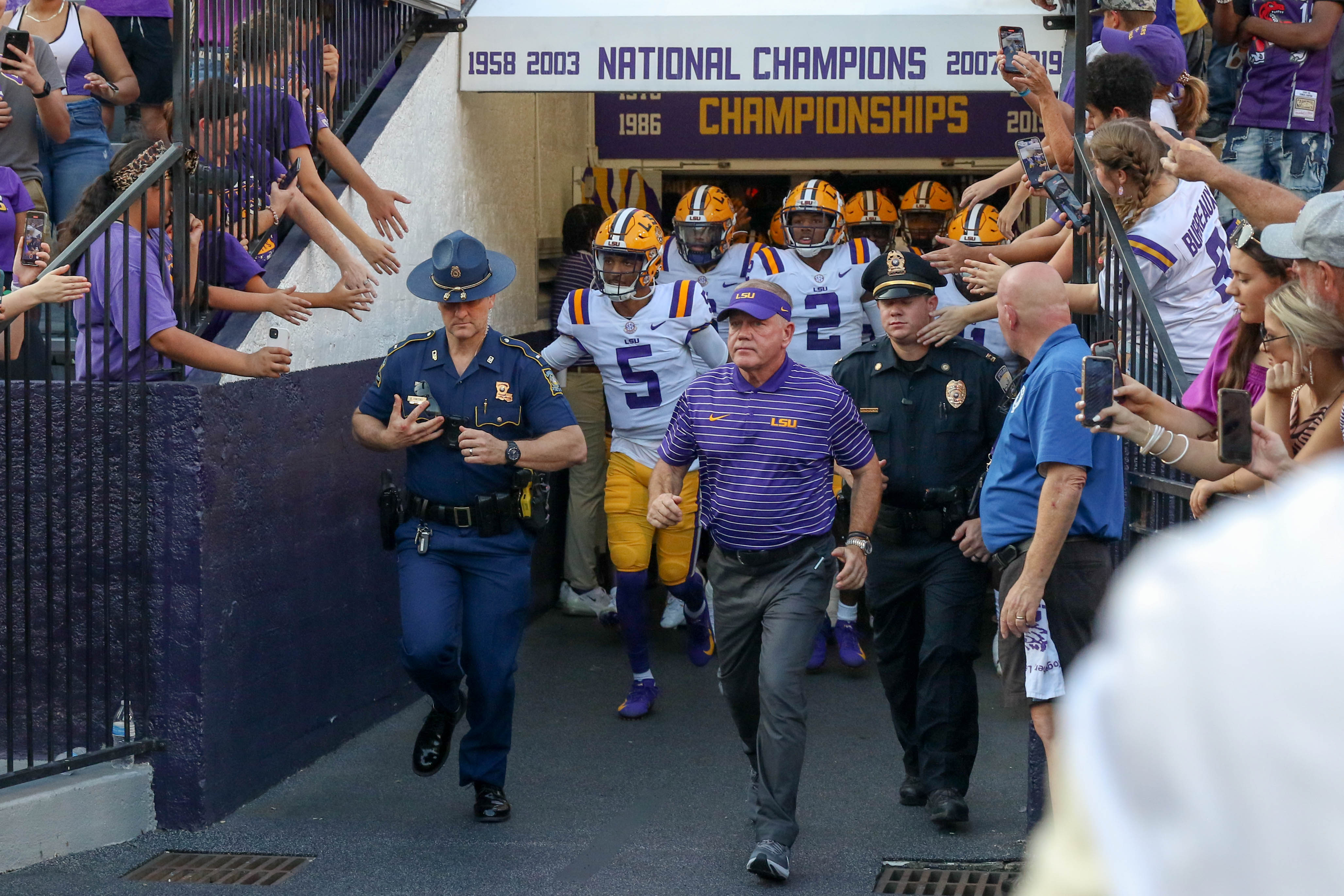 The first big test for LSU first-year coach Brian Kelly in Southeastern Conference play coincides with one of the more high-powered offensive schemes his Tigers will face this season.
When the Tigers (1-1) open league play at home Saturday at 5 p.m., they will do so against Mississippi State (2-0) which features one of the SEC's top offensive teams under coach Mike Leach's Air Raid system, led by the No. 1 quarterback Will Rogers.
The game will be televised by ESPN and broadcast locally by 98.1-FM.
"I have such great respect for Coach (Mike) Leach and obviously it starts with the offense," Kelly said during his Monday news conference. "It is a precision offense. It is extremely well coached. And you know there is a level of patience and persistence that you need on defense. Because if you're trying to disrupt it in one fashion, there are answers that they have, and the answers are tried and true. This is going to come down to our guy's attention to detail."
LSU won its first game under Kelly, a 65-17 demolition of FCS program Southern University on Saturday, but the veteran coach knows the stakes and competition level both ramp up this week.
The Bulldogs have defeated Memphis (49-23) and Arizona (39-17) to start the season behind Rogers, who has completed 78% of his passes for 763 yards and nine touchdowns. They bring in the SEC's No. 2 passing offense (385.0 yards per game), No. 3 scoring offense (44.0) and No. 4 total offense (486.5).
"You've got to be able to not only tackle, but have really good positional awareness all day," Kelly said. "Because again, this is a scheme that in some instances, and I'm not here to compare it, but this is like triple option, right? The precision of the scheme, the way it is set up. If you are not taking care of your assignment and doing your job, you're going to get exposed, and they've had to quality wins against quality opponents."
This represents LSU's third matchup against Leach whose team marched into Tiger Stadium in 2020 and delivered a 44-34 victory. Mississippi State, which suffered a 28-25 loss at home last year to LSU, has thrown for 994 yards and eight touchdowns in its two previous matchups with the Tigers.
"I've had offenses that are quite similar," Kelly said of previously defending the Air Raid system. "Syracuse is very similar and runs almost the same offensive structure. And Dino Babers is the head coach who was part of that (Air Raid) tree and have had to defend it on a couple occasions. It's a difficult system and this requires your offense to be really good as well. Your offense and defense have to be linked together in games like this. Your offense can't be just chucking it downfield and (go) three and out. You have to maximize your possessions. You've got to be able to make sure that you're not giving them extra possessions. The linkage between your offense and defense is absolutely paramount when you're playing teams like this."
Here's what else Kelly had to say:
Opening statement
"It was great to get back home in Tiger Stadium for me for the first time and for our team. Obviously, getting off to a fast start was absolutely crucial given the way we kind of were sluggish (in 24-23 loss to Florida State) and I love the way our guys responded on the first play. Getting the ball loose on special teams and then continuing with one of the best, if not the best first quarter outputs in Tiger Stadium history. (Jayden) Daniels has been really efficient. I think he's led scoring drives in eight consecutive possessions. Defensively, we really played well through three quarters and thought maybe our attention to detail lapsed the little bit late. And then special teams was outstanding with a blocked punt. Certainly, did the things necessary in that area that we needed to tighten up as well. So, a good victory but now we get into SEC competition, and everything is heightened.
"It's SEC competition against an outstanding offensive scheme and defensively, this is a veteran defense. They've got a lot of juniors and seniors playing a 3-3-5 defense. They're salty. I mean, they've got some really good players. They play hard. They're well coached, well coordinated. They've got answers as well. Just going back to the offense, (quarterback) Will Rogers leads the SEC in passing yards, but it's a high percentage offense and he can make all the throws. I think from a defensive standpoint, the guy that stands out is Tyrus White. He's all over the field. He's from Amite, and I will say this you're going to see him in a number of different positions, whether it's at linebacker, he can play a stand-up piece and is going to be moved around. And obviously he's coming back home and he's a guy that can wreck your day if you don't know where he is. So, a great challenge for our football team, one where we have to step up our play. It's exciting now that we get into SEC competition in terms of now, we have to challenge ourselves in our preparation and get ready for a really quality opponent."

What does it mean to have John Emery back this week?
"We're excited about getting John back. Certainly, I'm excited for him. It's been a long run. For John, in terms of getting a chance to get out and play for LSU, he's worked hard to get back into this position. And now he gets an opportunity. Let's be careful now, he's been off for a while and not to put a lot of expectations on him in the first game. We certainly can't do that. We have other backs that have done well. He will be part of the mix and make no mistake about it, we've seen his capabilities in camp. We've kept him active within our rotation, so he's ready to play. We did that with an eye toward SEC competition. We're glad to get him back."

How much does conditioning factor for your defense against an offense like State's?
"Certainly, that's part of it. Tempo will be part of what we have to consider. We have to consider you're in a situation where you know you're in nickel and dime a lot. It is a hurry up offense, but it's not something that we can't situational substitute out of. I think we're kind of used to it a little bit, these guys are in pretty good shape. So, we feel confident there. This is really going to be about getting the right players on the field. And we may look a little bit different from that perspective in terms of getting guys that can play in space."

Do you expect BJ Ojulari back this week?
"We expect him to be available based on my conversation with our doctors yesterday."

What challenge does State's defensive front present Jayden Daniels?
"It's really about how the birds line up, right? It's a 3-3-5 defense, but they can move people around. So, it's recognition of where those overloads come from and where those pressures (come from). Where you slide the front? How do we recognize who are the five to block in the run game? The 3-3-5 presents some of those problems and we'll make it our job of making it a little bit simpler. We think the tight end helps the situation where you can pick up an extra blocker in those situations to clean some things up. I've gone against a 3-3-5 on many occasions and it does present some unique challenges. It's very good against a spread offense, sometimes you look to do some other things against it as well."
What's your assessment of your two quarterbacks?
"I think you start with efficiency. Daniels' ability to keep eight drives alive consecutively and turn them into touchdowns. I think that's a great place to start. There's still growth there and he would tell you that if we were standing here. There's still growth and recognition. But he's still coachable. When it comes to the sideline, (he's) extremely coachable, taking in information, talking to the box, talking to me on the sideline where you can get them information. You can pick that up and move on to the next series. I like that about him. Here's a guy with three years of starting experience and you can sense and feel that when he comes to the sideline, that you can have that kind of dialogue. I think we've all seen his ability to throw it and run and he was confronted with opportunities on Saturday where he could have taken off. For example, the touchdown to (Jack) Bech, where he gets to the line of scrimmage and finds a receiver and lets the ball go. If we can continue to see that, he becomes very difficult to contain.
"You never want to have a moment where you (Nussmeier) turn the ball over. And obviously we had a conversation with that. He's got to take care of the football and he knows that I mean. That's not anything he feels good about. But he did some really good things, and we have to build off of that. And I think he is somebody that when you're in that No. 2 position, I'm not here to make excuses for him, you press a little bit right. You want to you have another quarterback who has led eight consecutive touchdown drives, you're trying to press. You want to get on the field, and he doesn't need to do that. We have great confidence in him. He just needs to let the game come to him."

Do you have a personal relationship with Mike Leach?
"I've known him for quite some time. Obviously, the (Air Raid) tree that he's have many, many acquaintances. I've known him since the days that I was at Grand Valley State, and he was at Iowa Wesleyan. We shared a lot of common acquaintances in the business itself. We've gotten a chance to know quite a bit about the offensive structures and there's a lot of concepts that he's run that I was running about 25 years ago as well."

What's it like preparing for coaches, players in your first SEC season?
"The previous job I had; it was an independent schedule. It was somebody new each week in a sense, right? We had so many non-conference games every week. It just feels normal like, this is a new opponent. But I was so used to having new opponents on the schedule, so it doesn't feel that much different for me in terms of the preparation. We have advanced scouting, and our advanced scouting does a really good job of coming up with their personnel and their tendencies. And it's just a matter of how we're going to attack you offensively and defensively. It doesn't feel foreign to me."

How much would confidence, belief in program soar from a win?
"Every game our guys play, is going to be an opportunity for growth. And you want that growth to happen through success, because success obviously breeds confidence and confidence then is an accelerator in what you're doing. Everybody can move forward. Everybody tends to question themselves. So yes, to your question, but we're not going into the game looking at it from that perspective. I'm going into this game with the challenge of how we prepare differently this week. We have to have a better week of preparation than we did last week because the competition is keener and better. We have to get our guys to elevate that preparation. That's what I'll be looking for and if we get that, we'll play much better and the outcome will probably be where we need it to be."
How's your success rate in the running game?
"We're still focused on success rate more than anything else and the picture is not really clear yet in terms of where we are. We need SEC competition to really get into what our success rate is in terms of the competition. That's TBD for us right now. But our focus will be on success rate on third-down percentages and picking up them as well as yards per carry per attempt. That's kind of where we're at right now. I think it's probably too early to make those decisions. Getting Emery back, a back of his caliber, I think helps in that assessment as well."
Are you sticking with same five offensive linemen that started against Southern?
"We were pleased with that starting five, I think you can expect to see that moving forward. I think there are some guys that I think distinguished themselves. Emery Jones played well. I think you'll see more of him in the rotation. But I feel pretty confident to tell you here today that the way it graded out was what we're hoping for. There's still going to need me and need to rotate guys in. Cam Wire is still going to have to play for us. Tre'Mond Shorts is still going to have to play for us. It's still going to have to be rotations within this group. It's not five for the whole game."
Expectations for cornerback Seyvn Banks being able to play?
"Sevyn is close to being ready. He wanted to play in the opener, but our medical team wanted to make sure that he was 100%. He was probably 90% and there was really no need. We felt like we we're in pretty good shape. This is a game where it's all hands, on deck at that position. The expectation, right now, is that he's going to be dressed out and we're going to know Tuesday, Wednesday, Thursday, how that eventually puts him in the rotation. He's at the cusp of playing, and we'll see how he practices this week.

Any surprises offensively from State to prepare for?
"I think perceptually that people think that there's a lot of curveballs, but this is dive, QB keep or pitch. There's maybe four or five six concepts that are run so well and so efficiently, that if you get too cute on defense, that's where you get exposed. Or you try to do one thing to take it away. If you play too much man, if you play too much three-man rush, if you try to be one dimensional defensively, that's where you get in trouble. This is really about trying to change up your looks, so they don't see the same thing every time. But they're going to run what they run. They just run it better than you can defend it in three days of preparation. I know you're going to get sick of the option, triple option analogy but it's so true of the Air Raid concept. They run it better than you can defend it in three days. So, you better tackle. You better have a really good plan on some of the things that they really like to do, or you're going to get exposed."

Assessment of communication between coaches, players between first two games?
"Games like Southern where it's 51-0 are nightmares for me because you're playing as many guys as possible and you're always looking out on the field (counting all 11 players). Because you've got new guys going in and out of the game. We did not have any substitution errors and I was really happy with the discipline that our guys showed. Actually, against Florida State we had a couple of guys tap out of special teams without communicating which is totally unacceptable. We had addressed that in Week One and it carried over, so communication is much better. We've got to clean up a couple of things on the sideline, but I think we're getting better to where I want to be a little bit more disciplined on the sideline, but it was really good for where we were in that game."

What's story on wide receiver/punt returner Gregory Clayton?
"Obviously, Frank Wilson had a lot to do with that. He was a UTSA transfer from Louisiana. We had a sense that he's a guy that could really come in here and have a chance to earn a scholarship. And he finds himself in Week Two returning punts. He's a pretty good receiver as well. We knew we had a really good player coming in, but he's entering into a field of wide receivers where there's great depth. I think another young man from the state of Louisiana that we've seen a lot of. We're going to play against one (MSU's Tyrus Wheat) there's so many really good players in this state. I'm just glad we were aware of him as a transfer and that he's able to help our program."
How did Sai'Vion Jones, Desmond Little and Harold Perkins look vs. Southern?
"Sai'vion was what he's been, consistent. From a job assignment, he's as good as we have at doing his job play in and play out. Dez (Little) hadn't played a lot, so it was good to get him out there. There's things he's got to clean up in his game, but he's active. He's athletic and gives us that piece. You're looking to develop guys that haven't played a lot of football. He hasn't played a lot of football, so it was good to get him out there. Harold Perkins was playing in our nickel package and quite frankly, didn't have much time to get ready for that role. But he's such a great kid and accepted it and used his athleticism to really help us when we were pinched for personnel at that position."
How do you balance the tempo you found vs. Florida State with pace Mississippi State likes?
"Tactically you have to look at efficiency over anything else. If we're efficient on offense, we're fine playing with tempo. If we're not, it's really immaterial because if you're not efficient in what you do, you're giving them easy possessions. So, we have to look at our efficiency on offense and I think it's not just tempo, it's everything that we do. You'll see a blend again. You're not just going to see a hurry-up offense go out there. You're going to see tempo, you'll see us move the tight end around, change formations, do some things like that. It'll be a blend with an eye towards being efficient offensively. And when I say efficient, obviously, holding onto the football and cashing those in. We talked about the eight drives that Daniels has had. If we can get near that, we'll be in pretty good shape."
Was Micah Baskerville's preparation for season affected by original two-game suspension? What's his role moving forward?
"We appealed that suspension, and he was cleared to play so we got him actively involved right away. And he was a guy also that like John (Emery), we kept with us hoping that that we would get good news and that we would be able to play him. We kept him active, and he's got a unique skill set. He is really good in pass coverage, he's really smart. That doesn't mean he can't stop the run. He's not built to be a big time plugger. He'll stick his nose in there. He's not afraid, we saw that. His blocked punt was like teach tape. I mean it was awesome. He bent, put the low hand out, took the ball off the foot of the punter. Some younger players would have run into the punter in that situation. He's a smart, savvy football player and makes us better when he's on the field."

What's assessment of secondary going into Saturday's big test?
"I think the corners have held up pretty well, their play has been consistent. It's been on body. They've played the ball well in the air. I thought our tackling got better. Greg Brooks playing back at the safety position has enhanced our communication to the level that we felt really good about putting (Jay) Ward down in a natural nickel position. It fits his game as well. I just think the pieces were moved in the right place after that evaluation of Florida State and where we felt like we needed to get better. Communication on the back end was much better, the corner play continues to be solid, but they'll be challenged at a higher level certainly this Saturday."