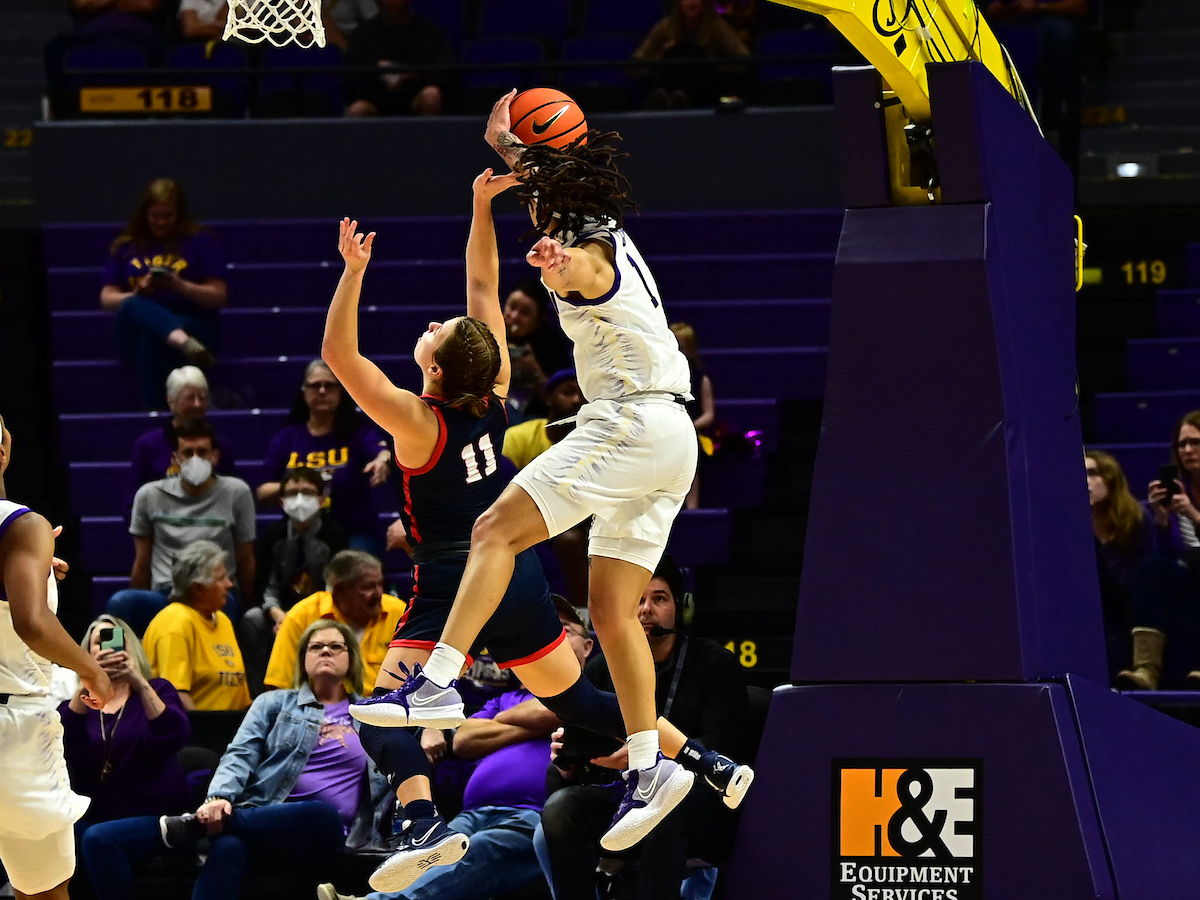 The No. 19 LSU women's basketball team completed nonconference play with a near perfect record and a Cherry on top.
The Tigers goes into the start of Southeastern Conference play in three days play with a sterling 12-1 record, riding an 11-game win streak after steamrolling Samford 83-47 on Monday before a crowd of 6,616 at the Pete Maravich Assembly Center.
Graduate student Jailin Cherry scored a career-high 22 points, including 16 in the first half, to pace LSU's effort that also included 16 points and 11 rebounds from graduate student Khayla Pointer, while sophomore Ajae Petty added a career-high 12 points.
The Tigers also welcomed back sophomore center Hannah Gusters from a four-game suspension. She went scoreless in 19 minutes on 0 of 5 shooting, but grabbed seven rebounds.
LSU opens SEC play on Thursday at 6 p.m. against No. 13 Georgia.
"I was just trying to see what I had and what I inherited and what we are capable of doing," LSU first-year coach Kim Mulkey said. "Certainly, the competitor in me is like, 'hey we're going to go and win all of them'. But the realist in me goes, 'Kim, you don't know that' and so to finish 12-1 there's only one blemish shown on your record. I'd say we give ourselves an 'A'. Now we flush it. It means nothing at this point and let's go see if we can finish in the upper half of the SEC."
LSU, which has its longest win streak since 2007-08, practiced once on Sunday following its first extended break for the Christmas holiday. The Tigers played without three players in second-leading scorer Alexis Morris (respiratory illness), while forwards Awa Trasi and Amani Bartlett are in COVID-19 protocols.
"I gave an opportunity to others to get to play," Mulkey said. "It's next man up and that's what you say in sports. If you can't play for whatever reason, it's next man up. I thought Jalin Cherry and Kayla pointer were your two senior leaders and they lead you not only in points, but just the way they played."
LSU shot 45.9 percent from the field (34 of 74) and held a 53-39 edge in rebounding. The Tigers also dished out 21 assists and outscored the Bulldogs 23-5 in points scored off turnovers.
Samford was led by Sussy Ngulefac's 18. Leading scorer Andrea Cournoyer, a UL-Lafayette transfer who was averaging 18 points, was limited to 11 on 4 of 21 shooting, including 0 of 8 from 3-point range.
LSU scored the game's first nine points and never trailed. The Bulldogs (4-9) got within a basket at 11-7 before trailing 19-9 after the first quarter.
Cherry enjoyed her best half of the season, outscoring Samford by herself with 16 points in the opening half for a 42-14 lead.
"It was fun to be out there," Cherry said. "It is my last season here and my main thing this year was just having fun. My teammates found me and I knocked down shots."
LSU scored the last four points of the first quarter on field goals from Timia Ware and Cherry before reeling off the next 13 unanswered points for a combined 17-0 run that increased the Tigers' lead to 32-9 on Ware's 18-footer at the 5:14 mark.
"Let's give her credit for it," Mulkey said of Cherry. "I think she in the past probably got down on herself from what I've been told and now she just doesn't beat herself up and get as down when she messes up. This game is too fast-paced for you to worry about a mistake or a missed shot."
Six different players contributed during that span with Cherry leading the way with four points.
LSU's defense, which limited Samford to 16 percent shooting (5 of 32) in the first half, held the Bulldogs to 4 of 27 shooting until Olivia's Ramil's putback stopped the Tigers second-quarter blitz with 4:54 to go.
Pointer scored eight of her 16 points in the third quarter, starting and ending the quarter with a 3-pointer. She also stripped the ball loose and added a layup and concluded the quarter with a 3-pointer that made it 62-29.
Petty took advantage of her opportunity with Trasi sidelined, coming to life in the fourth quarter where she scored 10 points to easily surpass her previous career high of six points.
"It's just really been a process just trusting in the coaching staff and taking in everything that I can," Petty said. "I also have great players ahead of me in Autumn (Newby), Hannah (Gusters), and Faustine (Aifuwa). I just learn from them every day and continue to keep my head straight."
Cherry, who also contributed six rebounds and three blocked shots, reached her career best outing with a 12-footer off the dribble for a 69-36 advantage with 6:40 left and Pointer gave LSU its biggest lead (73-37) on a driving to the goal with 4:30 showing.
"What I want to do is finish in the top half of this league," Mulkey said. "The sky won't be falling if we go 0-3 and we won't be the greatest team in America if we go 3-0 or 2-1. You got to keep a level head when you get in the SEC."