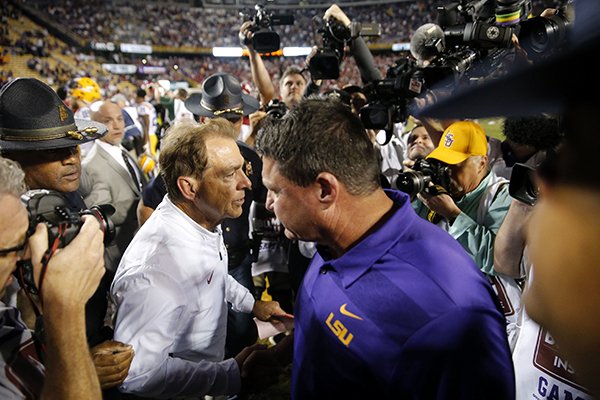 It was the start of LSU's golden age of football.
After going 45 years without a national championship, football coach Nick Saban breathed new life into the Tigers' program, capped with a 21-14 victory over Oklahoma for the 2003 BCS national championship in the New Orleans Superdome.
Louisiana products Skylar Green of New Orleans and Justin Vincent of Lake Charles each produced offensive touchdowns for a 14-7 halftime lead. Baton Rouge native Marcus Spears added what proved to be the game-winning touchdown with an interception return for another score on the second play of the third quarter.
LSU finished the season 13-1, including a championship over Georgia in the SEC Championship Game, and defeating Oklahoma for the program's first national title since 1958. The Tigers subsequently went on to win national crowns in 2007 under coach Les Miles and 2019 under coach Ed Orgeron.
LSU will celebrate the 20-year anniversary of that team's ultimate accomplishment when the Tigers host Florida in next week's SEC game at Tiger Stadium.
"No, it doesn't feel like 20 years but look, I love that team," Nick Saban, now in his 18th season at Alabama, said on Wednesday's SEC Coaches Teleconference. "That team is always going to be special because that was our first championship and those guys came to LSU when we weren't very good.
"A lot of guys on that team bought into what we were trying to do, and sort of set the precedent for what the program was all about," Saban added. "I can't tell you how much I appreciate their commitment and the way they competed all year long and just a great bunch of young men."