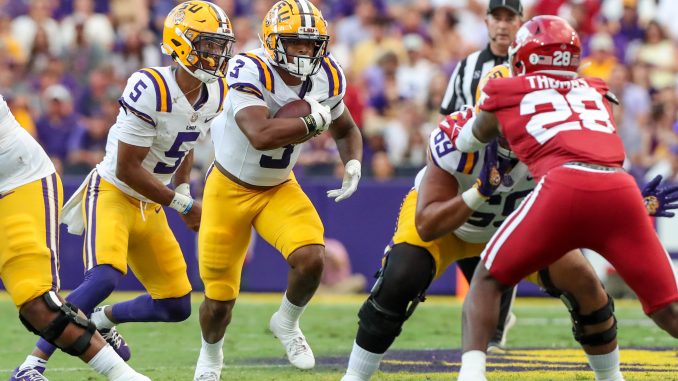 LSU running back Logan Diggs grew up in rural Boutte outside of New Orleans, while linebacker Greg Penn III is a product of metropolitan Baltimore, Maryland.
As avid fans of college football it was common for Diggs and Penn to be tuned into the biggest college football games on television. When the calendar turned to November, that meant one thing.
"I've watched Leonard (Fournette) and Clyde (Edwards-Helaire) play against them and do well against them," Diggs said of the LSU-Alabama matchup. "It's going to be fun. It's going to be an exciting game, especially to be there in the moment instead of watching it on TV."
Despite growing up on the East Coast, Penn said the LSU-Alabama contest was must-see TV.
"My whole life I've been watching those games, especially the defensive players in those games," Penn said. "I definitely used to watch those games."
Diggs and Penn are now integral parts of an LSU team taking part in the storied 88-year-old rivalry.
The No. 13 Tigers (6-2, 4-1 in SEC) travel to face the No. 8 Crimson Tide (7-1, 5-0) at 6:45 p.m. Saturday at Bryant for the usual trappings of CBS' national telecast, complete with ESPN's College GameDay, will surround the annual clash:
* Upper hand in the SEC Western Division;
* Path to the SEC Championship Game;
* Potential spot in the College Football Playoff Rankings;
"That's what this is about in the SEC and in particular the SEC West," LSU coach Brian Kelly said on this week's Paul Finebaum Show. "Keep taking steps forward, continue to build this program so every year we're playing meaningful games for SEC Championships in November."
Kelly discovered the far-reaching effects of what a victory over Alabama can do for a program and its fan base.
Quarterback Jayden Daniels scored on his team's first offensive play in overtime and successfully executed a two-point conversion, finding tight end Mason Taylor for the game-winning points in a 32-31 victory that sent a rush of fans onto field at LSU's Tiger Stadium last season.
"It's a big game relative to what happens in our division," Alabama coach Nick Saban said. "It's an important game for both teams."
During his 17-year tenure at Alabama, Saban's teams have been involved in 11 games with LSU that have been decided by 10 points or less. Of those games, nine have been one-score results with three – including last season – decided by three points or less.
The spread for this year's game? Alabama by 3 points.
"This game is very personal for us," Alabama linebacker Chris Braswell said of last year's one-point loss at LSU. "The whole bye week, we were taking it as a personal matter, and even this week, it's very personal for us."
Alabama has reeled off six straight wins since a 34-24 home loss to Texas on Sept. 9. The Crimson Tide, under first-year offensive coordinator Tommy Reese – who played and coached under Kelly – even went through a quarterback shuffle, benching starter Jalen Milroe in a 17-3 road win over South Florida, before restoring him to the starting position to ignite the Tide's six-game win streak.
"These are the games that put you in a position to challenge for an SEC Championship," Kelly said. "We've got to raise our level of preparation this week. It's not about rising up to the competition, it's rising to the level of preparation necessary to play an outstanding football team in all three phases."
Milroe has been the catalyst for an Alabama offense averaging 30.6 points and 366.6 total yards, ranking the Tide eighth and ninth, respectively, in the SEC. He leads the league and is third nationally at 16.33 yards per completion, with all but one of his 13 TD passes having traveled at least 15 yards out – six of those covering 40-plus yards.
Jermaine Burton (23-508, 5 TDs) and Isaiah Bond (23-360, 3 TDs) are the team's top targets and average 22.1 yards and 15.7 yards per reception.
Bama's traditionally vaunted running game ranks ninth in the SEC with 147.1 yards per game. They're led by Jase McClellan (122-569, 4 TDs) and Roydell Williams (67-339, TD).
"To win the West, usually you have to go through Alabama," said Penn, the team's leading tackler at 52 stops. "We know the type of game it's going to be Saturday. All the games in the SEC West are wars. We just have to go out there ready to play. We know what we're walking into."
Saban is wary of facing Daniels for a second straight year and the impact he's had on this year's LSU offense.
The Tigers are tops in the nation in scoring offense (47.4) and total offense (552.9), fourth in passing (340.0) and 11th in rushing (212.9).
"It starts with the quarterback Jayden Daniels," Saban said. "This guy's a phenomenal player. He's a dual-threat player. They've got a really good running back in Logan Diggs, a good tight end in Mason Taylor, (Malik) Nabers and Brian Thomas are really good receivers, but they also have really good skill guys to go with them.
"Their offensive line is big and physical, and they create great balance on offense," Saban said. "It's going to be very challenging for us to be able to play the kind of disciplined football you need to play and not make mistakes, tackle well and be physical and try and win on the line of scrimmage which will be challenging."
Daniels, a fifth-year senior, is No. 1 in the nation in total offense (368.8), passing TDs (25), pass efficiency (204.3) and yards per attempt (11.5). He's also second in touchdowns accounted for (30) and third in passing yards per game (321.6).
Daniels has completed 73.1% of his passes (163 of 223) for 2,573 yards with 25 touchdowns and three interceptions. He has one of the nation's top combinations to throw to in Nabers (56-981, 9 TDs) and Thomas (42-732, 11 TDs), while Diggs (105-611, 6 TDs) is the SEC's fifth-leading back.
LSU will be tasked with facing one of the nation's top defensive units that hasn't allowed more than 21 points during its winning streak. The Tide's second nationally in scoring defense (16.5), third in total defense (305.6), third in sacks per game (3.62) and fourth in tackles for loss per game (7.2).
Freshman strong safety leads Bama with 62 tackles and two interceptions, while junior linebacker Dallas Turner and Braswell, a senior, have combined for 15 sacks.
"It's just an honor being able to play in a game like that," Penn said. "We obviously have a lot of talent in both programs. It's obviously a big rivalry. It's just an honor and blessed to be able to play in that type of game. That's one of the reasons I came to LSU, to play in a game like that."