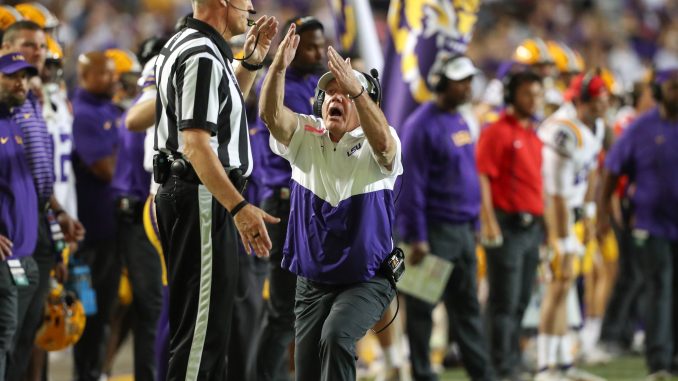 Click Below to hear both Brian Kelly and Nick Saban during SEC Teleconference on November 1, 2023
LSU's Brian Kelly had quite an introduction into the LSU-Alabama rivalry last season.
The Tigers pulled to within 31-30 on their first play of overtime on a 25-yard touchdown run by Jayden Daniels when Kelly opted to go for two points.
Daniels rolled to his right and found tight end Mason Taylor who fell across the pylon for the game-winning score in a 32-31 victory that resulted in LSU fans storming the field at Tiger Stadium.
When Kelly sends No. 13 LSU (6-2, 4-1 in SEC) against No. 8 Alabama (7-1, 5-0) in Saturday's SEC West Division clash at Bryant-Denny Stadium, the future of 88-year-old rivalry is uncertain beyond next year's matchup in Baton Rouge.
Kickoff is set for 6:45 p.m. and the game will be televised by CBS and carried locally by 98.1-FM.
To accommodate the additions of Texas and Oklahoma, the 16-team SEC's going to play an eight-game league schedule that only upholds one annual rival on the schedule.
Alabama is scheduled to return to LSU in 2024 at a date to be determined.
The SEC's eight-game schedule format, which has done away with divisional formats, is only for the '24 season will be voted upon again to decide whether to keep the 8-1 format or opt for a 6-3 version, the latter featuring three permanent opponents or rivals.

"I think that we're going to have a say in what that schedule looks like in terms of Alabama against LSU," Kelly said Wednesday on the SEC's Coaches Teleconference. "And the commissioner, (Greg) Sankey, has given us the opportunity to talk about the teams or team or teams that we want to keep on our schedule. Each school, I think, has those natural rivalries. And certainly, in talking to (LSU Athletic Director) Scott Woodward, he and I both would be in agreement that LSU-Alabama is a game that we would like to see played every year."
Alabama coach Nick Saban is a veteran coach that's been on both sides of the rivalry. Saban spent five years at LSU (2000-04) where he led the Tigers to a 4-1 record over the Crimson Tide.
Saban's in his 18th season in Tuscaloosa where he's led Alabama to a 12-6 mark over LSU going into Saturday's contest.
"This is a great game that has tremendous fan interest, and it's been a great game for the last 15 or however long I've been here," Saban said on Wednesday's SEC Coaches Teleconference. "You know, they got a great atmosphere at their stadium. We've got a great atmosphere in our stadium.
"I think both fan bases look forward to the game and I think as many of these you know, types of fan-interest rivalry games, that we can sort of keep over time, is beneficial to the conference and beneficial to the players who play the game."
Here's what else Kelly had to say:
Opening statement:
"Certainly, for our football team, this is customary leading into the Alabama week and so it's really been about upping our level of preparation against a Top 10 football team going on the road. And the SEC is never easy but coupled with a perennial championship caliber football team will be a great challenge, and a challenge that our football team is looking forward to and has been poised to obviously play this entire season. So, excited about the opportunity. It's going to be a great challenge to play a team that offensively is playing their best football averaging over 30 points a game, and then defensively one of the best. I think it's the best defense we've seen all year and it's third in the SEC. They've always had great defenses under coach (Nick) Saban. Special teams is outstanding. So, all three phases … This will be a great challenge and one that should be an exciting football game."
Reaction to be 14th in first CFP rankings?
"It's really where you're ranked in December. And so, these early rankings, it's early in the race. Everybody's jockeying for position. It's much better to be undefeated at this time, because certainly you allow yourself a little bit of a better opportunity. But clearly, it's one game at a time, and the focus is clearly on our preparation and in our process. So, it's great to be ranked, but it really doesn't change the way we go about doing our business from week to week."
Do you have to alter the structure of defense this week for Harold Perkins?
"No, we wouldn't change the structure of our defense. So, we've established who we are from a defensive standpoint. There are different fronts that we use and on third down is where you consider using the spy. He's been part of our pass rush and there are obvious opportunities to do some things with him that allow him to rush or drop, depending on what the particular calls are. No, we wouldn't have to do anything to change the structure of the defense to include him into different segments that could include dropping blitzing, spying and still have it be part of our new structure."
How much autonomy does quarterback Jayden Daniels have with the offense?
"He has virtually full autonomy in terms five, six-man protections. Seven-man protections, he doesn't need it. I mean, you're protecting for seven, but if you're asking from a technical standpoint, he has full autonomy in the five and six-man protections and the run game overloads. So, anything that's an overload, he can get out of those overloads and most offensive systems and particularly the ones that run out of the spread. It's the throw the ball out on the perimeter, because they're usually tagged with a throw or an RPO. So, a lot of the quarterbacks today in the running game, have a tag where you know, if the run is not a good look, that they can either check out of the run, or it's built in where they can get the ball out on the perimeter. I would say he has quite a bit of autonomy when it comes to running the offense."
Attributes defensive tackle Jordan Jefferson's displayed?
"He's been technically very good. He's strong, probably one of the strongest players on our team close to a 500-pound bench (actually 525) and 600-pound squat. So, he's very explosive, playing with great technique, learning how to play the shade that he hadn't played a lot of that at West Virginia. So, he's learning how to play that and he's getting better each and every week. So, I think this was just a young man that is really playing at his potential and playing with great technique. It's just been a nice process to see him evolve into the player that he's become over the past month."
What did you and staff see of Jefferson when he entered the transfer portal?
"When you're looking at defensive tackles, certainly you're looking at the ability to gain leverage, get off blocks, play with good technique. And he had all those and he had a lot of experience at West Virginia. So, he brought experience. He brought a technical piece to understanding how to play the defensive tackle position and he was the guy that made plays. So, all those things when you're looking at somebody in the portal to play that position is a pretty easy one. You don't have to watch a lot of film to find those guys that you like."
Improvement of running game?
"I think we're providing the kind of balance offensively that is necessary. I think we're 13th in the country. So, we're (a) Top 20 rushing team that also leads the nation in scoring. I think we're No. 3 in the country in passing offense. So, if you asked me that you're going to have the No. 3 passing and No. 13 rushing, you're going to be in the Top 15 in the country, I would say that's great balance. When you're talking about over 130 teams in Division 1, so over 200 yards rushing a game in the SEC. Yeah, I would take that right now."
What have you noticed in preparing for Nick Saban-coached teams?
"You know they're going to be stingy defensively. So, it's finding ways to get points on the board. And then in the past five years or so, they've become dynamic on the offensive side of the ball with playmakers. So, you know, it's a situation when I played him back in the national championship game in 2012, they were just overwhelmingly strong on both lines. So, from an offensive standpoint, they were just so physical. Now, they are skilled and physical. And so, they've added to who they are offensively, and they've always been that way defensively."