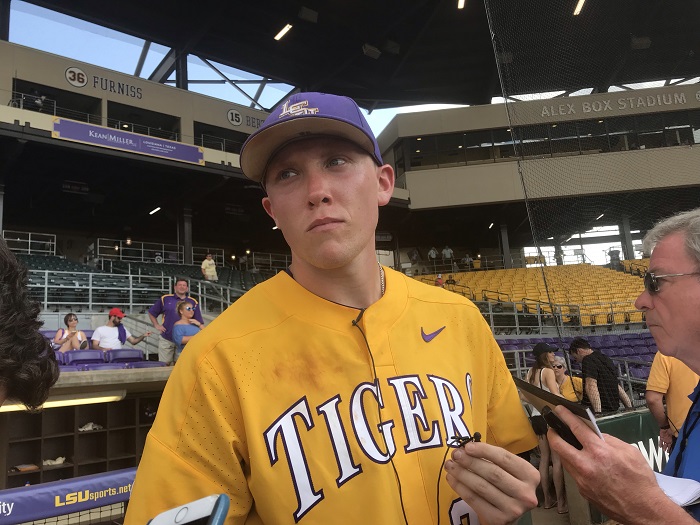 The much-maligned and oft-injured LSU pitching staff was having damn near a perfect weekend through 26 innings against Auburn.
Eric Walker and Landon Marceaux threw gems for a team that hadn't gotten six innings out of a starting pitcher in a month. LSU had two-hit Auburn on consecutive nights to clinch the series. Johnny Wholestaff pitched well enough Saturday for LSU to carry a 4-2 lead into the ninth inning.
As a staff, LSU threw the ball better this weekend than it had all season. LSU got even more good news Saturday morning as injured ace Cole Henry looked good in a simulated game, which paves the way for a potential return next week.
Everything appeared to be clicking into place just in time for the postseason, which begins Tuesday with the SEC Tournament. Then, in the span of three innings, another major question popped up for a staff that's been dealing with them all season: what is going on with Zack Hess?
Making Hess a reliever again was a move aimed at supercharging the bullpen for the stretch run, but he hasn't resembled the hero of the 2017 College World Series run. His blown save in LSU's 5-4 loss to Auburn was the worst in what's been a string of shaky outings since the move.
"I thought our team played a great game," Hess said. "I told them out there, don't let my failure keep the momentum from going forward from here on out. We're playing really good baseball right now. That one is 100 percent on me."
Hess continued: "I have to be better and I have to get myself figured out. Can't keep coming in at the end of games and blowing leads like this. And I'm going to get it figured out, but our team is really close to where it needs to be."
Auburn catcher Matt Scheffler yanked an 0-2 Hess fastball into the left field landing for the game-tying home run on Saturday afternoon. Two innings later, Auburn shortstop Will Holland hooked a slider into left field for the game-winning double to avert an LSU sweep.
The long ball has plagued Hess since his return to the bullpen. He's allowed four homers in five relief appearances, and the numbers paint the picture of a pitcher struggling to regain his dominant form. Hess is pitching to a 5.68 ERA in 12.2 innings with one blown save and two losses.
Despite those struggles, LSU coach Paul Mainieri adamantly shot down the notion of relegating Hess to a less critical role in the bullpen.
"(I've lost) zero (confidence)," Mainieri said. "I love Hess. If we're in that same situation 100 times again, I'll put Hess in 100 times. I have all the confidence in the world in him."
LSU is going to sink or swim with Hess at the end of close games, so the onus is on him to figure out what's going wrong. And he didn't hide from that fact following one of the more frustrating moments of his decorated LSU career.
"Me personally, I'm pretty upset," Hess said. "I'm angry. I've got to find a way to get this figured out. I'm going to have to go back to the drawing board. I'm going to help us win games here before the year is over."
As for the root cause of his issues, Hess didn't have the answer yet. He at times tipped pitches as a starter, which led to giving up home runs, but it's unclear if that problem has reemerged. His next stop after postgame interviews was the film room to see if anything was apparent on tape.
Hess did say his rough outing Saturday wasn't the result of pitching on back-to-back days. He didn't chock it up to fatigue or a lack of stuff the second time out against Auburn. Hess was perfect in nailing down a six-out save the night before.
"I'm going to find a way to get this figured out," Hess said. "The stuff feels like it's there. The stuff continues to get better the more I'm in this role. I don't think that's the issue. Again, I'm going to have to look at the film and get this worked out."
It's questionable if Hess will be available for LSU's SEC Tournament opener against South Carolina on Tuesday night. He threw 44 pitches over 3.1 innings on Saturday afternoon and will have just two days to recover. Mainieri said it'll depend on how he feels.
Regardless of whether Hess' next appearance comes in Hoover or in an NCAA Regional, the stakes will be high the next time Mainieri hands him the ball. Such is the life of a closer in the postseason.
The rest of LSU's pitching staff appears to be figuring things out at the precise right time, but the Tigers know full well they're not going anywhere in the NCAA Tournament if Hess can't correct whatever is going wrong in the next couple days.