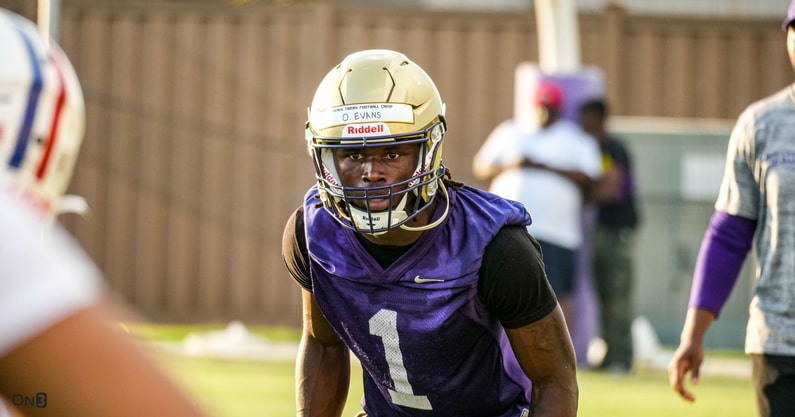 The recruiting momentum LSU's built earlier this week continued Thursday.
The Tigers continue to bolster their nationally ranked Class of 2024 team ranking with their third commitment of the week, picking up a pledge from four-star cornerback Ondre Evans of Nashville, Tennessee.
The 6-foot-1, 185-pound Evans selected the Tigers over a group of five finalists that included Alabama, Georgia, Michigan and North Carolina State.
"LSU was the last place we went, and I knew the minute camp was over I had to be a Tiger," Evans told On3Sports. "I was told I have tiger blood in me from family roots in Louisiana. LSU checked all the boxes. Committing early allows me to help build a recruiting class. I plan to help recruit every Nashville kid I can to LSU."
Evans, who earned a scholarship offer from LSU on June 2, recently took an unofficial visit to the school that sold him on his future. He also recently took an official visit to Michigan.
The Tigers are ranked fifth nationally by Rivals.com and sixth by 247 with 18 commitments. Cornerbacks coach Robert Steeples and defensive coordinator Matt House were the lead recruiters for Evans.
"I believe in Coach Steeples because he also used to be a school teacher as well," Evans told On3. "I feel like when he coaches me and tells me things, he makes it make sense. He shows me in a way that I can understand. When I was sitting in those meetings and I talked to him, he was asking me questions and breaking stuff down to me. We had a connection that was real smooth."
LSU, which also received commitments from West Feliciana's Joel Rogers, a safety prospect, and Terrebonne wide receiver Kylan Billiot, now has four players targeted to play cornerback with Zion Ferguson of Gainesville, Ga., Ju'Juan Johnson of Lafayette Christian Academy, Wallace Foster of Warren Easton and Evans.
"It's DBU," Evans told On3. "They develop defensive backs and carry themselves with swagger and I like that. The fan base is crazy and I love the coaches. There's a lot of things about LSU that I like."
Evans is rated among the nation's top 30 cornerbacks according to 247Sports, which also lists him as the No. 341 overall player nationally and No. 8 in Tennessee. He's rated No. 38 at his position and No. 9 in his home state per On3Sports.
Evans helped Christ Presbyterian Academy to an 8-6 record and appearance in the TSSAA (Tennessee Secondary School Athletic Association) Division-AA state championship game against top-ranked Lipscomb Academy.
He registered 38 tackles with two interceptions, five pass deflections to go along with a forced fumble and fumble recovery. He also had 18 pass receptions for 221 yards.
Evans also experienced success on the track this past spring, finishing second in the 100 at the state championship in a school-record time of 10.55 seconds. He was also third in the 200 (21.85) and ran a leg on the winning 4×100 relay team.