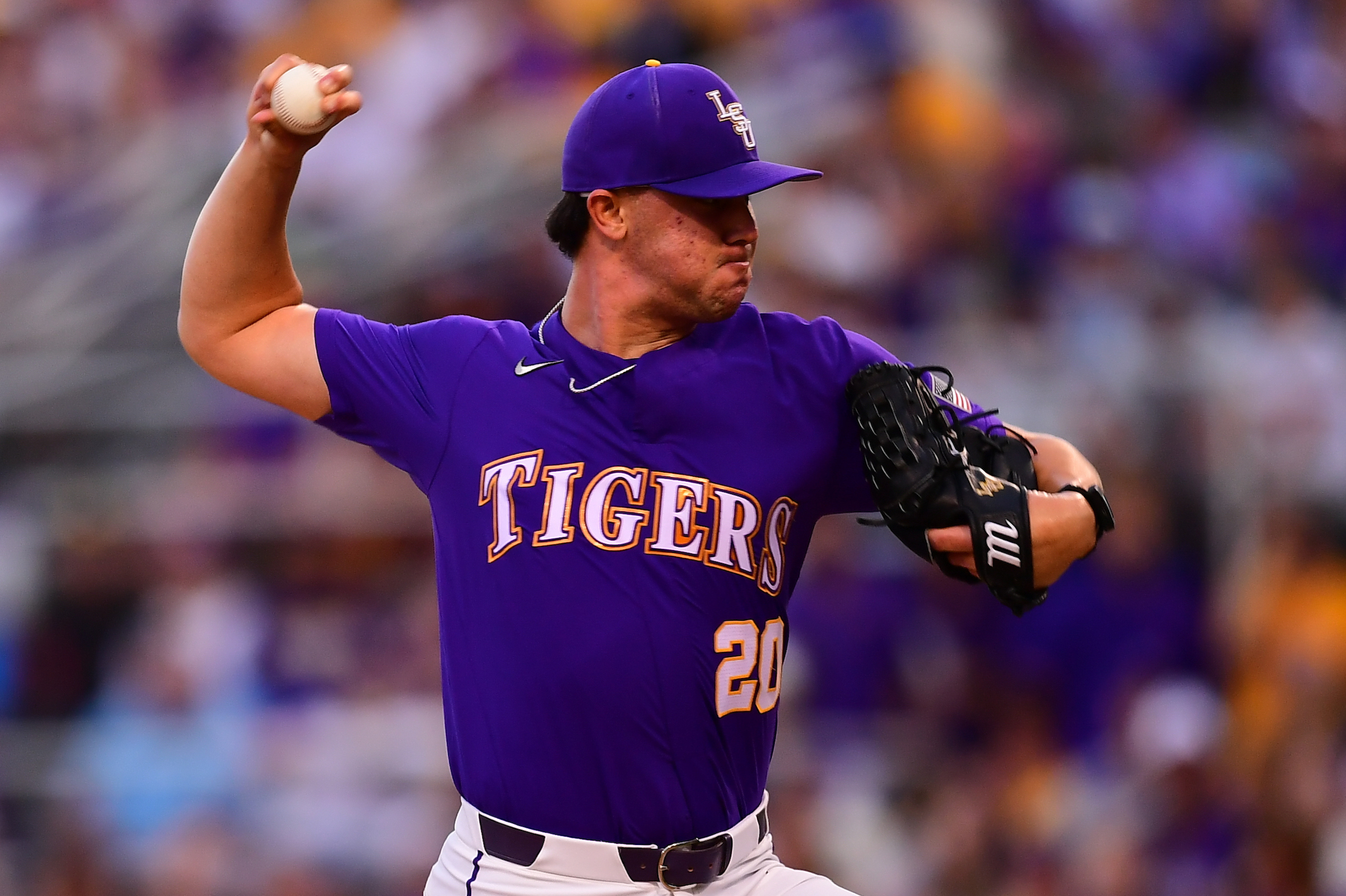 OMAHA, Nebraska – LSU All-American pitcher Paul Skenes won the 2023 Dick Howser Trophy on Thursday, given annually to the most outstanding player in NCAA Division I baseball.
Skenes joins LSU All-American first baseman Eddy Furniss – the 1998 winner of the Dick Howser Trophy – as the second Tiger to capture the nation's top collegiate baseball award.
The Dick Howser Trophy not only honors a player with some of the best ability, but it also is based upon the tenets of leadership, moral character and courage.
"Paul Skenes certainly is deserving of the 2023 Dick Howser Trophy," Howser Trophy chairman David Feaster said. "He has established himself as head and shoulders above any pitcher in NCAA Division I this season as well as a team leader and community service champion. His tremendous talent also has helped LSU make the NCAA World Series field for the 19th time overall and the first time since 2017."
Skenes leads the SEC in wins (12), strikeouts (188), earned run average (1.77), innings pitched (107.0) and opponent batting average (.170) He is ranked No. 2 on LSU's all-time single-season strikeouts list, trailing only Ben McDonald, who recorded 202 strikeouts in 1989.
Skenes, Collegiate Baseball's 2023 National Player of the Year and the 2023 SEC Pitcher of the Year, is No. 1 in the nation in strikeouts (188), strikeouts per nine innings (15.81) and WHIP (0.78), and he is No. 2 in the nation in ERA (1.77). He is No. 3 in the nation in strikeout-to-walk ratio (10.44), and No. 6 in hits allowed per nine innings (5.47).
As I reflect on my journey with @LSUbaseball, I can't help but think back to the moment in Omaha in 1998 when Coach Bertman told me I was LSU's first recipient of the Dick @HowserTrophy. It was a moment of overwhelming gratitude and humility, as I was following in the footsteps… https://t.co/TlVxgLm2MV

— Eddy Furniss MD (@EddyFurniss) June 15, 2023
He has pledged $10 for every strikeout he records this season to Folds of Honor, a nonprofit organization that provides educational scholarships to the spouses and children of military and first responders who have died or been disabled.