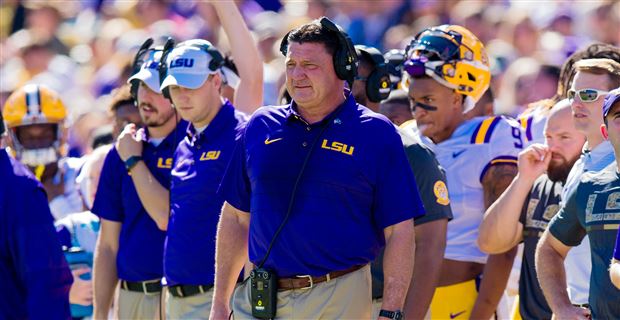 For a team approaching the halfway point of the season, the ability of LSU's offense to get plays called into a game in a timely fashion hasn't approached midseason form.
That area of the Tigers' 24-19 SEC last Saturday vs. Auburn became a hot button issue during head football coach Ed Orgeron's postgame news conference last Saturday.
Orgeron was forced to exhaust four of his six timeouts on his offense to avoid costly delay of game penalties. They came in a variety of manners such as a change of possession following a punt or kickoff and even coming out of a television timeout.
So, LSU went back to work this week, trying to remedy the amount of time first-year offensive coordinator Jake Peetz get the play call to the sideline, which then signals to play to quarterback Max Johnson. He then must decide, based on the opposing team's defensive look, whether to change to the play and then in the event of a passing play, align his pass protection accordingly.
"It was a point of emphasis on Monday, Tuesday, Wednesday and again today we spent a whole period on it again simplifying stuff, taking the field after the kickoff, taking the field after a punt, taking the field after a timeout," Orgeron said during his weekly Thursday post practice news conference. "Working in the red zone, switching out personnel on the goal line. All the things that have somehow given us problems which we've been working on.
"We focused a whole period today, we're trying to fix that and I think our guys did a tremendous job of simplifying things. They graded out 100% in practice. Obviously, they have to go in the game and Jake is in the (press) box and get it done and the operation on the sideline has to be exact. I think getting the play in early, not changing the play at the line of scrimmage and running it is going to help."
Here's what else Orgeron had to say:
Opening statement
"Good week of practice. I think our guys were very spirited this week. We worked on a lot of things we said we were going to work on. Saturday night's going to be a chance to prove it against a very good football team in a hostile environment."
On timetable needed for players to click with first-year coordinators
"Every situation's different. Some individual. We've seen Joe Brady come in here and was lights out. I think he had some good players. It's taken awhile for us to work out some kinks to find out our identity and know our personality and then get into a game time situation and know what we can and what we can't do. There are some things we need to coach better. That's my responsibility and we need to play better. On the coaching part, we have to handle that. We've got to get better."
On the status of offensive left tackle
"We'll see in the game. I think left tackle has become a strength. I think Anthony Bradford is playing well. Cam Wire, this is the first week he's been out of a gold jersey all week. He's had a tremendous practice. Now we've got two guys that can play left tackle which is good. We have two guys that can go in the game and do very well."
On the importance of first down to Kentucky's offense
"Very critical. They run the ball so well, they're so efficient. To be minus nine in turnover ratio and to be 5-0 is kind of unheard of. I don't know the last time I played a team that was minus nine and have such a good team. They're playing good football. They're playing good football almost every down. They're very well coached. They're very well balanced. They have a good scheme. The quarterback knows where to throw the ball. Their offensive line is one of the better zone blocking offensive lines that we've seen and obviously their back (Chris Rodriguez) knows how to run the zone play."
On NCAA increasing the limit of recruiting classes by seven
"It's a big help. If you have 25 initial scholarships and you were going to sign five transfers or five graduate transfers or five junior college players, that means you would only sign 20 high school players. Now you can sign your full allotment and get seven transfers. It adds to our roster with the transfer portal. It's a start."
On whether freshman safety Sage Ryan could debut with Major Burns being out
"He has been practicing outstanding. He's been all over the field. I believe he's going to get some reps. He's ready to play. He knows the defense, but he hadn't had many reps because he was hurt for so long. I believe he's going to go get a chance to play."
On being able to defend Kentucky's screen passes
"They do it so well. They get the ball to No. 1 (Wan'Dale Robinson). He's so fricking fast. He gets on you quick. We have to retrace. Their lineman do a great job of getting down the field. We're going to have to be able to retrace, especially on the middle (tunnel) screen where they bring the ball back inside. It's going to be a big key in the ball game, especially early. Those plays can be gamebreakers."
On the way to get a team to play more physical
"I believe in a commitment of running the football. We had some very physical drills this week. I really showed some stuff I thought the offensive line was doing very well. I showed them some physicality of them knocking people off the ball in practice. We changed a couple of formations on offense that I think will help us get more physical. It's also a commitment to running the ball. If it's first down and 10 and you lose two yards, it's second down and 12 and you're behind the chains. Everybody gets frustrated. I believe that's why we started last week with some first down passes to get second down and five and manageable downs where we can run the football. If we can do that, we can stay committed to running the ball."
On the similarities between the offensive lines of Kentucky and UCLA
"They've very similar. We call that gap scheme. They do a good job. They give you several different formations that can get you out of your gap. They have several different motions and then pull away. It's kind of like eye candy. They may fake a toss sweep and run a reverse, then run a counter and get your guys out of position. It's more of less being in position, the defensive line getting penetration, our fits have to be exact, and we have to attack those blocks. We can't sit at the line of scrimmage and let them win."
On successful career of John Curtis coach J.T. Curtis
"Tremendous icon. J.T. has been a mentor of mine, a friend of mine, a confidante. Someone I really expect. We have a couple of his coaches here and we talk about him all the time. He was ahead of his time. He played at Arkansas. J.T. played nose tackle. No wonder his team's are so tough. (Defensive analyst) Manny Michel and I talked about the four-point stances and he's not going to change. He's stuck to what he knows. Besides being a great coach, one of the greatest high school coaches ever, he's an even greater person. It's always fun to go talk to him. It's always fun to have him around here. He will call me every once in a while, to ask me maybe about a recruiting rule. He's always looking to get better. He's a tremendous man."