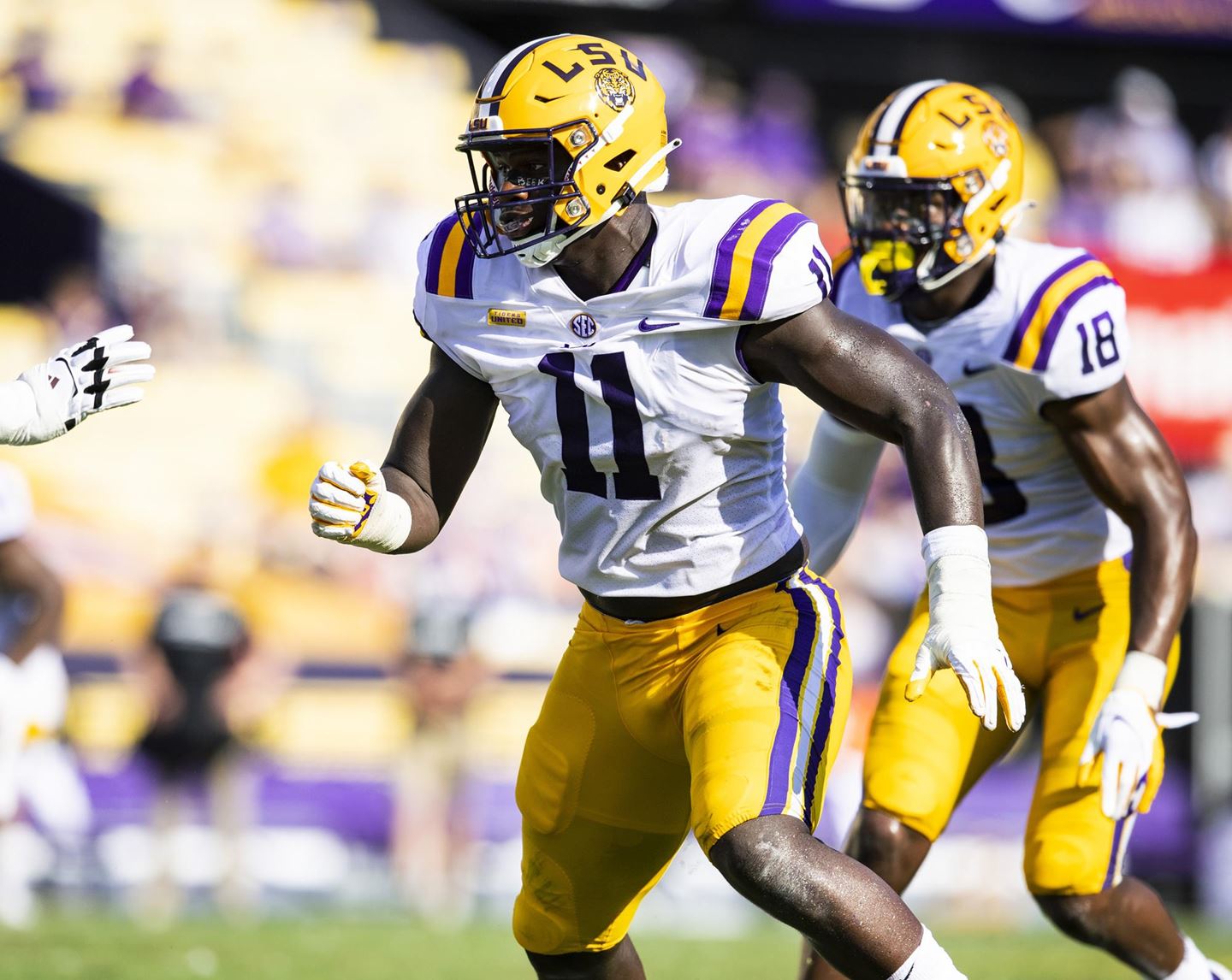 Season-ending injuries have now wiped out nearly half of LSU's starting defense.
Senior defensive end Ali Gaye, a potential high-round NFL draft choice entering the 2021 season, is the latest player headed to the sideline for the remainder of the season because of an injury, LSU head football coach Ed Orgeron confirmed after Thursday's practice.
"It was up in the air," Orgeron said during his weekly post-practice news conference. "We had to let the doctors make the decision. We've moved Maason Smith back to defensive end. But it helps to have Glen Logan back. Glen's playing tackle, Neal's (Farrell) playing nose, Jaquelin Roy's playing tackle and nose. We also have Jacobian Guillory and we moved Soni (Fonua) back to end."
Orgeron also said that he didn't expect sophomore defensive lineman Joseph Evans, who wasn't expected to play in Saturday's game against Florida, to play the rest of the year.
"Andre Anthony has a players-only meeting on Monday and the team's been on fire all week," Orgeron said. "We have a saying here about the next man up. I told the team at the beginning of the year that everybody's going to have to play. Everybody's going to have to be ready. So we have some guys that eager that wasn't playing on the second team. Now they're going to be playing for the Tigers. They brought some energy this week and they're excited about playing."

Gaye, a 6-foot-6, 250-pound native Gambia who signed two years ago with LSU out of Garden City (Kan.) Community College, left in the third quarter of last Saturday's 42-21 loss at Kentucky with what LSU radio broadcast team termed a "stinger" which affects the shoulder/neck area.
Gaye, who earlier in the week was officially listed out of Saturday's home game with Florida by head coach Ed Orgeron, brought the prospect of having surgery to light with a social media post Thursday with Fonua wishing him well.
LSU has now lost three players – two on defense – to season-ending injuries just this week with the losses of sophomore wide receiver Kayshon Boutte and sophomore cornerback Elias Ricks.
Defensively, not only did the Tigers pass rushing potential suffer a severe blow, but the loss of Gaye also represents the second defensive end they've lost this season along with Anthony.
LSU lost the services of starting senior linebacker Jared Small before the UCLA game and two-time All-America cornerback Derek Stingley Jr. is out indefinitely after having a foot procedure performed after the Sept. 18 game against Central Michigan and will miss his fourth straight game.
Besides Evans, who had eight tackles in five games this season, the Tigers will also be without starter Major Burns this week against Florida and is expected to be out another three weeks, Oregon said.
Gaye was voted second team All-SEC by the Associated Press and SEC coaches after finishing with 32 tackles and leading LSU in tackles for loss (9 ½) and quarterback hurries (5) and was tied for the lead in passes broken up (6) during the 10-game 2020 season.
Gaye, who missed two games this season with an injury, registered 51 tackles with 12 TFLs, eight passes broken up, 4 ½ sacks and an interception during his 14-game career.
Gaye, a one-time Washington commitment, was the second-rated junior college defensive end when he signed with the Tigers in 2019.