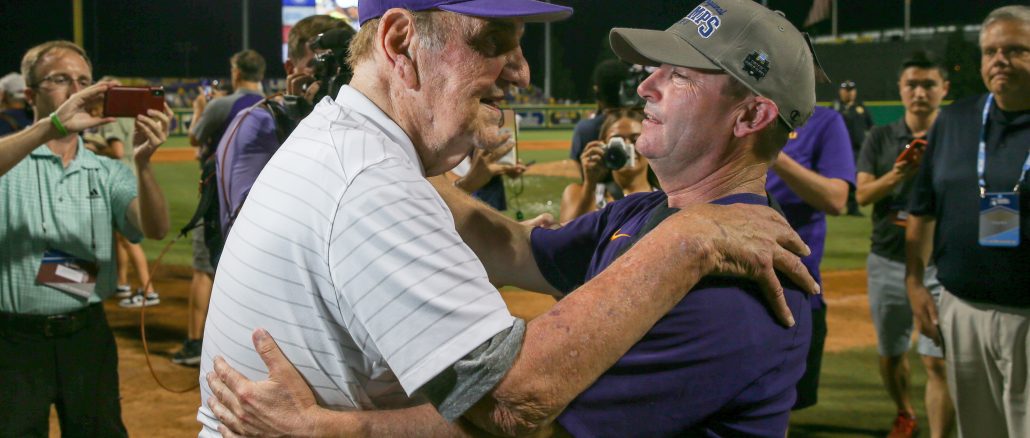 There was more going on than met the eye when LSU swept SEC rival Kentucky in the NCAA Baton Rouge Super Regional at Alex Box Stadium on June 11.
Not to take anything away from the 14-0 historical whipping administered by LSU on June 10 in the highly-anticipated, seven-hour 'rainless' delay game where "America's Ace" Paul Skenes skened the Wildcats in the top of every inning, and the Tigers jacked bombs relentlessly in the bottom halves of what seemed like almost every inning (a record 6 HRs). But any time Skenes pitches LSU is virtually a given to win, and win big – the talent level disparity Skenes adds to LSU's inherent offensive prowess often dictates as much.
However, Sunday's 8-3 LSU win was different. The Tigers' grit and tenacity, their maturity, their discipline at the plate, their ability to develop and respond to adversity, over the long haul and in the moment, was on full display.
It was an epoch-making moment for LSU baseball, the second epoch in its illustrious history.
Epochs are defined as a period of time in history or a person's life, typically one marked by notable events or particular characteristics.
The first epoch in LSU baseball came in 1989 under Skip Bertman when LSU upset No. 1-ranked Texas A&M to win two finals games in one day and take the College Station Regional coming out of the losers' bracket.
Yes, on this particular raucous weekend in the jam-packed 'Box' LSU baseball returned to normalcy and punched its proverbial ticket to return to Omaha and the College World Series – for the first time in seven years.
Enormous feat, no doubt.
But this is LSU baseball. Omaha is expected to be the place where the Tigers finish their season every year. Occasional lapses, perhaps permissible, though perilous.
Moreover, Johnson – hired on June 25, 2021 – to replace Paul Mainieri as LSU's coach was expected to return LSU to this exact place, right? Not only should LSU be finishing its season in Omaha, according to LSU fans, but the Tigers should be the pre-eminent team in the SEC every season. This year, according to Johnson, LSU was one rained-out game (South Carolina) from likely winning the SEC regular season championship," which he said "might be (arguably is) more difficult to do" than going to Omaha every year.
So now as Super (Regional) Champions, LSU is back where it belongs after living through three seasons plus a COVID-year anomaly of mouth-spewing mediocrity, and then, of course, a grace-bestowed first season for Johnson. In 2018, 2019 and 2021 (2020 was the COVID year), LSU went 45-45 in the SEC – finishing 8th, 5th and 9th in the best baseball conference in America – where it just means more.
A record of 45-45, in a word – unacceptable – to most LSU baseball fans. Not to mention, seven-year droughts are biblical signs of punishment.
Also, LSU's expectations are directly attributable to The Shadow – the one cast by the progenitor of LSU baseball himself, the legendary Bertman. See his statue outside of the stadium with the field bearing his name which you can navigate to by driving down the road named after him.
Johnson's first season at LSU saw an improved 40-22 overall record, 17-13 in the SEC and a trip to a super regional, a road super, another no-no. But the Tigers fell short of Omaha. Again.
"We had 40 wins," Johnson offered in defense, but he was then obviously still in the shadow of the Great One. Johnson knew that was not enough.
"I've always been impressed by how deep Jay's knowledge of LSU's baseball history is," Bill Franques said. "His regard for Skip, Skip's coaching habits and motivational techniques. He knew all about them, had bought Bertman's motivational tapes back in the 90s. Jay studied Skip and uses his techniques to this day."
Franques, who has worked as LSU's baseball communications director since 1989, said Johnson knows "about as much about LSU baseball as I do. It's amazing."
"700 or so days ago . . ." Johnson said, "when we got here (to LSU), I had 2023 in mind (as the year to return to Omaha.)
Ever the visionary, Johnson is.
Everyone, though, envisioned 2023 as LSU's year.
The Tigers were the consensus preseason No. 1 ranked team and were ranked for 12 consecutive weeks atop all the polls, then adversity struck. Key injuries created and amplified bullpen issues and, as Riley Cooper said, ". . .if we had a crutch all year it would be the bullpen." LSU limped into the NCAA postseason going 7-7 over its final 14 games.
In the Baton Rouge Regional Game 1 against Tulane, if LSU limped into the postseason, it was directly contrasted by the Green Wave's hitchhiking in, Johnson defied conventional wisdom and started Skenes. It worked, LSU won, 7-2, then proceeded to nip Oregon State by one run thanks in large to part to the Tigers' bullpen and Thatcher Hurd's 12 strikeouts over 5-plus innings in Game 2 before unleashing on the Beavers in Game 3 with a 19-hit barrage and a somewhat deceiving 13-7 win because the game wasn't that close.
LSU baseball's first epoch in 1989 was a notable event characterized by a relentlessness that pervaded Tigers baseball all during the Bertman era from that day in College Station until he retired.
LSU's second epoch (June 11) is characterized by Johnson's knowing "how to coach LSU to win in today's game. It's such a different game today. So much more competitive and so much harder to win today than it was when I coached," Bertman said.
After the dogpile on June 11, in the middle of Skip Bertman Field with fans cheering and LSU players circling the stands and greeting the fans, Bertman and Johnson embraced. Johnson – the same kid who was 12 years old in 1989 and living in Oroville, CA., but was wearing a purple LSU baseball cap while Bertman's Tigers took down the Aggies, and the same Johnson who came to LSU to fulfill a dream without ever having spoken directly to Bertman before heading to Baton Rouge to live in his shadow – was overjoyed, he said.
"What went on out there . . . that doesn't happen anywhere else," Johnson said afterward.
Edges of historical eras, which is what epochs are, tend to be fuzzy until they are viewed retrospectively.
As Bertman and Johnson hugged on the field after the game, Bertman said he told the 46-year-old second-year LSU coach, "You did it, Jay. You made all the right moves."