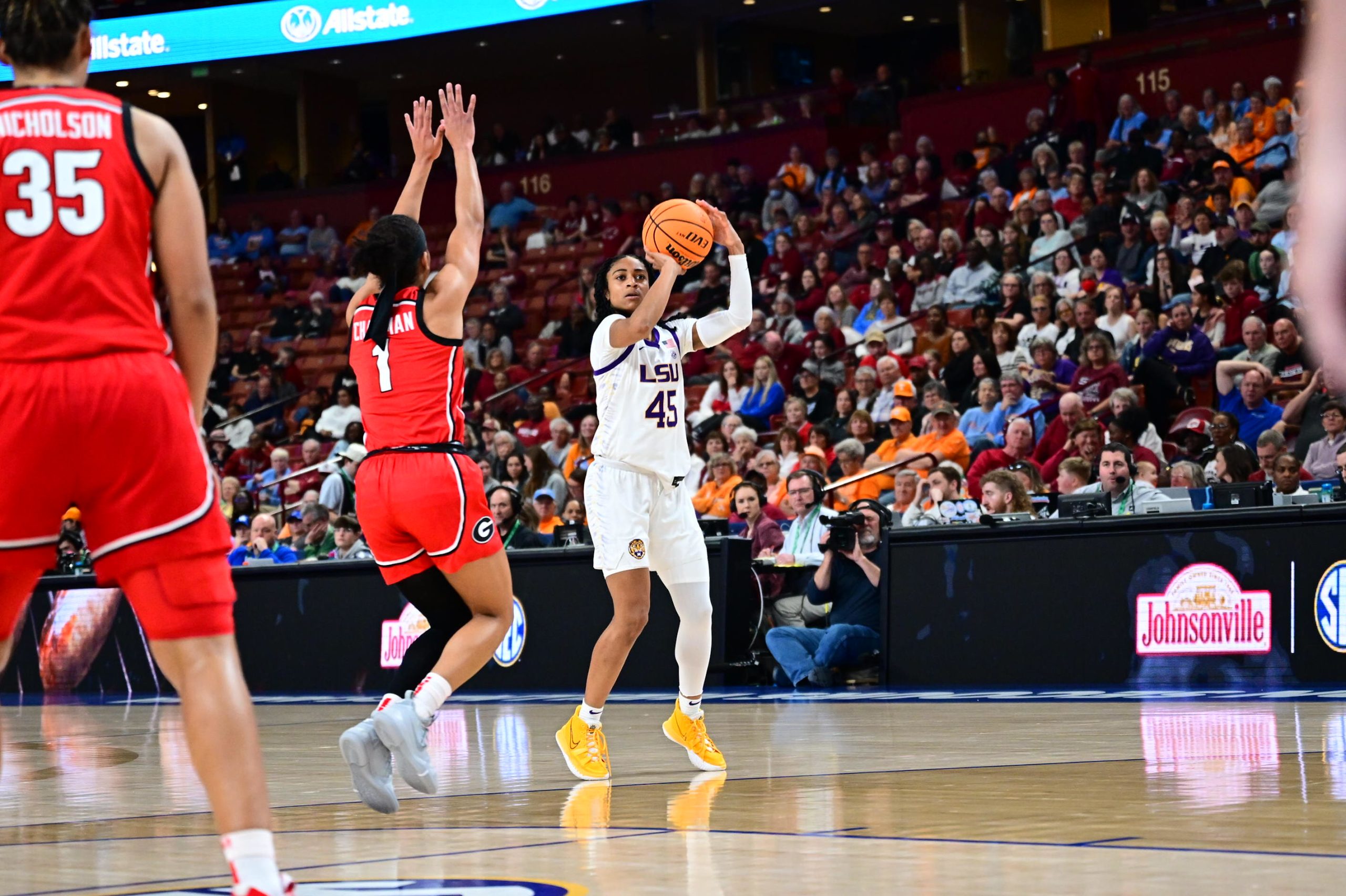 The performances from a player appearing in her final SEC Tournament, while the other debuted in postseason play, were equally impactful in second-seeded LSU reaching the event's semifinals for the first time in eight years.
Fifth-year senior guard Alexis Morris poured in a game-high 28 points and freshman guard Flau'jae Johnson scored 21 to lead No. 4 LSU past seventh-seeded Georgia, 83-66, in a SEC quarterfinal Friday played at the Bon Secours Wellness Arena in Greenville, South Carolina.
LSU (28-1) faces Tennessee, a 80-71 winner over Kentucky, in Saturday's semifinal at 5:30 p.m. on ESPNU. The game will be broadcast locally by 107.30-FM.
"This is my last year," Morris said. "It's do or die for me. I just came out. I just took what the defense gave me and fortunately enough I was able to hit them tonight."
Morris, who scored 17 points in the first half, and Johnson combined to make 10 of LSU's 11 3-pointers (11 of 22 for 50%) which matched a school record for 3-pointers made in a SEC Tournament game. Such a performance came on the heels of the Tigers going 0-of-14 from behind the arc in Sunday's regular season finale against Mississippi State.
Morris, a first team All-SEC selection, made 10-of-17 shots and added four assists, while Johnson, voted the SEC's Freshman of the Year this week, reached 20-plus points for the fourth time this season. She had 18 points combined in her last three games entering the tournament.
"I believe this is my third SEC appearance," said Morris, who previously played at Texas A&M. "I didn't win at Texas A&M, I didn't play last year because I was injured, so this is special to me and meaningful, and I want to see that championship game. Like I want to get there. We only have one game that's guaranteed, and that's the NCAA tournament. Everything else is on us. We just taking it game by game. We just locked in."
For just second time this season Angel Reese didn't record a double-double and finished with 15 points and six rebounds. She sat out the last nine minutes of the game with four fouls and graduate LaDazhia Williams added 10 points and seven rebounds.
The game was halted 44 minutes midway through the second quarter with LSU leading 44-32 because of a weather delay when a leaky roof contributed to wet spots on the court, posing a danger to players on both teams.
"I thought we did OK," LSU coach Kim Mulkey said of her team after the delay. "I thought both teams handled it as much as you could. It was cute because they kept saying, 'Oh, it's 40, 50, 60-mile-an-hour winds. I said, 'Welcome to Louisiana. We're used to hurricanes. I'm not worrying about the wind'. Tell me when it's going to stop drippin'."
Morris continued her torrid first half after the delay, stepping inside of Georgia's matchup zone defense for a 15-footer and the Tigers, without Reese on the floor because of foul trouble, ended the half on a 12-5 run to lead 46-36 at the break.
Mulkey explained that during the delay, which was caused by a strong storm with high winds in the Greenville area, both teams went to their respective locker rooms and then given a 10-minute warm-up period once the court was ready for play.
LSU responded well after the extended break, stretching its lead to 62-43 on back-to-back baskets from Morris on a 15-footer followed by a steal and layup with 4:40 left in the third quarter. The Tigers went on to stretch their lead to 24 points, the final time coming (70-46) on a 3-pointer in which Johnson beat the buzzer after taking a defensive rebound and working her way up the floor.
"I saw a relaxed kid. I saw a confident player," Mulkey said of Johnson. "Her first few shots, when they went in, you just saw a kid go back to relaxing a little bit. Flau'jae is an entertainer. She is an entertainer both in her music and she is an entertainer on that floor, and she is a happy kid. Maybe the last month, couple, two three weeks in February, she didn't play happy.
"She was mad at herself about this or mad at somebody about that," Muley added. "Just relax, you're Freshman of the Year in this league. I told her that before she got the award. I think maybe she is just relaxed now and hit those shots and became confident."
With Reese, who played a season-low 20 minutes, on the bench after picking up her fourth foul, Sa'Myah Smith scored five of her team's six points during a 2 ½ minute stretch of the fourth quarter to make it 81-55 with 5:31 to go.
Georgia (21-11) gave LSU one of its biggest scares of the season on Feb. 2, forcing overtime in Baton Rouge. After the Tigers trailed by five going into the final quarter, they forced OT and triumphed, 82-77.
Alisha Lewis led four players in double figures with 14. The Bulldogs, who shot 54.7% at LSU, were slowed to 41.7% shooting (25 of 60) with leading scorer Diamond Battles, who scored 22 in the first matchup, being limited to seven on 2-of-12 shooting.
Morris hit her first three shots – all 3-pointers – to give LSU the lead at 5-3 and the Tigers never relinquished it after shooting 62% in the quarter.
Morris also showed her hustle, getting down the floor for a strip on the defensive end, picked up her head where she spotted Reese all alone. A court-length pass resulted in a layup and three-point play for a 19-10 lead with 3:33 showing.
Johnson concluded her team's red-hot first quarter with her second 3-pointer with 15 seconds left to make it 28-18.
Georgia went on a 7-0 run to get back to within 29-25 on three free throws from Battles and kept the deficit there at 32-28. Morris answered with three free throws, Williams an inside basket and Johnson added another 3-pointer for a 42-32 advantage when play was stopped.
"I think it was a fluke," Morris said of the delay. "I think y'all were trying to throw us out of our rhythm or something. I don't know what it was. I've never experienced anything like that in my life."