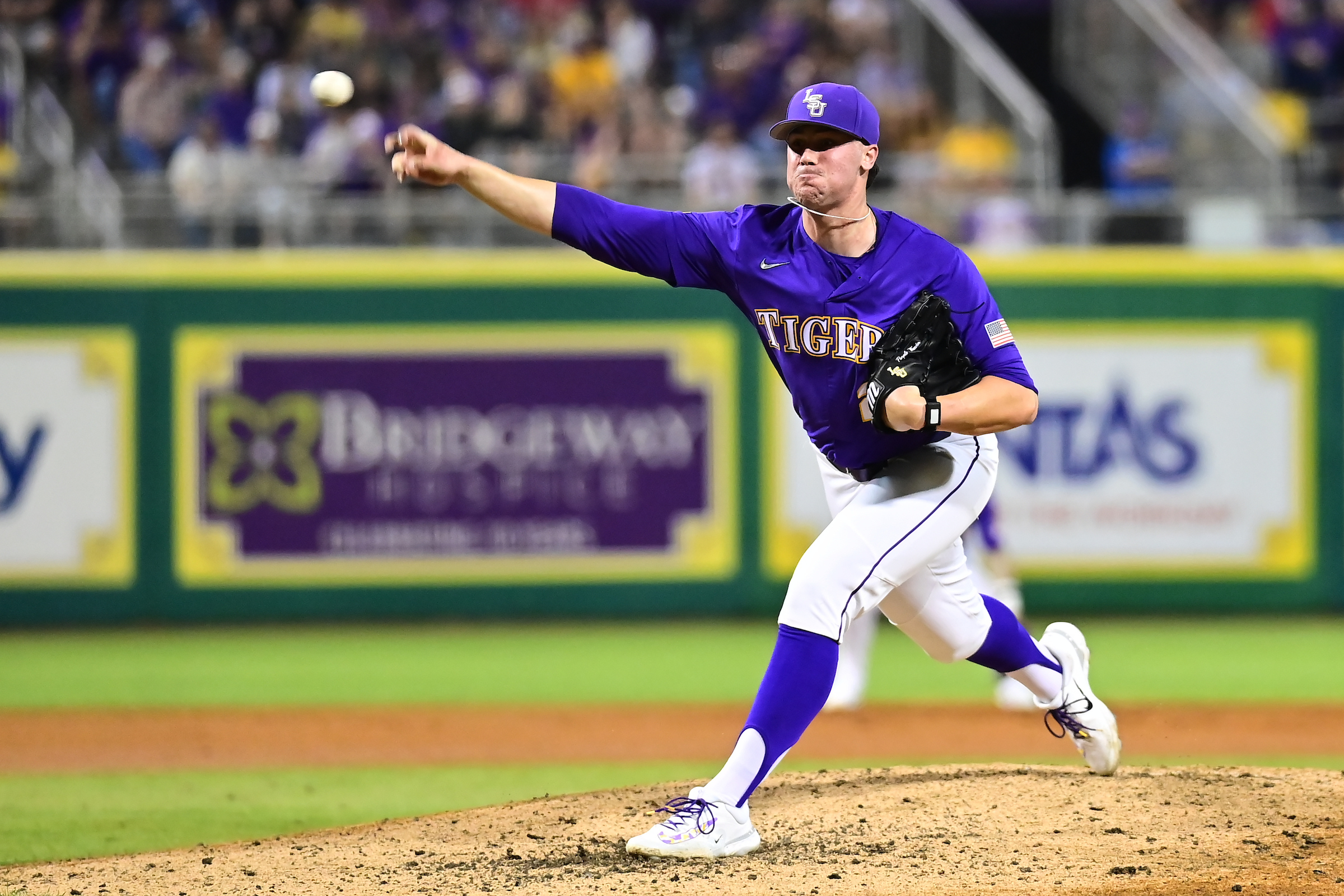 LSU pitcher Paul Skenes struck out a career-high 13 of the 19 batters he faced on Friday night, allowing no runs, no walks and one hit in the No. 1 Tigers' 12-2 win over Butler at Alex Box Stadium, Skip Bertman Field.
Skenes (3-0) threw 80 pitches in 6.0 innings of work, 61 for strikes and he consistently surpassed the 100 miles-per-hour mark.
Skenes was dominant.
Dylan Crews hit a three-run home run with no outs in the bottom of the fifth inning, and LSU (8-1) added three more runs in the inning to take a 7-0 lead.
LSU added two runs in the sixth and three more in the seventh, going up 12-0 before Butler (2-8) got to Tigers' freshman reliever Aidan Moffett with two outs in the top of the eighth. Moffett walked shortstop Jake Defries with the bases loaded to score Ian Choi from third.
LSU freshman Gavin Guidry relieved Moffett, making his first pitching appearance in college, and promptly struck out left fielder Joey Urban to end the inning.
Guidry struck out the side in the ninth inning, fanning center fielder Kyle Van Liere but the pitch got away and was ruled a wild pitch. Cade Vota then hit an RBI-double to score Van Liere.
LSU will face Central Connecticut State on Saturday at 1:30 p.m. The game will be streamed on SEC Network+ and it can also be heard on the LSU Sports Radio Network affiliates.
Skenes held the Butler down throughout his entire outing. Through the first three innings, he faced 10 batters with seven strikeouts in that span. By the end of the inning, Skenes had thrown an economical 38 pitches.
"That was clinic tonight by Paul," LSU baseball coach Jay Johnson said. "He's special, and I'm certainly glad he's here. He was just Paul being Paul."
Skenes continued his impressive outing into the sixth inning. His 13 strikeouts marked the first time an LSU pitcher had that many strikeouts since Zack Hess against Toledo on March 2, 2018.
Butler starter Cole Graverson gave the LSU hitters a tough time to begin the game, but the Tigers settled in. Graverson (0-1) was charged with the loss after tossing four innings and allowing five runs on three hits.
Guidry, who arrived at LSU as a position player, picked up four strikeouts in his first collegiate appearance. A quartet of other relievers, including Micah Bucknam, Griffin Herring, Moffett and Sam Dutton combined for two innings of one-run baseball.
LSU opened the scoring in the bottom of the third after third baseman Ben Nippolt reached base via a walk. Following two straight strikeouts, designated hitter Tommy White hit a ball into no-man's-land down the right-field line. Nippolt scored from second after stealing the bag in the previous at-bat.
LSU's six-run fifth inning began when Nippolt reached on a catcher's interference and second baseman Gavin Dugas walked. Crews then smoked a ball over the right-center field wall for a three-run shot and 4-0 lead with no outs.
"That was the best player in college baseball hitting the ball the other way when we really needed a spark," Johnson said. "Seeing Dylan around here every day really puts a smile on my face."
LSU hitters continued its offensive onslaught against reliever Colin Davis. The Tigers added one run on a fielder's choice to make the score 5-0. After a single from first baseman Jared Jones, and a walk from right fielder Paxton Kling, catcher Alex Milazzo laid down a bunt and earned two RBI.
Left fielder Tre' Morgan scored from third and pinch-runner Josh Pearson used his speed and beat a throw home to increase the lead to 7-0.
LSU added to its lead in the sixth inning with two runs, and further padded the lead in the seventh with an RBI-single from freshman Ethan Frey. Senior Cade Beloso increased the lead to 12-0 with a two-RBI double to the right-centerfield wall to close out the seventh.
The Bulldogs scratched one across in the eighth to get in on the scoring and added one more in the ninth to account for the final margin.