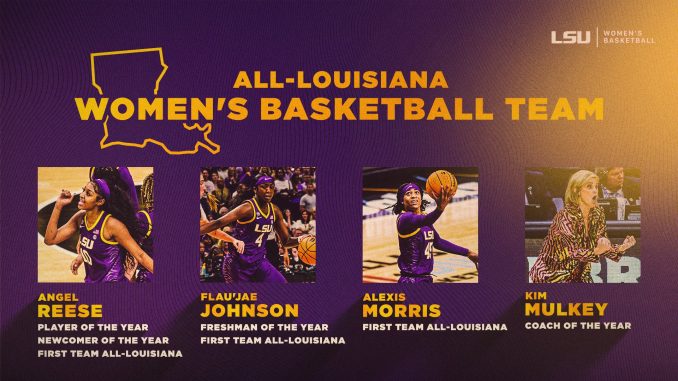 LSU was the nation's top women's program this season with its first national championship and that superiority was reflected on this year's 2022-23 All-Louisiana Women's Basketball team that was released Tuesday.
The Tigers (34-2) swept top honors with All-American Angel Reese capturing both Player of the Year and Newcomer of the Year honors. Second-year coach Kim Mulkey was named Coach of the Year, guard Flau'jae Johnson was Freshman of the Year and fifth-year senior guard Alexis Morris joined her teammates on the five-member first team.
Reese, a transfer from Maryland, became the fourth player in SEC history to lead the league in both scoring (23.0) and rebounding (15.4) and set the NCAA record with 34 double-doubles.
Johnson, who started all 36 of the team's games, averaged 11.0 points and 5.9 rebounds. She was also the SEC's Freshman of the Year, collecting 20 games with double-figure points and three double-doubles. Morris, the team's point guard, was a first team All-SEC performer with 15.4 points and 4.1 assists per game which she increased to 24 points a contest during the Final Four.
Mulkey, 60-8 in two years at LSU, led the Tigers to a 22-0 start to the season and second place finish in the SEC regular season. The Tigers, with nine new players, gelled into a cohesive unit during the NCAA Tournament which included wins over Hawaii and Michigan at the Pete Maravich Assembly Center.
After rallying for a Sweet 16 win over Utah, LSU defeated Miami (54-42) to reach the Final Four where they rallied from a nine-point deficit in the fourth quarter and defeat Virginia Tech, 79-72. The Tigers then exploded in the final game for a 102-85 win over Iowa – a record number of points in a title game.
2023 All-Louisiana Women's Basketball Team:
First Team
Sandra Cannady, UNO
Kennedy Hansberry, Loyola
Flau'jae Johnson, LSU
Alexis Morris, LSU
Angel Reese, LSU
Second Team
Lexi Alexander, Nicholls
Hailey Giaratano, Southeastern Louisiana
Dynah Jones, Tulane
Emma Merriweather, ULM
Keiunna Walker, Louisiana Tech
Third Team
Miya McKinney, Louisiana Christian
Candice Parramore, Northwestern State
Dearica Pryor, UNO
Anna Larr Roberson, Louisiana Tech
Lanay Wheaton, UL-Lafayette
Player of the Year
Angel Reese, LSU
Newcomer of the Year
Angel Reese, LSU
Freshman of the Year
Flau'jae Johnson, LSU
Coach of the Year
Kim Mulkey, LSU