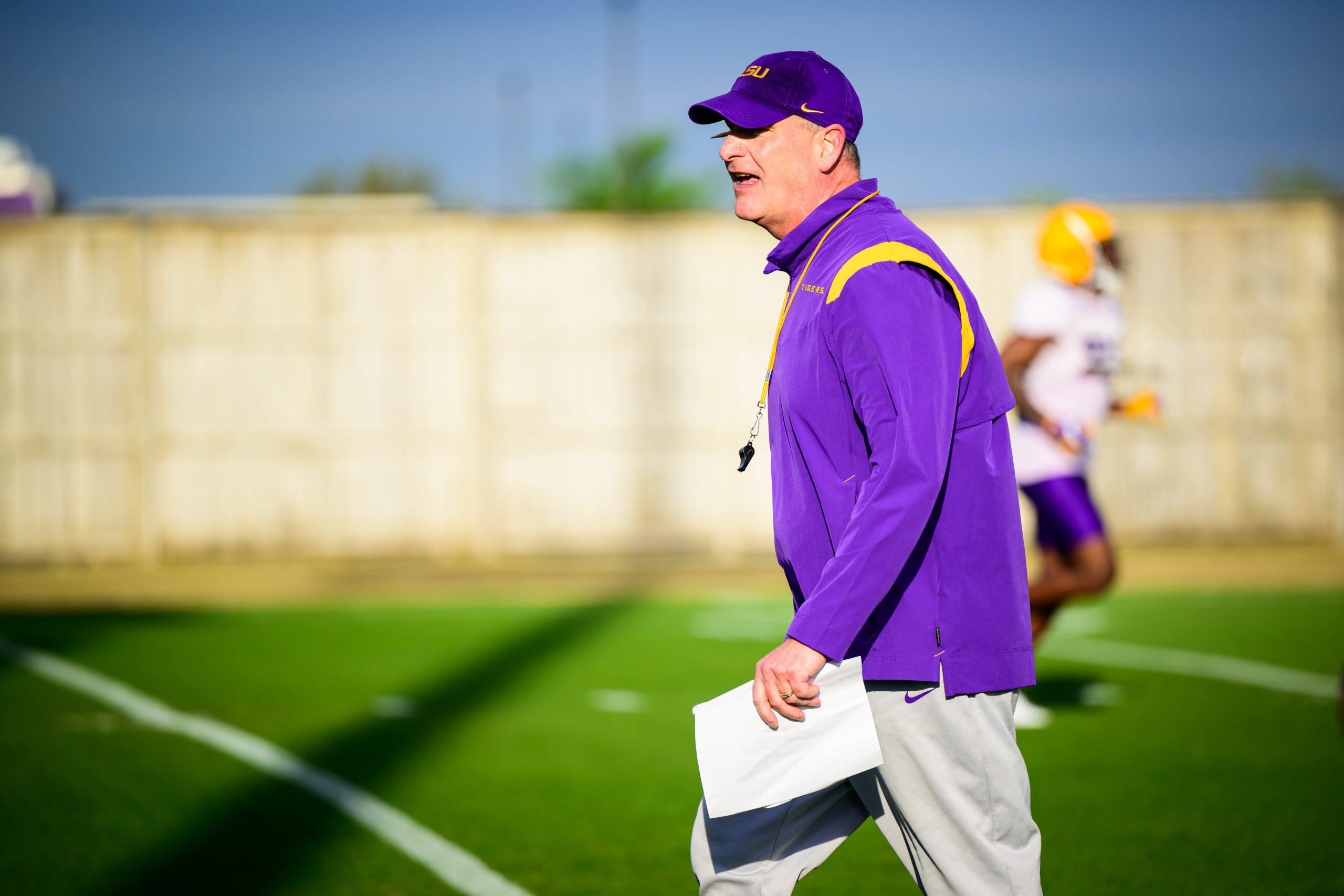 John Jancek played for and previously coached for Brian Kelly, making their match at LSU a natural one when Kelly went looking for a new special teams coach for the 2023 season.
Jancek was a defensive lineman under Kelly at Grand Valley State where he returned in 1991 to join Kelly's coaching staff for three years. It spawned a three-decades coaching odyssey that included Jancek spending time at Georgia, Kentucky and Tennessee as defensive coordinator.
When Kelly left Notre Dame to become the head coach at LSU last season, he hired Jancek as a senior defensive analyst during the Tigers' 10-4 season that included a Southeastern Conference Western Division crown and Citrus Bowl championships.
Kelly didn't have to look far when he decided to replaced Brian Polian as his special teams coordinator. He simply elevated the 54-year-old Jancek into the role, along with adding responsibilities with the team's outside linebackers that will be on display during Saturday's spring game at 1 p.m.
"I've known coach Kelly most of my most of my adult life", Jancek said during a news conference with local media after Tuesday's spring practice. "I actually played for him when I was in college. And I think there's just a trust there for me with coach Kelly. When he says something, I know what he means. He's going to do it. When I get in my car and I go home at night, I feel good about what's taking place here. There's no surprises, there's no drama.
"If he doesn't like something he comes to you and he tells you and you fix it," Jancek added. "Just that comfort level for me, being with him in the past and knowing his style. What his expectations are. I feel I align perfectly with what I believe in, in college athletics, and something that I'm very comfortable with."
Jancek coached both linebackers and safeties during his career and was Kelly's defensive coordinator for four years (1999-2002) at Grand Valley State. He was also the defensive coordinator at Colorado State, coached safeties at South Florida and was the defensive coordinator at the University of Cincinnati for three seasons (2010-12) – a school Kelly spent four seasons coaching before moving to Notre Dame for 12 years.
Here's what else coach Jancek had to say:
Opening statement:
"So far everything's gone very well. We've had a lot of opportunity to look at some different guys at some different positions as it relates to special teams. Our coaches have done an outstanding job. We've divided up all the responsibility. Every player has a coach assigned to their spot. As an example, on our punt team, the left side is my son Zac (Jancek), he works with the left side, on the right side and (defensive graduate assistant) Nick Coleman, and (senior special teams analyst) coach (Lester) Erb is on the left side. Making sure everything's organized and all that, so it's been great. Coach (Frank) Wilson helps us with our shields. So that's kind of how we've divided everything up. We've just really taken them, then assigned coaches to each area of our specialty. So, it's been really good, been really productive. I think the kids are bought in and doing a great job.
"As far as outside linebacker, the two transfers that came in at mid-year, Ovie (Oghoufo) and Bradyn Swinson, (are) doing a great job and then our freshmen that enrolled early, Jackson Howard's got a really bright future. And I just can't say enough good things about those guys and Princeton Malbrue is a guy that always flashes. I think we have more depth than we've had in the past at that position. And I'm really excited to work with those guys."
Are you comfortable with the resources delegated to coaching special teams?
"Oh, I'm very confident. I think we've made great strides. We tweaked a few things but not a lot and really, it's not about what we did, it's about how we did it. And that's been our emphasis and I think the players have responded very well. I like the effort; I like to finish and that's a big part of specialty. You got to have guys out there that do the little things right, have attention to detail, but they strain, and they finish."
On discussions with coach Kelly about improving special teams?
"I told him that I feel completely comfortable with being the special teams coordinator. I've been part of special teams my entire career as a defensive coach, linebacker, safeties, whatever it may be. All of those guys are very involved in special teams, and I think with me having coached for coach Kelly before in the past, he had a comfort level with me. We had great communication. And, really it was not what we did, but how we did it. I think he's pleased. He hasn't been upset with me so far. So that's a good thing."
With your experience of coaching in the SEC, what's your observations of having been in the conference?
"I think it's my 13th year in this league. It's a very competitive league. Recruiting is at the forefront as we all know, and (it's) very, very competitive each and every week. It's a tough conference, and I'm excited to be a part of it. And the thing I think I really respect about the SEC is really the passion of the fan bases, their knowledge of the game. I think they have a good understanding of the game and so it's been that part of it that makes it exciting. The passion of our fans at our home games here at LSU really is inspirational to our guys and creates an environment that is exciting to be a part of. I appreciate our loyal fan base. It's been a great experience being in this conference."
On coaching the outside linebackers in coach Matt House's scheme?
"My experience is that I've been fortunate that I've been a defensive coordinator. Not only in this league, but at several schools. So, I'm pretty well versed in coverage. I'm pretty well versed in pass rush and then pretty well versed in the run game, and I think that's that position. That's the outside linebacker position. You have to be fluid in your pass coverage, you've got to be able to rush the passer and you've got to be able to defend the run game as well. So, it's a really exciting position to coach and it requires a really great skill set for the guys that we recruit at that position."
What was it about you being an on-field coach again?
"Just working with the kids. Being a mentor for them, just having more input, things of that nature. But it's really not necessarily the relationship with the kids, (but) the interaction on the field. That's what I enjoy, that's what I like to do. You're teaching, you're coaching and obviously as an on-the-field assistant now, that's obviously viable."
How much input have you had in coaching Harold Perkins Jr.?
"He's playing WILL (weak-side) linebacker for us and in most of our first-and-second-down packages. When we go to our third-down package, Harold will come over and we'll talk about line stunts. He'll come with us with the d-line and the players that are in our third-down packages, and work line stunts and pressures and things of that nature. So, it's mostly third down when I get a chance to work with Harold. But he's doing a great job at WILL linebacker. I know coach House is real happy with him there. He's been very consistent. Ya'll know Harold. I can't say enough great things about that guy. I love him. He's a great student. He never misses anything. He's always on time and very accountable. Yes, sir. No, sir. So, my hat's off to Harold. I know Coach house is happy with him at Will linebacker."
What's it like working with your son Zac?
"It's outstanding to have him with me. We have a lot of fun. He's a really good, young coach. I'm so proud of them. Just to be able to be with him every day is rewarding for me as a father as you can imagine. So, I love it. And the biggest thing too, and I told coach Kelly this when I brought his name up, is that I wanted him to be around the staff. I wanted him to be in a program that was led by coach Kelly, so that he could learn how to do things, and learn what a positive work environment is like, a productive work environment is like. And couple that with the coaches that we have on defense, I think it's going to be a really worthwhile experience for him as a young coach. And he can learn a lot from these guys and as they mentor him. I just wanted him to be around this group in particular."
Guys that you have back on punt and kickoff returns?
"We've got we got a variety of guys back there. We're catching a lot of punts, catching kickoffs. We put in some kickoff stuff today. It's an ongoing evaluation, but you know we feel good with the guys that we have back there. We have Greg (Clayton), Kyle Parker's back there, Sage Ryan, Noah Cain. So, there's a number of guys that are getting the work and the amount of reps that they need to get, so that we have a comfort level as punt returners and kick returners. He's (Aaron Anderson) obviously been injured but he factors in once he's healthy and gets back and can start doing some stuff."
Observations of performance of kicker Damian Ramos in 2022?
"I think the job that he did last year was outstanding. He came in and made some field goals. That field goal he made against Florida, that was a one-possession game and almost two minutes left, and he stepped in there and banged one home and put us up two possessions. I thought that was huge. And I think he just continued to gain confidence. That's the thing that I saw in him last year. He just kept getting more and more confident. And the things that I would think that he needs to continue to work on, just as any football player, is consistency. Doing it over and over time and time again, but he's certainly a guy that is in the mix and we're going to be relying on."
How much competition exists between Ramos and Nathan Dibert?
"I would say it's a pretty good competition. Every position is competitive. I mean, that's what spring is for. It's for guys to get out there and compete on a day-to-day basis. Nobody has a so-called "job" right now. We don't call it a depth chart; we call it an organizational chart. We're just putting guys out there, seeing them compete and putting them in. For kickers, putting them in different situations. Coach Kelly will put them on the spot once in a while and have them kick a 53 yarder. Put them in a situation where you try and create anxiety and see how they respond."
What were some of the setbacks with special teams last season?
"I just think overall we had some guys that got injured. We were playing with some guys that didn't have a lot of experience. And you drop a couple kicks, and then stuff happens. It's not any one person's fault. I think it's just a collective look at our special teams as a whole. We're just working hard to continue to get better. We're not going to focus on the past. We're going to move forward in a positive manner, and that's what we've done. That's been the message to our team. And that's what the message will continue to be the team."
Have the kickers increased their distance over last season?
"It's a fine line with kickers. You got to gauge their legs. How many days a week they're kicking? How far they're kicking. You've just got to be smart with them and pick your spots, to put them to the test."
Impressions of freshman defensive end Da'Shawn Womack when he's healthy?
"He's going to get in there and see what he can do. We know he's talented. We love him. He obviously came back from that shoulder injury and so once he gets back, it's going to be continuous evaluation day-to-day."
Favorite things about coaching Oghoufo and Swinson?
"Obviously they have experience. They've been in some other programs, so it's not like they're a true freshman. They have, even though maybe the terminology may be different, a pretty good knowledge of some basic overall schemes. They played the position before, so I think just their experience is something that I rely on. I don't have to explain every little detail."
What are looking to get out of spring game?
"You want to see effort. You want to see execution. You want them to tackle and be turnover conscious. Second man in, start the lawnmower, things like that. And I want to see him getting out there and just playing hard and enjoying it. This is a great program. LSU's great tradition in history. I know they feel a sense of obligation to that. That's part of our fabric and our culture here. And I'm just I'm just excited to see him get out there and compete."