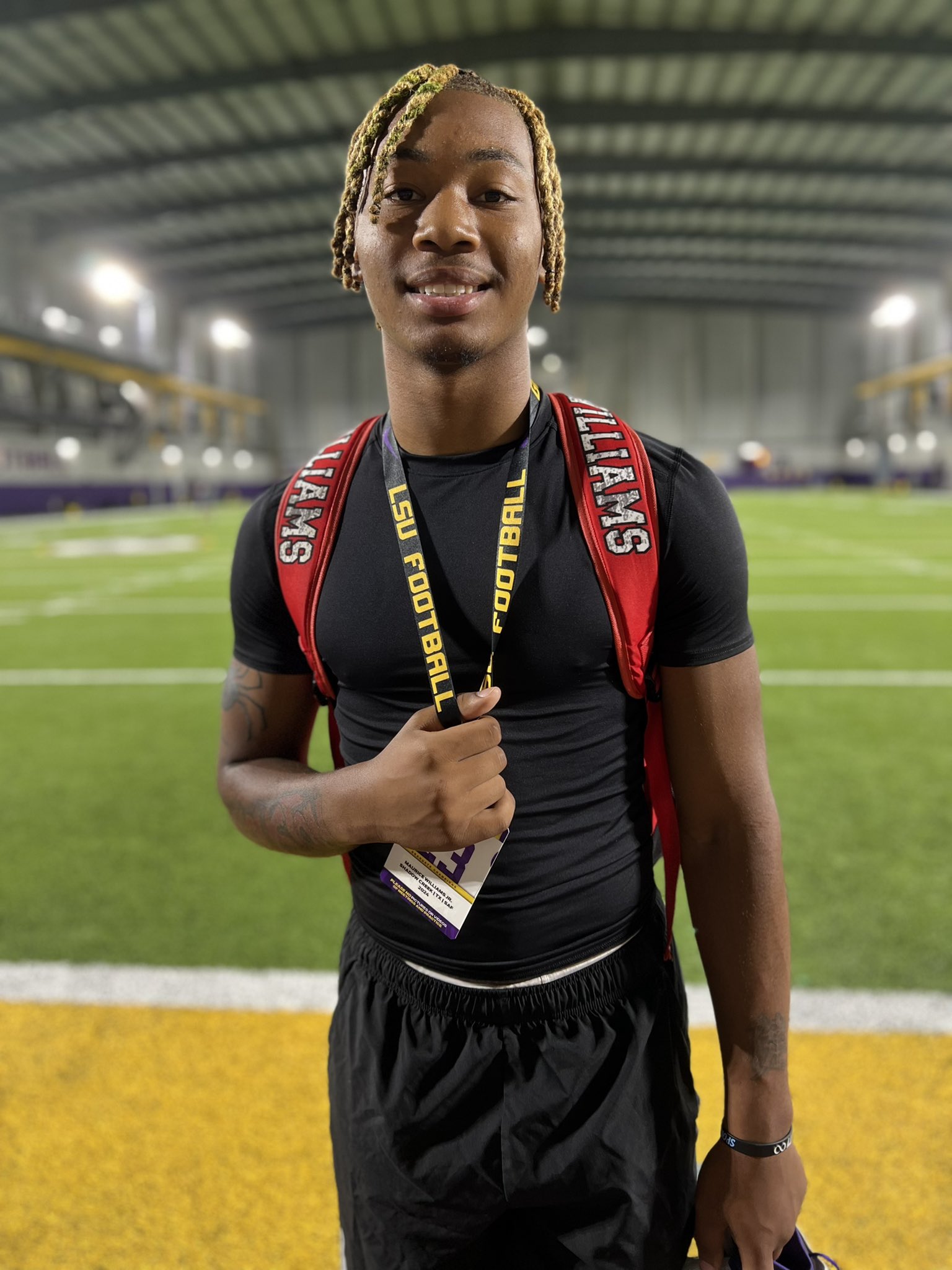 The concerted effort LSU's shown in recruiting the secondary during its current class spilled over to the future.
The Tigers, who have three safeties/cornerbacks among its five pledges in 2023, picked up one of the nation's top players at that position in the 2024 class with Saturday's commitment from four-star safety Maurice Williams III of Shadow Creek High in Pearland, Texas.
"They showed a lot of love and have a lot of soul," Williams told Sam Spiegelman of On3Sports. "The food, the fans, the people and the city, the city is great. The vibe as soon as I got there, it felt like that was the spot for me. Me and my dad agreed on that."
The 6-foot-2, 185-pound Williams, LSU's first member in its '24 class, spent the day at LSU on Friday on an unofficial visit and informed first-year head coach Brian Kelly of his decision to join the program.
"Hey mom and dad, I'm a Tiger," Williams tweeted Saturday.
After recently visiting Ohio State and Texas, Williams returned to LSU where he's been the recruiting priority of first year secondary coach Robert Steeples. He chose the Tigers over offers from Arkansas, Baylor, Florida State, Michigan, Michigan State, Ole Miss, Oregon, Tennessee and USC.
He's a consensus national top 100 player with both 247Sports and Rivals.com ranking him as high as No. 63. Rivals also rates him the nation's No. 3 safety and he's No. 10 prospect in Texas, according to 247Sports.
"They have been trying to get me on board," Williams said of LSU. "They've been pushing me and calling me every now and then, and they've been up there with me for sure. The big thing for me is that we got to meet Coach Kelly for the first time, and we really spent time with my little brother, and he made us feel comfortable. The biggest thing for me is finding somewhere that's comfortable and feels like home. I was already thinking about (committing) before I got there. I worked out for the coaches, and I shocked them. I talked to the whole staff, and I like the way they congratulated me. It's like a second home when I'm out there."
Williams spent his freshman year at Episcopal High in Bellaire before transferring to Shadow Creek which went 9-3 overall, advancing to the third round of the state playoffs. He compiled 46 tackles, including a high of eight in the playoff loss to Houston-King, to go with a fumble recovery, an interception and blocked punt.
"He's been coaching for a while and he has the history of turning programs around and making programs great," Williams said of Kelly. "This is not his first rodeo with stuff like this. He's done good things in the past and he'll take it into the future."