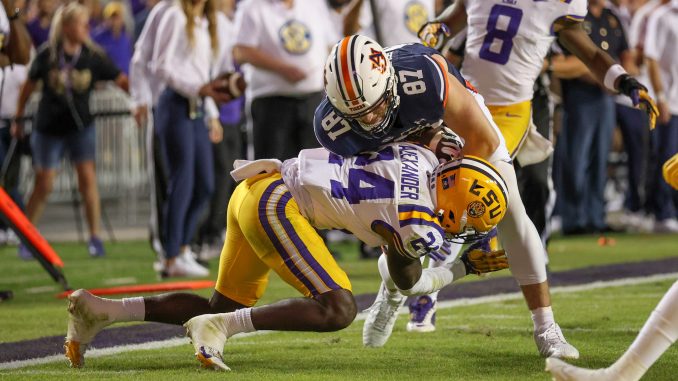 LSU football coach Brian Kelly said after Tuesday's practice that defensive tackle Mekhi Wingo and cornerback Zy Alexander "will miss some time" dealing with lower-body injuries.

The No. 15 Tigers (6-2, 4-1 in SEC) are in the midst of an open date in the lead up to their Nov. 4 game at No. 9 Alabama.
Wingo, a team captain and returning third team All-America selection, missed last Saturday's 62-0 win over Army with an injury. He's eighth on the team with 30 tackles, including 3 tackles for loss totaling 13 yards in losses.
The bigger issue, though, was the health of Alexander because LSU's so thin at the cornerback position.
Kelly said that while it was too early to tell whether either player would be ready for the Alabama game, neither practiced on Tuesday.
Alexander, a transfer from Southeastern Louisiana, has risen to LSU's top cornerback this season and ranks fourth on the team in tackles with 44 stops. He's also recorded two interceptions for 28 yards in returns with a team-high seven pass breakups.
With LSU leading 38-0 late in the second quarter Alexander was able to intercept a Hail Mary attempt on the final play of Saturday's game with Army. However, instead of taking a knee and going to halftime, Alexander was injured on the return and had to be helped to the team's locker room with an ankle injury.
Alexander's started in all eight of his team's games and had a career-high eight tackles in a 49-39 road win over Missouri on Oct. 7.
Kelly also said that transfer portal signee cornerbacks Denver Harris of Texas A&M and Duce Chestnut of Syracuse remained on scholarship and in school but were 'inactive' and have not practiced with the team.
"Let's be patient and see what happens," Kelly said.
Moreover, Kelly expressed confidence that freshmen cornerbacks Javien Toviano, Jeremiah Hughes, Ashton Stamps, who returned to practice Tuesday, and sophomore LaTerrence Welch, were all in the mix to play cornerback and help the Tigers play at a championship level.